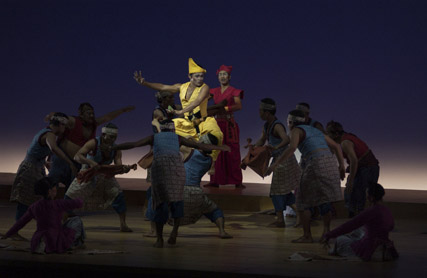 courtesy Esplanade Theatres on the Bay, Singapore
I La Galigo Production
ROBERT WILSON'S I LA GALIGO IS THE FIRST KNOWN THEATRICAL STAGING OF AN ANCIENT EPIC POEM OF THE BUGIS PEOPLE CONVEYING THE CREATION MYTH OF SOUTH SULAWESI, INDONESIA. IT DESCRIBES HOW THE GODS OF SKY AND SEA COLONISE MIDDLE EARTH—A SAGA OF INCESTUOUS TWINS REMINISCENT OF THE NIEBERLUNGENLIED.
I was pleased this was a major avant garde engagement with an Indonesian regional classic instead of the endless parade of Javo-Balinese intercultural collaborations. It was a sumptuous, expansive (and expensive) display of clever stagecraft. There was much to be admired —wit, flair, grandeur, cuteness and kitsch. There are wars, sea voyages, spurned love, and traitorous cats, played out with trademark Wilson precision against a colour-saturated cyclorama. At three hours 15 minutes it was not so much slow as laboured – repetition and symmetry without counterpoint moving from the hypnotic to the predictable.
The undeniable triumph was Rahayu Suppanggah's robust score, a sensitive and knowledgeable blend of pre-Islamic music and original concepts. Female vocalists sang from the original text, segueing from the raw timbral quality of the Bissu into sweeter tones of modern folksong. Whilst Suppanggah's use of a pan-Indonesian selection of instruments never felt like a geography lesson, the dances were less subtle. I wondered how they differed from sendratari, the modern dance-dramas influenced by Western staging? And if they didn't then what was Wilson's distinctive contribution beyond overall production values? The contemporary wave of Indonesian choreographers has moved beyond the telltale cliches of that dated genre and created internationally regarded work without bypassing their complex relationships with a multi-layered social reality.
Wilson preferred a superficial and linear treatment of the great cosmic plot without reference to the conditions of its existence, privileging instead his painterly images. Many raved about the great sarong birth scene, but manipulating lengths of cloth to make multiple meanings is a developed art form in Indonesia. To me the more impressive device was the exquisitely efficient murder of the songket-weaving sentinels. That use of contained potency was thrilling.
Elsewhere the Wilson idea of hypnotic stasis seemed pushed to the brink of histrionics. Mannered posturing forced into rigid tableaux and feigned dialogue with eyebrows seemed more Manchu than Malay, or perhaps derived from the high formal tone and austere aesthetics of Noh. The cockfight was closer to home—cloth chickens animated with flair and style in a familiar atmosphere. This was the real thing—the acting both natural and spontaneously stylised and as naturally potent as the dance of septuagenarian Mak Coppong, the only traditional performer besides the Bissu priest, and distinct from the urban academy-trained artistes of the company.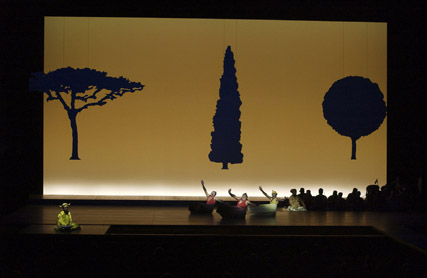 courtesy Esplanade Theatres on the Bay, Singapore
I La Galigo Production
The Bissu remains external, his role peripheralised, reduced from storyteller to ritual janitor—just the man with the keys. As a shamanic journey, the work provided no closure, no ritual resolution to return us to this world, bracketing it instead with the theatrical device of procession —as if we view another audience returning from whence they came.
Whilst Wilson abandoned his desire for an international cast in response to the voice of cultural politics, ensuring the project provide abundant opportunities and benefits for Indonesian artsworkers, on reflection he might have been well advised to follow his instincts.
In the past Wilson has used his devices to defamiliarise, but here he starts with the unfamiliar. Without a shared grasp of underlying meanings his beautiful pictures are bereft, bearing none of the patina of the 14th century hand-inscribed manuscripts which remain the source inspiration. Rich with illuminations, there is nothing clinical or austere in the patinaed pages of Wilson's source. Yet from his long opening procession of silhouettes to the final reprise one is struck by the austere Wilson aesthetic and high formal tone. And in terms of the oral epic recorded therein, a poetic play of words and imagination full of lexical ornamentation, embellished over centuries of oral transmission, it makes a strange match for a director renowned for his rejection of words and textual meaning.
I La Galigo, director, set and lighting concept Robert Wilson, text adaptation and dramaturgy Rhoda Grauer, music: Rahayu Supanggah, Bissu priest Puang Matoa Saidi, costumes Joachim Herzog, lighting AJ Weissbard, producer Change Performing Arts, Bali Purnati Centre for the Arts, State Theatre, Victorian Arts Centre, Melbourne International Arts Festival, Oct 19-23
RealTime issue #76 Dec-Jan 2006 pg. W
© Indija Mahjoeddin; for permission to reproduce apply to realtime@realtimearts.net