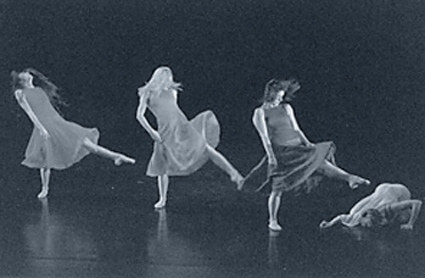 photo Roy Varley
Paulina Quinteros' Fie, Dance Creation 98
The concept of judging new dance works created specifically for a choreographic competition would appear to go against the dance community's best efforts to value process over product, and its well-founded scepticism at assessing quality. And yet on July 10 and 11 at the National Theatre in St Kilda, the Australian Institute of Classical Dance (AICD) presented such an event in the second biennial Dance Creation choreographic awards. This year's event fell under the umbrella of MAP, Melbourne's eclectic response to the demise of Greenmill, and both the AICD and MAP must be congratulated for taking another step towards bridging the often tedious cleft that exists between classical and contemporary dance organisations.
As is any reasonably significant junior sporting event, nervous excitement permeated the air, mixed with healthy doses of cliché concerning the value of participation in such competitions. Much of the text in the program alluded to the importance of developing choreographers by giving them an opportunity to present their work. For Rosetta Cook, the winner of Dance Creation 96's Robert Helpmann Award, winning is not paramount, whereas having a work seen is. Personally, I am not convinced that having work seen is nearly enough to help choreographers develop a thorough understanding of the subtleties and nuances of dance-making. At most, it's a start. Without setting up some form of dialogue concerning the works (particularly between judges and competitors), the event becomes a void in which a would-be choreographer presents a collection of movements only to learn whether the work is a winner or not.
There were 20 works entered in Dance Creation 98, 12 less than in 1996 which might immediately suggest that the lure of prize money alone is not enough to entice emerging and established choreographers to create work specifically for a competition. Disappointingly, the 1998 Edouard Borovansky Award for student choreographers was cancelled and the handful of student works were judged as part of the non-professional Peggy Van Praagh award.
Watching the works themselves, I gained immense pleasure from seeing so many dancers moving in such extraordinarily diverse creations— from the stripped back formalism of Francis D'Ath's Praw to the romantic theatricality of Tanja Liedtke's Thru Time. Sadly though, in this most human of forms, the majority of works ignored the subtle intricacies, quirks and gestures of human movement. Also, the choreography tended to lack any discernible editing. Perhaps this problem was exacerbated by the AICD's time regulations which, ironically, restricted the range of works and made most of them far too drawn out. Martha Graham ("Every dance is too long") must surely have been turning in her grave over the course of the two evenings.
The most bizarre and disturbing aspect of Dance Creation 98 was the simplistic judging mechanism. Judges gave each dance a mark out of 10 without being required to adhere to standardised assessment criteria to do with form, content, innovation or design. On the first night, this led to a great deal of uncertainty as to why some dances were rewarded places in the finals whilst others were not.
I do not doubt that the AICD had the development of dance in mind when organising Dance Creation 98, but I'm not so sure that this particular model of choreographic development gives value for money. In this event, perhaps only the two winning choreographers will benefit from the competition and that as a consequence of receiving some fiscal support. For the others, simply placing a work in a competitive environment does not necessarily constitute development. In future, it may be worthwhile to consider how each choreographer might be provided with feedback that will in itself inform their choreographic process and develop their creative abilities. There is nothing more disheartening to any dancer or choreographer to create without feedback. It is a void bereft of the potential for anything other than self-doubt, uncertainty and, inevitably, apathy.
For the record, the Peggy Van Praagh Award ($5,000) for non-professional choreographers was won by Yumi Sollier for Sensing the Undercurrent, a coherent if overly-long work filled with suitably raw subterranean imagery, and marked with surprising displays of virtuosity. The Robert Helpmann Award ($10,000) for professional choreographers was won by 1996's Van Praagh winner, Paulina Quinteros, for Fie—compelling evidence of Quinteros' ease in creating rich and complex movement phrases, and then immersing them simply into a tight thematic structure.
Dance Creation 98, hosted by the Australian Institute of Classical Dance, National Theatre, St Kilda, July 10 – 11
RealTime issue #27 Oct-Nov 1998 pg. 5
© Simon Ellis; for permission to reproduce apply to realtime@realtimearts.net