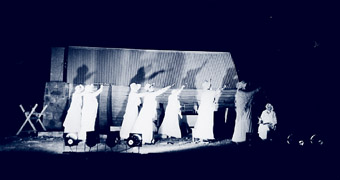 photo Lucia Rossi
IHOS Opera, Sea Chant
Following the complete course of 10 Days on the Island, I became increasingly aware of both the divisions that beset Tasmania and the various ways in which Robyn Archer's festival sought to heal them. It had opened at Risdon Cove, an Aboriginal massacre site, welcomed by the Cape Barren Island music of the Palawa exile. At Port Arthur, the aerial gyrations of Strange Fruit offered a weird challenge to associations with convict brutality and the Bryant massacre. In the convict city of Launceston, a grimy, deserted railway workshop echoed with the sounds and memories of a heyday blotted out by its harsh 1970s closure.
And right at the festival's end, hippies and loggers met across that other great Tassie divide in an east coast sheep paddock. Sea Chant wasn't always an easy encounter, its knife-edge balance sharpest as bass Gary Rowley sang the almost militaristic Jobs, Jobs, Jobs by local Imogen Lidgett, while we looked on clear-fellers doing their worst. Somehow lines like "Now we can all feed our families" sounded less than thankful, more an excuse, by a community, both on and off stage, which depends on the chipping port of Triabunna and its atomised eucalypt mountain of chips looming over the ships being loaded. Not surprising when the East Coast Regional Development Organisation, sponsored by Forestry Tasmania and North Ltd/Gunns, had commissioned Con Koukias (IHOS Opera) from Hobart to make the show in the first place!
Sea Chant was not an opera, by the way. It was a carefully inclusive community pageant in the manner of those created by Gilbert Spottiswood as Queensland's State Pageant's Officer in the 80s. Does such an indispensable position exist today, I wonder? Local schools, choirs, shearers, companies and historians had all contributed the bricks which the IHOS team cemented loosely together. Koukias contributed a catchy mock-Medieval chant celebrating the botanical names for eucalypts, recorded by local artist Louisa Ann Meredith. Other music included a Victorian lullaby, 'we'll all be rooned' ballads by land and sea, a marvellously choreographed tribute to fish-packing, and a moment to be treasured as maestro Michael Kieran Harvey belted out Bach on a harmonium fit to madden any merinos within hearing.
Meanwhile, back at Launceston's derelict Inveresk Railyards, life is springing anew thanks to the Queen Victoria Museum. Eventually a National Heritage Museum will make use of the whole site where (locals recall) 2000 workers knocked off promptly at 5 every afternoon until the 70s, flooding local streets with their bicycles. Overheard at Inveresk was the first twitter of Spring, a sound installation by Melbourne composer David Young incorporating both industrial noise and the words of workers from the Blacksmiths Shop, recalling the labour they were proud of in conditions that were rugged before being rationalised out onto the street.
Four performances of a miniature opera by Young also took place on sunny afternoons that created positive blocks of light in this smoke-blackened negative world. Soprano Maria Lurighi and percussionist Tom O'Kelly reflected both worlds, O'Kelly conjuring crystalline sounds from the rusted rollers of a 3 metre ex-industrial gamelan; Lurighi somehow combining a libretto using (amongst other sources) the Tasmanian Government Railways' Book of Rules and Regulations from 1950 with the role of Naucrate, mother of the flighty Icarus. That story never really emerged from my necessarily partial viewing of events around the big shed; the safety limit of 200 was reached at each of the scheduled performances, requiring a bonus fourth to be added.
It was mainly the setting, therefore, that transported me thousands of miles to Midland in Perth—to another railway shed where 7000 had been tossed out by the same benevolent National Rail Authority. There, at the 1997 Perth Festival, I'd endured and been profoundly affected by the premiere of Richard Barrett's Opening of the Mouth. ELISION's recorded performance brings it all back chillingly—one of the Brisbane group's finest (ABC Classics CD 465 268-2).
But back in Tasmania, it was exciting to travel the surprising length and breadth of that isle to find people in garages, internet cafes and wineries talking about their first international arts festival. Could it have been because the effort conjured by magician Robyn Archer was—as all good art should be—a necessary one? Had she somehow collected island art from around the world that really meant something on this island? And what will she come up with in 2003—having been instantly confirmed in her position by Premier Jim Bacon—now that she knows the territory that much better?
10 Days on the Island Festival, Artistic Director Robyn Archer, Tasmania, March 30-April 8: Sea Chant, Tasmania's East Coast Regional Development Organisation & IHOS Opera, Grindstone Bay Merino Stud, Triabunna, April 6-8; Overheard at Inveresk, David Young, Michael Hewes, Inveresk Railyards, Launceston, April 5-7, installation March 30-April 8
RealTime issue #43 June-July 2001 pg. 24
© Jeremy Eccles; for permission to reproduce apply to realtime@realtimearts.net