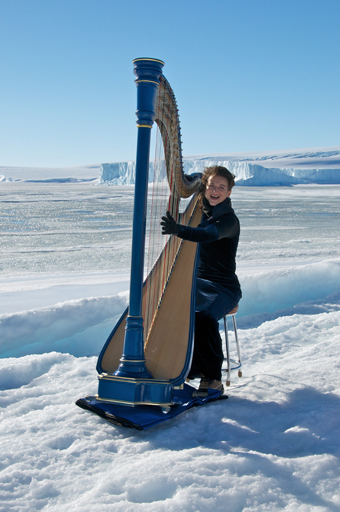 photo courtesy the artist
Alice Giles in Antarctica
FOR MOST OF US, ANTARCTICA IS A PLACE OF THE MIND. FOR CT MADIGAN, A MEMBER OF THE 1911 AUSTRALASIAN ANTARCTIC EXPEDITION, IT WAS A VERY REAL PLACE WHERE SOUTH AUSTRALIA AND THE BRITISH EMPIRE BECAME DISTANT MEMORIES. A CENTURY LATER, AS A RECIPIENT OF AN AUSTRALIAN ANTARCTIC ARTS FELLOWSHIP, MADIGAN'S GRANDDAUGHTER, HARPIST ALICE GILES USES MUSIC TO REIMAGINE HER GRANDFATHER'S VOYAGE, BREAK THROUGH OUR FROZEN CONCEPTION OF THE PLACE AND LET THE STRANGENESS OF THE LANDSCAPE SEEP INTO HER OWN PERFORMANCE PRACTICE.
In his diaries, Madigan wrote of the importance of music and writing on a continent with so little of both. Records, songbooks and letters from home did not just sustain familiar memories, but testified to lives that persisted despite being obscured by distance. Writing about his fiancée Wynnis, Madigan confessed it "hard to find anything that I do not know by heart in her letters." Just as static memories became dynamic when traces of life were found between the familiar lines of a letter, the Antarctic environment, long-supposed silent and monolithic, proved all too real for the early explorers. When Madigan's close friends Xavier Mertz and Belgrave Ninnis died on an ill-fated sledging expedition, he grieved the loss of "fellow sympathy and confidences only known in the Antarctic."
Since the real of Antarctica does not affect us in the same way today, it is not surprising that the heroic age of Antarctic exploration persists as our privileged image of the place. Today scientists are shunted around Antarctica in temperature-controlled bubbles and the category of 'explorer' has all but disappeared. However, thanks to an increasing interest in artistic 'exploration' of the continent, this monochromatic and silent image is giving way to digital clarity and surround-sound clamour as cinematographers, sound artists—and harpists—rediscover the continent with hand-held recording devices. ANU's Antarctica: Music, Sound and Cultural Connections Conference showcased some of these processes of exploration, including Alice Giles' Alice in Antarctica concert.
Alice in Antarctica reveals Australian composers' dated understanding of the place as an object composed of shimmering surfaces and characteristic scenes (mainly involving penguins). It then asks, through a rapprochement between the natural environment and the harp, how the Antarctic environment might be understood on a personal level and affect musical practice.
Armed with a small lever harp and a full sized electroacoustic harp, Alice Giles arrived in Antarctica with a program, like a series of letters known by heart, of works composed about a continent largely unknown to Australian composers. Joshua McHugh's "Billions of Penguins" for solo harp consisted of a series of vignettes characterised by waddling penguin rhythms. Jim Cotter's "On Not Dancing with Penguins" expressed frustration at not being able to accompany Giles to Antarctica and painted the Antarctic landscape through repeated rising and cascading figures.
Larry Sitsky's "Fantasias 16 and 17" for solo harp avoided musical depictions of the landscape, instead transplanting abstract music to both natural and artificial Antarctic environments. Fantasia 16 for lever harp was performed and filmed outdoors, while Fantasia 17 was performed indoors, utilising sound processing on the electroacoustic harp to suggest the natural scale of the continent. Martin Wesley-Smith's "Aurora Wynnis" also avoided depicting landscapes, drawing on Madigan's writings and the music he listened to while in Antarctica to develop a nostalgic picture of Madigan's own nostalgia for home. Giles asserts that "more composers need to be going to Antarctica to bring back their expressions—we have been a consistent presence as a nation in Antarctica for 100 years and yet we have barely any musical expression of or from the continent."
Perhaps it is not even in the music, but in the performer that the musical effects of Antarctica are to be found. As Giles wrote on her blog, a modern day explorer's notebook, "[t]his is how I hope the Antarctic Adventure affects my playing: rather than the idea of programatic [sic] pieces to perform or compose, my world is concerned with how to express beauty from the heart. The perfection of nature I saw yesterday, not mechanical, ever changing, but uncompromisingly clear, leads me to seek perfection of expression and sound in every note with serenity."
A musical presence in Antarctica is not only important for musicians, but for others who travel to the continent. Giles believes that "[m]ost people who travel to Antarctica—from 'tradies' to scientists—have a strong emotional response, but they have no vehicle to share and discuss this. Drawing historical reference into a contemporary program with an emotional but abstract musical thread seems to give this a universal expression."
One of the most arresting compositions from Alice Giles' journey is the video of her lever harp standing alone on the beach at Davis Station. The wind passing by the strings produces a constantly changing tone while the ice slushes on the shore and an elephant seal goes for a dip. It is a magical, minimal meeting between the elements and music, as if you had introduced two animals to each other for the first time to see if they would get along and they started singing to each other.
–
Alice in Antarctica, harp, voice, electronics Alice Giles, voice Tegan Peemoeller, Llewellyn Hall, ANU School of Music, June 26
RealTime issue #104 Aug-Sept 2011 pg. 46