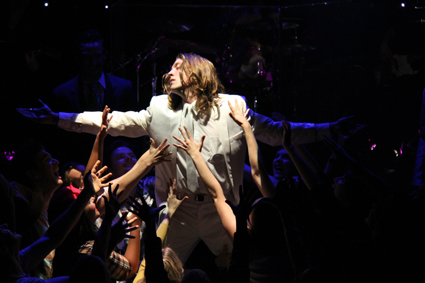 courtesy University of Melbourne
DreamSong (2011)
PLAY-READINGS ARE OFTEN WRITTEN OFF AS INFERIOR THEATRE EXPERIENCES, MERE SKETCHES HINTING AT THE TRUE SHAPE OF SOME FUTURE OPUS. IT'S NOT SUCH A STRETCH TO REVERSE THE EQUATION, THOUGH: AN ACCOMPLISHED READING COULD BE SEEN AS (TEXT-BASED) THEATRE STRIPPED TO ITS ESSENCE, THE PURITY OF LINE, THE SENSE OF SOMETHING UNFINISHED, THE GAPS AND SPACES SUGGESTING AN ABSTRACTION WHICH IS OFTEN THE GOAL OF OTHER ART FORMS.
A play-reading by necessity demands its audience construct theatres of the imagination, filling out these voids with colour, detail and meaning. It's not unusual to view a full production after catching a reading and wonder why the final incarnation seems so strangely thin in comparison.
Music theatre comes up against an obstacle in this regard. It's one thing to layer your own fantasies of set and lighting and casting and direction onto a heard text. It's another to have to complete a half-rendered score in your own mind, unless you're an accomplished composer yourself. This puts Arts Centre Melbourne's annual Carnegie 18 series in a curious position. The staged readings of new music theatre aren't just professional development showings—they're open to the public with a ticket price attached. But neither are they simply pared-back versions of full productions. They're abbreviated 40-50 minute presentations of works that are still in various stages of formation, and one of the most important elements of the series is that audiences are invited to offer feedback as to where a show needs serious work.
dreamsong
The three pieces that made up this year's Carnegie 18 differed starkly in intent, style and probable outcome. The most developed of the trio, for instance, would be well suited (eventually) to the music theatre category in a comedy festival. DreamSong is a broad swipe at Evangelical Christianity – a US television preacher finds that the millions of dollars his song-and-dance showmanship have raised for his church have been all but squandered, and decides to manufacture a miracle to put the books back in the black. He grooms a young boy-band style poser to play the role of Jesus v2.0, but the reluctant arrival of the real Messiah on the scene threatens to topple his house of (credit) cards.
It's farcical stuff—Jesus goes by the awful moniker of Chris T, though playing the Son of God as an over-the-top Woody Allen is worth a few good laughs. The score tends toward rock opera style, which suits the brash and sometimes outrageous plotting and characterisation. It's not the most layered or sophisticated of musicals, but neither does it take itself too seriously.
cautionary tales for children
Meanwhile, there's a seriousness to Arena Theatre's Cautionary Tales for Children which is commendable—not towards its subject matter, but towards its young audience. It was fascinating to watch 6 and 7-year-olds polled as to whether certain elements were too scary for their age group, and which bits they wanted to see more of. Not that the crowd were silent during the showing, of course. The rambunctious outing cleverly adapts Hilaire Belloc's dark and ironic moral fables of the early 20th century through the conceit of a time-travelling troupe journeying from the past to redeem some of history's most wicked children—ie the viewers. Various catastrophes and deaths are played out through song (composed and performed on piano by Mark Jones) and, inevitably, each instructional tune fails to provide salvation for the terrible onlookers. It's fine fun, and given Arena's resources will likely be honed to a much tighter production in the near future.
the new black
The New Black was perhaps the most ambitious of the three new works, and was clearly still in the development stage. Story-wise it hops around: initially it appears a tongue-in-cheek dig at corporate hypocrisy and racism before shifting into a more emotive exploration of the conflicts experienced by young Indigenous Australians who turn their backs on their communities. The entire second half was more or less omitted, with promises that suggested a kind of road movie to Canberra, adding an extra element to the mix. I'm not sure if the script itself has been completed yet; if so, it could benefit from some dramaturgical sharpening.
But The New Black also offered the most lively and dynamic score of the three, its young musical director Hue Blanes displaying his confidence in working across a range of styles from gospel and soul to the more familiar soaring ballads of commercial music theatre. It was unfortunate—to this onlooker at least—that during the feedback session afterwards no less than two audience members asked why the music didn't include more Indigenous Australian instrumentation; a didgeridoo, say? Kudos to Blanes for pointing out that the instrumentation is his and he is, you know, an Indigenous Australian himself. But again, when audiences are asked to fill out the curves of a work-in-progress, there's no way of controlling what they'll come up with.
Arts Centre Melbourne, Carnegie 18 New Music Theatre Program, The New Black, based on an idea by Leeroy Bilney, director Stephen Lloyd Helper, musical director Hue Blanes, Fairfax Theatre, Feb 1-4; Arena Theatre, Cautionary Tales for Childen, based on the verses by Hilaire Belloc, adapted by Claudia O'Doherty, composer Mark Jones, director Chris Kohn, designer Jonathon Oxlade, Fairfax Theatre, Feb 4-7; DreamSong, book & lyrics by Hugo Chiarella, music Robert Tripolino, director Michael Gurr, musical direction, arrangements Andrew Patterson, Fairfax Theatre, Feb 4-7; Arts Centre Melbourne
The work chosen to go to full production from the 2011 Carnegie 18, Contact!, is about to premier at the Arts Centre Melbourne (see RT102, p36). Written by Angus Grant and directed by Cameron Menzies, Contact! focuses on Australia's most popular women's sport, netball, exploring the highs and lows of the Hyatt Park Rangers under-21 team. After the premiere season in Melbourne, Contact! will also be touring regionally throughout Victoria. Contact!, Fairfax Studio, The Arts Centre Melbourne, April 11-14, 17-21, 24-28, 7pm, April 13-15, 21-22, 28-29, 2pm; www.artscentremelbourne.com.au
RealTime issue #108 April-May 2012 pg. 40
© John Bailey; for permission to reproduce apply to realtime@realtimearts.net