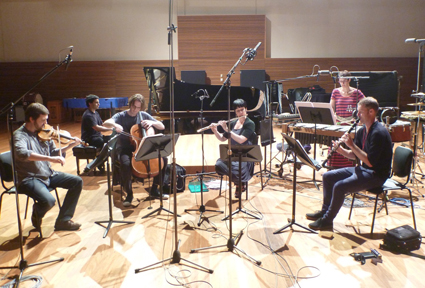 courtesy the company
Ensemble Offspring recording SILVA at the ABC Studios, Sydney
TRISTAN MURAIL'S GARRIGUE (2008, FOR FLUTE, VIOLA, CELLO AND PERCUSSION), NAMED AFTER "A TYPE OF SHRUB-LIKE VEGETATION (INCLUDING WILD THYME, ROSEMARY, JUNIPER) OFTEN FOUND IN MEDITERRANEAN FRANCE" (PROGRAM NOTE) WAS AN IDEAL OPENER FOR ENSEMBLE OFFSPRING'S SILVA: NATURAL MUSIC CONCERT, GENERATING UNEXPECTED SOUND WORLDS FROM ACOUSTIC INSTRUMENTS. THE PROGRAM INCLUDED FOUR WORKS FROM THREE FEMALE AUSTRALIAN COMPOSERS—MARY FINSTERER, ROSALIND PAGE, MELODY EÖTVÖS—WHO LIKEWISE INTRIGUED AND THRILLED US WITH APPROACHES AT ONCE FORMAL AND EXPERIMENTAL.
Garrigue has all the buzz, hum and shimmer you'd expect of a wild landscape and from the pioneer of Spectralism. With its moments of agitation, plangency, woodblock jigging and richly textured resonances (gong and vibes) it is a work of more than sonic beauty; finely shaped, it ends in sudden silence (as if someone has shut a door on nature) but not before the emergence of an entrancing melody.
Mary Finsterer's Circadian Tale 7.1 (2009/2012) aims to evoke "the dreams we hold for ourselves and our children" beyond the everyday rhythms of our lives (composer quoted in program note). It's a radiant work of individual and coupled utterances: the piano offers and sustains an opening thought; other instruments make lucid, complementary but independent utterances; the cello mutters then sings; violin, piano and vibes merge in a crystalline dream; and finally flute and soulful clarinet leave us suspended in reverie. The responsive audience waits until silence truly arrives before applauding. Finsterer has successfully evoked something that is quite natural to us.
The "knotted melodic plait" of Iannis Xenakis' Plekto (1993) evokes nature as sound ("the collision of hail or rain with hard surfaces, or the songs of cicadas in a summer field," writes the composer) and as biology (Xenakis' musical application of mathematical rules akin to natural growth). Never sounding at all like a field recording, Plekto is full of passion and drama—a pounding piano, a soaring flute riding high above choralling viola and clarinet, a fascinatingly strange percussion passage, a piano and drum dialogue, a climaxing wave of movement physical and sonic and an eerie final keening collectively make for another otherworldly, but of the world, experience.
The title of Rosalind Page's Being and Time 1: Lacrimae rerum (2012) comes in part from an Imants Tillers' painting Lacrimae rerum, which in turn is drawn from a line in Virgil's Aeneid regarding the "tears of matters" that relate to the emotional demands of mortality. Page was also taken with the fragments from a Thomas Bernhard poem in the painting. Despite the power of love, the poet is overcome with a sense of transience and grief—of entering a "land beyond goodbye" (program). Melancholy rather than mournful, Being and Time 1 is dramatic early on with stabbing cello and piano; the flute soars over a moody cello line which is then extended with almost romantic intensity, supported by full-bodied piano and drum. After a thoughtful piano passage the work moves moodily to its conclusion, the cello sad, deep, vibrato-rich and then plucked while the flute suggests a distant ethereal realm. The piano sounds our exit from contemplation. Although least identifiable with the concert's nature theme, Time and Being 1 nonetheless shares a passion evident in the other works on the program for generating unusual structures; here dice are listed as instruments along with piano, cello, flutes and wind gong. Page explains on the Ensemble Offspring website, "I chose to cast the dice as a performative gesture to create present moments that cannot be predicted with certainty, a scattering of pitch-rhythm, a meeting of elements within and beyond my subjective composer control—and question if this gesture abolishes or indeed generates pure chance, amidst a garden of otherwise consciously signalled decisions" (http://ensembleoffspring.com/media/news/rosalind-page-musical-q-a/).
US-based Australian composer Melody Eötvös' Leafcutter (2012) is a tribute to the female ants of the Leafcutter species. Those that do not attain queen status nonetheless adopt another function in their society—"rather than being eaten or driven out." True to the complexity of ant social organisation Leafcutter is a tightly woven, dynamic work, sometimes quite jaunty (not least in a pairing of vibes and clarinet) and rich in escalating, brisk note runs, richly evoking insect life and its complexity.
SILVA (Latin for forest) was commissioned by Ensemble Offspring in honour of Mary Finsterer's 50th birthday. The composer spoke eloquently to us of her love for Modernist music, of the pleasure of working from a small palette of choices and of those who have inspired her—Stravinsky, her teacher Louis Andriessen and the makers of early European music. Finsterer is taken by the notion of the forest as a place of the imagination but also as a metaphor for the act of composition in its shape and detail. SILVA initially evokes the space of the forest, almost sombrely but enlivened by small bristlings, warbling flute and clarinet and is then enlarged by gong, emphatic wind playing and cello and vibes, the latter then on their own, reverberant and briefly evoking Asian idioms. Suddenly our perspective shifts, from open space to something more internal, dark and primal powerfully conjured by percussion alone with heavy motifs and evocative detail. The other instruments enter, thickening the 'forest' air, the piano fast and 'minimal,' before a high rippling bell and bowed vibes finally lead us out.
Of course, Ensemble Offspring delivered superb performances of all these works, not least the three world premieres by female composers in yet another impressive concert nurturing new works that will enrich and expand the Australian musical landscape.
Ensemble Offspring, SILVA: Natural Music, violin, viola Graeme Jennings, cello Geoffrey Gartner, flute Lamorna Nightingale, clarinet Jason Noble, percussion Claire Edwardes, piano Zubin Kanga; Utzon Room, Sydney Opera House, Oct 23
See the RealTime TV interview with Claire Edwardes and Damien Ricketson
RealTime issue #112 Dec-Jan 2012 pg. 37
© Keith Gallasch; for permission to reproduce apply to realtime@realtimearts.net