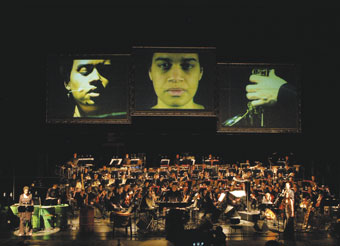 photo Stefano Beggiato
Credo, The Innocence of God
Lyndon Terracini is as excited and voluble about his third and last Queensland Music Festival as he was about his first in 2001, but I sense a restiveness, a desire to move on to new terrain. Already at work on his first Brisbane Festival for 2006, Terracini has firmly established an innovative and successful statewide Queensland Music Festival. No token shows travelling to regional centres in the Terracini model: towns across Queensland invest in the festival and in local performers joining in collaborative works with visiting artists from around Australia. Each year more towns come on board, there'll be 23 in 2005. Each year more festival events become integral to local cultures, whether in installations, instrumental groups (the Barcaldine Big Marimba Band, this year's Winton Musical Fence Band), or a repertoire of new works involving local musicians (Elena Kats Chernin's symphonies for Townsville musicians in 2002, 2003; Sarah Hopkins works for Childers, 2003, 2005). Terracini has always wanted communities to own their creations and to be inspired to incorporate music-making into their lives beyond the festival timetable. Meanwhile in Brisbane the festival ranges from big concerts of major works (Messiaen's Turangalila Symphony in 2001; Heiner Goebbels' Surrogate Cities, 2003), packed-out world music shows, cutting edge new compositions (from Liza Lim and others) and events with a socio-political commitment (St Mary's Church in 2001). I spoke with Lyndon Terracini just prior to the launch of the 2005 program, first asking him about the scale of this year's event.
Credo: music theatre by satellite
It's a 17 day festival this time rather than the 10 days of last time. It's grown enormously. It allows us to have longer seasons for some shows in Brisbane and other centres and we've been able to invest in some big productions that I thought were important to do, that reflect the philosophy of the festival. The biggest of these is Credo, The Innocence of God, produced in partnership with Fabrica in Italy. It's live out of the Concert Hall in QPAC (Queensland Performing Arts Centre) via satellite with Jerusalem, Istanbul and Belfast. Three big screens will hang above the stage so that you can see the musicians in those 3 cities. The Queensland Orchestra accompanies them live at various times. It's a very powerful piece about oppressed peoples.
Credo's been done before in Germany [produced by Fabrica with Badisches Staatstheater Karlsruhe], but this is virtually a new production. All the actors here are Australian, half of them Aboriginal women, including Justine Saunders and Rachael Maza. The works played by the musicians in the different cities are traditional, or based on traditional music, with fantastic singers. Andrea Molina who is conducting–he did Heiner Goebbels' monumental Surrogate Cities for the 2003 QFM–also wrote this monster of a piece. Some of it is also quite extreme music. Vocal experimentalist David Moss is singing again–he was in Surrogate Cities–with 2 singers from his Institute of Living Voice, one of them Icelandic. When she starts to sing you would swear she is whistling, it's that high. There are also 4 Brisbane instrumentalists–3 percussionists and William Barton, the didjeridu player and composer–who have gone from Brisbane to Musica Fabrica where Fabrica offers 40 fellowships each year to young artists in Treviso. They'll come back and be soloists in Credo.
Fabrica is the Benetton Creative Research Centre. Benetton have invested $160m in it. Fellowships, travel and accommodation are paid for, and there's a fee for the artists to live on. They get full use of all the facilities there, including a film studio and the Colours magazine office. Some of the Benetton campaigns have been devised by these students.
When people buy their tickets to Credo they'll receive a full libretto by email prior to the show. It's tough material. Andrea interviewed the parents of a Palestinian bomber and then the mother of the Jewish child who was blown up. The Palestinians don't know why their son did it and why he hadn't come to them first, and the Jewish mother hates the Palestinians. It's confronting to see these juxtaposed images. When they arrive, the audience receive a booklet with the text, photos and transcripts of the interviews–they play in the foyer on monitors and also in the body of the work.
Credo is about serious content with the support of technology. We decided to give the audience as much background information as we could, so that when they're in the concert hall–I'm starting to call halls and theatres 'communication centres'–they'll have a complete experience.
Is Molina inspired by the work of Heiner Goebbels?
They are very close friends and think about making a work in much the same way, though Andrea's musical language is a bit more extreme than Heiner's, more in the Italian modernist vein, which is exciting in the incredible justaposition, say, between a folksong from Ireland and his music that jars you into the ferociousness of the piece and subject matter.
On the same program…
We have the Leni-Basso contemporary dance company from Japan with Finks, another multimedia show. I saw them in Tokyo. The dancers are incredibly skilful and they dialogue with the screen and with the sound score. The Glass House Mountains installation is an IMA-Elision collaboration between composer Liza Lim, visual artist Judy Watson, cellist Rosanne Hunt and sound designer Michael Hewes [described in the program as "inspired by Queensland's Glass House Mountains, featuring sculptures, video, floor and wall pieces made with volcanic soils from each of the 10 mountains, standing next to topographical drawings, environmental sound recordings, spatially manipulated electronics and live cello performances." QFM Brochure].
Liquid Architecture will present soundscapes in 3 city malls, transforming the usual urban sonic experience into something new. [The QFM program also includes Ed Kuepper's Music for Len Lye, the New Zealand experimental film innovator from the 30s; and Tyrone performing with Topology in a program of Weill, Radiohead and others.]
On the jazz front we have Omah Sosa, a Cuban pianist but with a distinctive African flavour which I find really exciting. He's looked to as a new leader in the jazz world. And we're doing Ruby's Story with Ruby Hunter and Archie Roach with arrangements of their songs by Paul Grabowsky in the Brisbane Powerhouse and then in Cherbourg for the Aboriginal community.
Epics
Wagner's Tristan and Isolde, where all new music began, is almost sold out. It's a concert version with Lisa Gasteen; Brisbane's her home town. John Treleaven sings Tristan, he's Cornish–he sings it in Hamburg and then he comes here. I heard him do it in Amsterdam; he's the best Tristan in the world at the moment. The Australian Youth Orchestra will be conducted by Richard Mills. It's a 6 hour experience.
We're also doing Schumann's Dichterliebe, Schubert's Die Wintereisse and his Der Schwanengesan with a great young Canadian baritone, Phillip Addis. He'll do the complete 3 cycles in one week. These days you rarely hear one of these cycles live. He'll be performing at St Mary's Church where, in the same series, Lisa Moore will be playing Janacek piano music; Stephen Savage, John Chen and Ian Munro are playing Tippet over 3 nights; and Erik Griswold will play his own remarkable compositions. This series will be at 6 o'clock every evening for a week.
Statewide
Twenty three centres are part of QFM. Around the state there are about 12 world premieres: a big new piece in Mt Isa that writer Sven Swenson and composer John Rodgers are creating, called Bobcat Magic [building on the great success of 2003's Bobcat Dancing]; a new piece in Charters Towers with 200 local performers, text by Janis Balodis and Shenton Gregory writing the music, called Charters Towers, the Musical; a huge event in Cooktown with the Huli Wigmen from Papua New Guinea and the Narasirato Are'Are Panpipe Ensemble from the Solomon Islands. They'll live in Cooktown for a week, build a village and, with local Aboriginal and South Sea Islanders, will eat together and have ceremonies nightly and a big corroboree, Gunbu Gunbu on the final night.
Sarah Hopkins is writing a new piece in Childers. After the success of the work she created for the town in 2003 for massed community choir, orchestra, didjeridu and percussion, they want to call the new subdivision there after the piece, Childers Shining. There's a mosaic in the footpath with parts of the score.
Michael Haskill is writing a new piece for the drumming community of Caboolture, called Caboolture Drumming, with Taikoz and djembe expert Elliot Orr. In Moranbah, we've commissioned The Musical Railway Line, a permanent installation by Steve Langton using old railway materials and played by locals along with leading percussionists from around the world.
To market…
With the assistance of the Australia Council and Arts Queensland the Australian National Music Market has been considerably expanded, with more concerts and artists from Australia, Canada, New Zealand and Mexico. They include 29 artists from the Northern Territory–including terrific Indigenous bands. There are Mexican DJs. And there'll be international presenters and representatives from Germany, US, UK and Asia.
Moving on…
Terracini is happy to be moving on from QFM, "it's time for someone else to do it." He thinks the festival is in very good shape. It has raised $4.1m of its budget itself, "It's grown and people have confidence in it. It's been adventurous–Tristan is the most conservative thing we've done–and the people of Queensland have come on the journey. QFM will continue to be biennial and in the other years I'll be able to focus on theatre and dance in the Brisbane Festival."
Queensland Music Festival 2005, July 15-31;
www.queenslandmusicfestival.com.au
See also preview of the Australian Computer Music Conference
RealTime issue #67 June-July 2005 pg. 5,6
© Keith Gallasch; for permission to reproduce apply to realtime@realtimearts.net