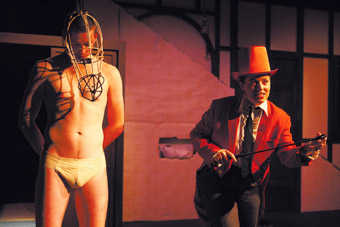 photo Jon Green
Wyatt Nixon-Lloyd, Talei Howell-Price, Woyzeck
Woyzeck
There is a moment in director Matthew Lutton's production of Woyzeck where the title character kills his lover, and the fish-eye style, water-filled aperture in the set behind which they are standing slowly fills with red ink. It's a striking spectacle—simultaneously beautiful and brutal. This crisp, cool image in many ways sums up Lutton's production. It represents a chilly, calculated and efficient aesthetic, yet it is somehow wanting in the full affective force which one might desire or expect from such a climactic moment.
Lutton's previous work—a version of that other classic of German Expressionism and pseudo-Brechtian dramaturgy, Durrenmatt's The Visit (RT67, p37)—was a vast, raggedy piece of theatre, a shaggy dog of messy ideas, conflicting emotions and theatrical motifs. While not always entirely coherent, The Visit was also striking in its novelty (the use of tiny set objects was particularly notable) and in its expansive vision. By contrast, Woyzeck is a far tighter work, with design elements reflecting a highly finished state and functional efficiency. But there is not much to surprise those of us who have seen this rich loam of European dramaturgy turned over before. In the wake of multiple revivals of Büchner's incomplete script after he was rediscovered as Brecht's precursor last century, as well as the superb 1979 version of the story from director Werner Herzog and actor Klaus Kinski, it is not clear what Lutton adds. As ever, his deployment of the set from Claude Marcos and his near constant use of a broadly electroacoustic score by Ash Gibson Greig is impressive. Several of the performers are also notable. Alison Van Reeken plays the Doctor who pays the poverty stricken Woyzeck so that she might satisfy her scientific curiosity as to what happens to a man who eats nothing but peas. Depicting Büchner's archetype of heartless modernity as a gaunt woman gives an interesting nuance to the character. Nick Candy as Woyzeck's competitor in love, the Drum Major, successfully manages to appear sexy demonstrating his ceremonial march, while a scene from Woyzeck's increasingly strained romance is simultaneously played out. Although Brendan Ewing is becoming somewhat typecast as Perth's young, crazed actor of choice, his twitchy Woyzeck, leading through his sharply inclined head and neck, is strong.
Nevertheless, for all of the beauty of Marcos' somewhat Constructivist set and Lutton's adept and dynamic application of a circular stage revolve, Woyzeck never quite becomes more than the sum of its well-oiled parts. For those audiences who have not accumulated the mnemonic filofax of German literary and cultural history which I have built up since seeing Fritz Lang's M about 20 years ago, Lutton's production offered an arresting introduction to Büchner's story of a victim whose abuse both by and of others eventually turns him into something else (a cursed seer perhaps). It is perhaps time Matthew Lutton turned his attention from the classics of the European avant-garde to other, less well-worked material to which he might bring his acute sense of dramaturgy.
Tough Girls
Another fine production was the musical comedy Tough Girls, from director Maude Davey of Adelaide's Vitalstatistix and Melbourne Workers' Theatre regulars Irene Vela (composer) and Melissa Reeves (writer). The narrative of this Vitalstatistix and Deckchair co-production follows the twisted lives and mildly ridiculous scenarios of the Melbourne underworld, where a kind of brutal ockerism, inconsistent yet commonplace police corruption, and a garish sense of suburban style and ostentatiously expensive kitsch all acted to flavour a near war between cops and crims during the late 1980s. This famously led to the Walsh Street murders and to alleged police reprisals on those involved. The tough girls of the title include the former wife of one of these cop killers, Ella, now turned prosecution witness and holed up in a caravan under the supposed protection of unflappable officer, Irene. In a nearby caravan is the queen of the crims, Vivien, biding her time before moving to gun down her rivals, while the happily amoral junkie Luce flits between the 2 parties. Cath Cantlon's set splits each caravan into a half shell at either end of the stage, enclosing the action (as one reviewer remarked) like a pair of inverted commas. As with Vela's work for the MWT, the score is a deliberately bastardised, easy-on-the-ear mix of the odd Kurt Weill motif and classical references, dominated by folksy rock strummed out on guitar. Vela is ably abetted by Cathie Travers on accordion and piano.
Generic mixture is the reigning principle here but I for one did not find Tough Girls an altogether satisfying cocktail. Much in the characterisations is intended ironically, with Jacqy Phillips as Vivien shining. She staggers about the stage, bow-legged, like some kind of frightening offspring of John Wayne and the Kath Day-Night of Kath and Kim. Caroline McKenzie's evenly measured opacity in the straight role, Irene, provides a strong centre against which to measure such excess. In both the libretto and the performances as a whole however there is a constant alternation between comically exaggerated faux opera versus actual 'pathos' conveyed via naturalistic performance and melodramatically sustained singing à la Australian Idol. Only Phillips consistently both acts and sings and with such a strongly mannered accent that her buzzing drawl would cut sawlogs. Overall, too much of Tough Girls is played for real within a musical context of relatively simple popular song, and too little with a sense of gross caricature and clashing musical diversity. For my tastes, the work of Davey and company comes a little too close to Andrew Lloyd Webber, and does not draw strongly enough on the richer heritage of musical theatre dealing with crime and murder such as Weil's Threepenny Opera or Steven Sondheim's Sweeney Todd. I suspect that if Tough Girls was performed with the velocity and force of the Marx Brothers at their most manic, then the production might gather its inconsistencies into an impressively dark romp. Brecht would doubtless approve.
Woyzeck, director Matthew Lutton, assistant director Michelle Lowden, performers Brendan Ewing, Sarah Borg, Bryn Coldrick, Alison Van Reeken, Nick Candy, Adriane Daff, Talei Howell-Price, Wyatt Nixon-Lloyd, Zoe Pepper, Sandra Umbagai-Clarke, composer Ash Gibson Greig, designer Claude Marcos, lighting Lucy Birkinshaw, Be Active BSX-Theatre; PICA, Perth July 11-29; Melissa Reeves, Tough Girls, director Maude Davey, performers Eileen Darley, Rhoda Lopez, Caroline McKenzie, Jacqy Phillips, composer Irine Vela, designer Cath Cantlon, lighting Sue Grey-Gardner, musician Cathie Travers; Vitalstatistix, Deckchair Theatre, Waterside Theatre; Adelaide, Aug 4-19; Victoria Hall, Fremantle, Aug 24-Sept 2
RealTime issue #75 Oct-Nov 2006 pg. 44
© Jonathan Marshall; for permission to reproduce apply to realtime@realtimearts.net