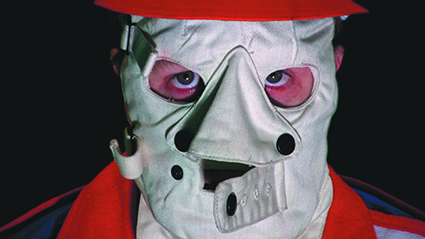 photo courtesy Australian Experimental Arts Foundation
Alterland, Heath Franco
Video became established as an art form in the latter half of the 20th century, but in the 21st, the age of video games, virtual reality, YouTube, social media and phone cameras, video is a universal language. Performance art frequently explores identity and the self in interaction with the world, and in his review of PP/VT Performance Presence/Video Time, Ben Brooker notes the current resurgence of performance art, whose history is intertwined with that of video. Heath Franco's work both extends the tradition of performance on screen, using himself as the actor, and addresses the ever-expanding field of visual media.
On entering Heath Franco's Alterland, we first see Portrait (2010-2015), a three-minute looped video showing in rapid sequence the comically nightmarish characters he has created over several years. This sequence is framed by TV test-pattern colours as if TV or video portraiture has displaced painted and photographic portraiture. Sydney-based Franco plays every role, which he evokes with dramatic gestures, bizarre costumes, garish makeup and sometimes novelty-shop masks. His characters resemble caricatures from children's stories, pantomimes and video games. There are many animal characters—cats, dogs, wolves and koalas, even a pig with a plastic roast chicken on its head. Sometimes Franco dresses as a woman, albeit with a beard. While there is a childish quality in this uninhibited foolery and dressing up, the characters represent personas we might encounter that can reveal the human psyche in all its manifestations. Franco says that they represent people he has met, or characters from TV and horror movies, and he cites David Lynch as an influence. His work brings to mind satirical comedy from Aunty Jack to Dame Edna Everage, Dada, Fluxus, Absurdist theatre and even the dissociative psychopathology of Jekyll and Hyde, as if Franco himself embodies a range of alter egos.
Having been introduced to the inhabitants of Heath Franco's world, we then proceed to Wunder-Land (2011-2015), where we approach an archway on either side of which are video projections (from his Wunder Closet, 2011) showing a rapid sequence of images of Franco, trouserless and in various guises, leaping up with hands in the air as if to create a human tunnel, like a cheer squad encouraging players entering a stadium. As we walk through the archway, we see a semicircular array of TV monitors on the floor, showing more trouserless characters who applaud us vigorously. Behind the monitors a huge wall-projected image of a masked face stares at us, an Orwellian Big Brother welcoming us to an insane world through the archway portal to the acclamation of the half-naked acolytes on the monitors.
Beyond this 'temple' is Franco's Static Spread (2013-2015), another installation of wall projections showing a four-second looped fragment from his 2013 video Televisions in which two characters magically emerge from an image of TV static. One is in sinister black and the other in angelic white like a high priest; they mockingly represent good and evil in combat. Both roles are performed by Franco in a well-crafted piece of digital manipulation that reminds us to beware of hidden messages in our media. The trance-inducing repetition of the imagery in Wunder-Land and Static Spread hammers home the message.
At the exhibition opening, Art Gallery of SA director Nick Mitzevich interviewed Franco before a large and enthusiastic audience. In noting Marina Abramovic's view that performance art is hard work, Mitzevich places Franco's work in the performance art tradition and acknowledges the effort involved in creating these roles. Franco's Alterland is not simply a record of performances, but a complex montage of electronically mediated imagery that places the viewer within a multi-channel installation. As with many artists, Franco's work also circulates universally through the internet. We recall Marshall McLuhan's dictum of 1964 that the medium is the message.
As well as exploring the power of video and cleverly parodying human behaviour, Franco raises important social issues. For example, his Alterland installations address religion and the church, he considers gender identification through cross-dressing and he challenges authority by creating malevolent-looking authority figures who seem to talk gibberish. Abandoned, alienated misfits and outsiders are also among his cast of characters and in Alterland are valued members of society. In the interview with Mitzevich, Franco states that, in showing himself half naked, he is representing the childish fear of being caught naked, but in so doing he reveals our paranoid obsession with sexuality and appearance.
Viewers seem to associate strongly with Franco's installation, many photographing themselves or each other against the backdrop of the wall-projected imagery and thus, paradoxically, documenting themselves within Franco's theatre. Undoubtedly their images will also circulate further via the internet and become part of the video universe in which we live.
Heath Franco, Alterland, Australian Experimental Art Foundation, Adelaide,10 July-8 Aug
RealTime issue #128 Aug-Sept 2015 pg. 54
© Chris Reid; for permission to reproduce apply to realtime@realtimearts.net