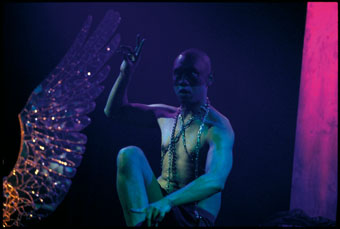 photo Heidrun Löhr
Brian Fuata, Museum of Fetish-ized Identities
Living in Australia in 2003 is an everyday cross-cultural experience, but as a nation we're forgetful. Crisis induces racism. Scarcity provokes cultures of exclusion. Hence the importance of regularly reminding ourselves just who we are in, among other things, celebrations of cultural diversity. For Jorge Menidis, director of this year's Carnivale, multiculturalism in Australia is a "given" and, to be effective, he believes the festival needs to reach the broad population.
I can think of no better experience of cultural shape-shifting than a night out at THE LIVING MUSEUM: of fetish-ized identities. I saw Part 1 of this extraordinary work at Performance Space 2 years ago and it's back in a new incarnation for Carnivale 2003. Created by San Francisco-based Chicano performance artist collaborating with a group of Australian artists, the Museum offers a wildly immersive experience of living, sometimes grotesquely mutating human exhibits. The audience cruises this array of ethnographic dioramas and is at turns seduced—intellectually or actually—to take part. Should you decide on the latter, there's even an empty exhibit with costumes and a camera to record your spontaneous creation. This is playful, sexy, sometimes risky performance. "Like partying your way through the Apocalypse," says the publicity. And they're right.
A number of the performers from the first Museum had no hesitation in signing up for this one. Born in the Philippines and with a theatre background, actor Valerie Berry came to understand that in this work "your body is the artwork, you are the story." Each of the performers works on a manifestation of his/her own identity and then on a version of themselves based on their beliefs about the interpretations of others.
Beyond individual identity, The Museum confronts the ways dominant cultures reflect on minorities. Borders, hybridity and the future are the subjects of Gómez-Peña's enquiry and his skill, says another of the participants, Samoan-Australian Brian Fuata, is in making powerful political statements without necessarily using words. Working on Mk 1 was "an experience of totality…of fluidity and timelessness" as the warm-up, physical training and the talk that seemed inconsequential all became part of the emerging performance.
For Chilean-born Rolando Ramos "the whole experience was liberating…We saw in different ways from our different cultural/artistic experiences… It was a great space to be. And in that space a different language emerged." THE LIVING MUSEUM is rich, visceral performance territory where performers and audience become participants in a ritual. The new version can't help but take in recent world events (The Tampa election, September 11, 2 wars) that have thrown up a whole new collection of fetishized identities.
If the LIVING MUSEUM gives you a taste for border crossings, Carnivale offers plenty more. On the dance front Little Asia Dance Project presents a series of solos by 5 independent choreographers—Abby Chan (Hong Kong), Motoko Hirayama (Tokyo), Chan Yu-Chun (Taipei), Ju-Hyun Jo (Seoul), and Kay Armstrong (Sydney). Niels "Storm" Robitzky is a teacher and guru to German and French hip-hoppers. He and Karl "Kane-Wüng" Libanus from France are bringing their blend of hip-hop acrobatics and video projection to Carnivale's headquarters at the Seymour Centre. In Flamenco Rocks, Flamenco meets not only rock music but jazz and a DJ, losing no authenticity in the translation, according to Richard Tedesco, leader of Melbourne's Arte Kanela. Gerard Veltre presents Remember Me, a dance/physical theatre performance using hip hop and projections.
Bollywood on Bondi was the site for one of Sydney's best dance parties at last year's Carnivale. This year Bollywood Off Broadway reprises the event with a program of films curated by Safina Uberoi (My Mother India) and another big dance party, this time at the Seymour Centre. Carnivale's film program also incorporates the Francophone Film Festival; 10 to 1, a season of short films and rarely seen first works by some notable Australian filmmakers; and Enter the Dragon in which filmmakers from Sydney's southern suburbs document their stories.
The complexities of cross-over are given a serious seeing-to in the visual arts program, and especially in Artspace's The Mask, curated by Nicholas Tsoutas, in which contemporary social prejudices are "inverted and ultimately debased." At the same venue, in The Island Adrift artists explore "relationships and obligations inherent in living on an island adrift in a sea littered with impediments." At Gallery 4A Aaron Seeto curates Jia, an exhibition documenting the experiences of Asian-Australian artists in "the lucky country." In Sound of Missing Object at Performance Space Gallery, Panos Couros, Ilaria Viani, Jonathan Jones (recipient of last year's Ministry for the Arts Indigenous Artist Award) and others turn an everyday wooden cabinet into an experience of sight and sound.
Among the big ticket items are China's National Peking Opera Company on their first visit to Australia presenting one of the classics of the repertoire, The Legend of White Snake. The Mikis Theodorakis Popular Orchestra is coming. Guitar virtuoso Slava Grigoryan teams up with Bobby Singh on tabla and Joseph Tawadros on oud.
The theatre program features some intriguing scenarios. In a play from Turkish-Australian playwright Gorkem Acaroglu "the original Romeo & Juliet (Leyla & Majnun) meet Shakepeare's characters in a performance that takes place across artistic media, spiritual planes and states of existence." King of Laughter from South Africa "tells the story of an elderly TV technician who prepares laugh tracks on his last days on the job, having just met the young Vietnamese boy who's replacing him." Lest we forget, there's also an Irish play, Gigli directed by John O'Hare.
Last year, Sidetrack pulled a rabbit out of the hat with their production, The Book Keeper, based on the work of Fernando Pessoa, one of Portugal's most prolific writers and as strange as Kafka and Borges. It's great to see Carnivale re-mounting this magical production for the wider audience it deserves. Also from Sidetrack comes The Paragon, a new work by the soulful Adam Hatzimanolis about his life as an almost-famous person—"the one he would have been had he actually managed to burn down his father's fish and chip shop…or had his almost-opportunity to bed Nicole Kidman resulted in a long and steady relationship."
Among other performance works are Sivan Gabrielovich's The Cool Room directed by Deborah Leiser-Moore (a controversial hit at La Mama last year) and Sydney artist Karen Therese in Sleeplessness—"part mystery, part documentary and part revelation" based on the life and death of her Hungarian grandmother. Some works in development airing as part of Carnivale's Rough, Raw and Read project are Lina Kastoumis' Fat Sex, Kirina Stammell's Preserving the Apple, Dono Kim's The Bell of Korea and Prodigal Jack by Con Nats.
Classical Indian music and dance meet cyber Mother India in india@oz.sangam created by Western Sydney's Indian community with Urban Theatre Projects at Parramatta Riverside Theatre. If only half of the publicity promises are true it'll be worth a visit. Think "Parramatta River exploding with the sound and light of a Bollywood film shoot…Diwali lamps, saris on Hills Hoists and fusion dance bringing Mumbai to Western Sydney…live links to India in the foyer…and a Bhangra dance party erupting in the courtyard."
As well as concerts at the Seymour Centre, substantial sections of the music/sound program will be presented in collaboration with The Studio, Sydney Opera House. There's a new episode of the enormously successful Audiotheque, "a cinema of sound"; a tribute to Vasilis Tsitsanis and Greek Rebetiko music by Melbourne's Rebetiki; Slava Grigoryan teams up this time with electronica's acclaimed Eric Chapus aka Endorphin and Dancetracks goes global in a blend of live performances and drummers beat-matching DJ sets.
There are workshops and forums and a comedy debate to really get your teeth into (Is Mama's Cooking Better than Sex?) and the Carpet Lounge, the essential festival club with performances and films and space for artists and audiences to meet—one of the most important functions of a festival.
Expressing the everyday experience of multicultural Australia requires a diversity of forms and these days the hybrid arts offer some of the most potent possibilities. Both serious and celebratory, the Carnivale 2003 program includes many such works that take us across cultures, media and artforms.
–
Carnivale, Sept 24-Oct 19
RealTime issue #56 Aug-Sept 2003 pg. 32
© Virginia Baxter; for permission to reproduce apply to realtime@realtimearts.net