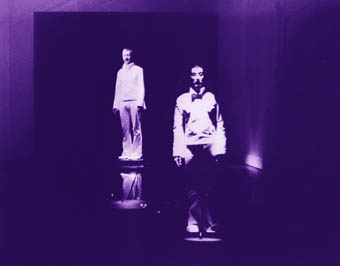 photo Heidrun Löhr
Paul Gazzola, Spin Double
The second program of performances at the Antistatic dance event opens with some of the audience spilling into the theatre space, performing inadvertent social moves for others who've chosen the raked seating. In dimly lit tableaux in the space are pieces of furniture and intimate displays of photographs from a family collection. Emerging from the crowd or appearing in a distant window or on stage (depending on your perspective), performers Eleanor Brickhill and Jane McKernan are like odd party-goers, dressed for dancing who've forgotten why they came. Alternatively pulling focus, they slice through the crowd wildly or cut a path carefully, molding the surrounding space and time to suit their mood. Brickhill moves tentatively and curiously toward a mirror or edges across the stage, maintaining a held-breath kind of tension until she finally bursts into the space, disturbing the peace we have settled into. McKernan's susceptible and surrendering gestures evoke other figures invisible to us, moving backwards as though repeatedly tapped on the shoulder, perched on a chair and tapping her feet as if waiting for her turn on the floor, reaching out with eyes closed to grasp something that keeps evading her. Intriguing and curious, Waiting to Breathe Out is nicely complemented by Rosie Dennis' improvised staccato vocalising.
Michael Whaites' Driving Me is clean, sharp and good-humoured. Carli Liembach's images projected onto 2 screens and onto Whaites' white coveralls evoke the sensation of movement through space, like footage shot from a moving vehicle. Trees, lights and road markings are abstracted to create symmetrical patterns unified by a linear thematic. Whaites' playful movements are surprising, the fluidity and consistency of force creating a kinetic rhythm that you can ease right into. Sliding down a wall, squatting, moving into and embracing the space, using various planes of action between projector and screen, Whaites moves between detailed, broken up movement and larger sweeping themes.
Jeff Stein finishes the first half with a play on perception and physical discomfort in Mini-Me, a piece that pushes spectators to meet him halfway. A screen directly above the seating shows the performer in a cramped space, lighting cigarette after cigarette and setting them up in rows. The live video feed reveals Stein's presence below us just as we detect the column of smoke rising through the seating structure. Smoky air and craning necks force the audience into a shared discomfort with the sweating Stein who now appears on screen in a new location. Though actually seated in the dark before us, we can only see the performer on the screen above with the aid of Denis Beaubois' infrared camera. Stein alternates between sitting and staring blankly into the camera, sweating, panting and dancing/crashing around in the dark, all accompanied by Martin Ng's hectic improvisations. Evoking Ishmael Houstoun-Jones' In the Dark (Antistatic 1999), the focus shifts from visual to aural and sensorial creating a new kind of dance spectatorship evoked through a dislocation of presence and image.
During the break, Paul Gazzola's installation Spin Solo in Gallery 1 entertains in the tradition of an ancient wind-up tin toy. Dressed in an Elvis suit and standing on a wooden disk that spins by means of a rope and motor, Gazzola's dinky apparatus is as charming as his casual banter with the audience. Fielding questions about the work, Gazzola offers us a turn on his machine and then projects his own image into the space he had occupied while he has a rest (Spin Double). This DIY entertainment in an arcade style set-up has the kind of magic that only simple, comprehensible technology can.
Back in the theatre, Rakini Devi's Claustrophobia #3 begins with cellist and composer Liberty Kerr seated centre-stage behind a scrim, performing simple gestural strokes on her instrument. When Rakini appears, she evokes an other-wordly, intensely feminine force as she moves incredibly slowly across the performance space. Kerr's cello accompaniment adds an eerie quality, its dramatic swells creating a counter-point to Rakini's steady action.
The final piece, Cazerine Barry's House, presented here in excerpt, I have written about previously in RealTime: "Constant transformation is the outstanding element of the work…The visual aural and cultural sidetrips on this journey take full advantage of the mutability of virtual environments, while directly reflecting the central theme of the work, 'a dislocated sense of home and place', and the Australian dream of home ownership (RT46, p25). House works effectively in the space and tops off a night of well-crafted and mature work from NSW, Victoria and WA—a rare treat which emphasises the increasing need felt by dancers and audiences for the touring of independent dance.
Antistatic 2002, Program 2, Spin Solo and Spin Double installation by Paul Gazzola; Waiting to Breathe Out, deviser and performer Eleanor Brickhill, performer Jane McKernan, improvised text Rosie Dennis; Driving Me, choreographer, performer Michael Whaites, video artist Carli Liembach; Mini-Me devisor performer Jeff Stein, deviser video Denis Beaubois, sound Martin Ng; Claustrophobia #3, performer Rakini Devi, sound Liberty Kerr and Magnus, video imagery Nancy Jones; House choreographer, sound and video artist Cazerine Barry, associate director Rachel Spiers; Performance Space, Oct 3-5
RealTime issue #52 Dec-Jan 2002 pg. 25
© Erin Brannigan; for permission to reproduce apply to realtime@realtimearts.net