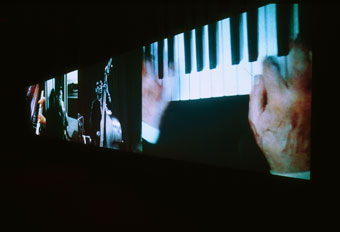 Christian Marclay, Video Quartet (video installation)
Two recent exhibitions in London highlighted the diversity of contemporary moving image practice and the increasingly central role of the art world in educating and supporting moving image makers. Both Daria Martin's work in 16mm film and Christian Marclay's video artworks are examples of the kind of formal innovation that is hard to imagine increasingly conservative film bodies encouraging, but which fortunately finds support in art institutions.
Christian Marclay is the embodiment of the modern multidisciplinary artist. Equally known for his musicianship and his visual arts practice, he has collaborated with luminaries such as Sonic Youth, John Zorn and Merce Cunningham, rejecting distinctions based on material or disciplinary boundaries. Marclay's practice takes place across the spectrum of object construction, work with found objects, sculpture, installation and most recently, video art. The unifying thread through all his work, as befits an artist with a musical background, is a central aesthetic of sound: from his early performances with turntables (he was one of the first and most notable musicians to 'play' turntables and has been referred to as "the most influential turntable figure outside hip hop") to sculptures entailing instruments and installed objects using or referencing record cover art. The hilarious False Advertising series of mock concert posters, featuring the artist in the daggiest of costumes and poses advertising fictional gigs, suggests a mockumentary impulse (or the worst of the parental record collection).
More explicitly 'about' sound, one of the most fascinating pieces in Marclay's recent show at the Barbican was the terrific installation Tape Fall, which uses a reel-to-reel recorder sans take-up reel, perched high on a ladder, spilling tape onto an ever-growing pile on the gallery floor. The experience of simultaneously hearing the incessant trickling drip-drip noises as the silky red-brown pile snakes slowly upwards is hypnotic and beautiful.
Engaging though these pieces are, they simply can't compete with Marclay's stunning Video Quartet. Sampling musical, concert, sung, and instrumental segments from 700 (mainly Hollywood) films from the golden era to the present in 4 side-by-side screens, it is a sonic extravaganza. Kaleidoscopic in its range and dizzying in its intensity, the piece begins pianissimo and builds, over 13 minutes, to a thundering crescendo that threatens to overwhelm. However, despite the exhilarating speed of the images flying by and vertiginous split-vision effect, the piece is surprisingly coherent as Marclay carefully loops, repeats and reverses some segments to maximise the musicality of the composition in a way that the viewer can instinctively 'read' musically. While the parade of recognisable faces is a reminder of how films are a collection of 'moments', their recontextualisation in this collage creates an artwork that backgrounds stardom, narrative and drama and foregrounds the sonic, and particularly percussive qualities of many films. Marclay's musician's ear is revealed in the brilliance of the composition, which is much more intelligent than many of the plunderphonic arrangements flooding contemporary music. Reversing the traditional ocularcentrism of cinema, Marclay's remix is a powerfully sensual interpretation of 'film as found object' in which skilful montage transforms film samples into instruments in an innovative video orchestra.
Daria Martin's film work similarly exemplifies the innovative approaches to the moving image by artists untroubled by the conformist groupthink often encouraged in film schools. Many of the UK's finest experimental filmmakers came via art schools and though Martin's work is representational and uses human figures, its aspiration is more aesthetic than narrative-dramatic. In the beautiful Closeup Gallery, recently at London's Institute of Contemporary Arts as part of the Beck's Futures exhibition, Martin uses a sleight-of-hand artist and his frilly-frocked assistant to explore ideas of illusion and artifice. Coloured cards are shuffled, spread, dealt, turned over, flicked around and painted rhythmically to a delightful tinkling jazzy sound track. Spread on a spinning circular glass table with metal spokes beneath, the controlled palette of emerald green, fire-engine red, cobalt blue, black and white suggests near-constructivist abstraction achieved via material objects (which are still very much moored in their social context by the activity of the film's subject).
Unlike some young moving image artists whose work unknowingly repeats past experiments or proceeds in ignorance of the incredibly rich history of experimental film, Martin has demonstrated a strong understanding of the continuum of artists' cinema. Though projector problems disappointingly prevented the much-anticipated screening of Maya Deren's Divine Horsemen at the film night Martin programmed at the Tate, her other choices (Carolee Schneeman, Kenneth Anger, Guy Sherwin and others) nevertheless revealed an informed and discerning taste. Martin's Closeup Gallery avoids the pitfalls of ignorance, its deceptive simplicity not immediately suggesting (nor trendily referencing) other artists' work but making an aesthetic point of its own. Revelling in the scopophilia of its subject matter and tinged with nostalgia for a bygone era, Closeup Gallery is a unique artwork that positions its maker at the forefront for the lucrative Beck's Futures awards.
Christian Marclay, Barbican Gallery, London, Feb 17-May 2; Daria Martin, Closeup Gallery, 16mm film, Beck's Futures Exhibition and Awards, Institute of Contemporary Arts, London, March 18-May 15
RealTime issue #67 June-July 2005 pg. 27
© Danni Zuvela; for permission to reproduce apply to realtime@realtimearts.net