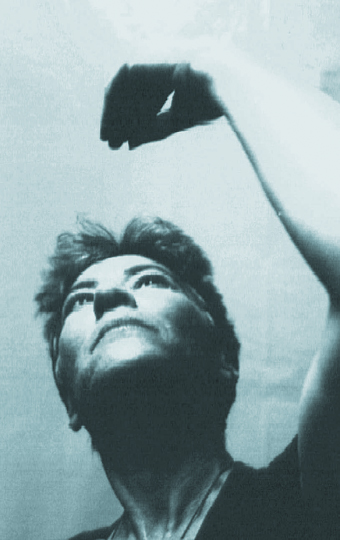 photo Giovane Aguiar
Lisa Nelson
EB Through your experience travelling and collaborating with people around the world, how do your experiences in Australia differ? In your Writings On Dance article (Issue #14), you talk about travel as an opportunity to test the flexibility of your perception. What "new muscles" of perception did you have to flex here?
LN My work explores how we use our senses, how we have built our survival skills, how these habits influence and underlie our movement, our dancing, our appetite for moving, for being seen dancing, and how we develop our opinions, what we like to see and do, how we compose our realities. In the exotic (to me) dance subcultures that I've had the good fortune to share this questioning with, this dialogue has been met with enthusiasm. I'm always fascinated when there appears to be a consensus of desire or opinion in a temporary, incidental group of dancers.
For the most part I dare not make comparisons, for each gathering is so context-laden. Yet I can't help but notice…One thought I had on my return trips to Australia was how a people who perceive themselves as living in a relatively isolated culture make a lot out of a little. I've run into that cultural self-image in various parts of the world, in Hungary and East Germany shortly after the walls came down, in the Midwest and rural US, in Argentina and mainland China just last year.
We can imagine that 'having little' can lead to a habit of mining a deep mine, going way behind or beyond the surface of things. And it can provide a vast, blank canvas for the imagination. I found that willingness to dig and the facility to imagine striking in the students I worked with in Australia each time, in 1985, in 93, and 97. This was a great pleasure. As was speaking English to English speakers for a change.
EB I'm particularly interested in your thoughts on performance—the engagement between performer and audience. How did you feel this engagement differed, if at all, in Australia?
LN My visits have been very short, and until last year I'd had little exposure to performance work down under, other than the work of Russell Dumas who I first met in Europe in the early 80s. I have seen his work on 3 continents and think of him, most certainly, as a dance artist with a thoroughly international perspective. I was curious, in 1997, to see how the perceptual flexibility and imagination I enjoyed so much in the workshops would manifest in performance, and I got my chance during the Festival of the Dreaming and Sidetrack's Contemporary Performance Week in 1997. However, in this first exposure, I found it hard to look beyond my own familiar Western references and sources—which is not a surprise—but I am curious to see more…to begin to perceive the character, direction and purpose of Australian dance and audience behaviour in relation to its own history.
EB We recently had a conference in Melbourne where the hegemony of ballet in this country was discussed—a notion that makes Writings on Dance and antistatic rare public forums for discussing 'alternative' dance practices in Australia. Did you have any sense of this situation during your visits here?
LN A quick note about dance thinking and support for the arts: I've been co-editing and publishing an alternative dance journal, Contact Quarterly, out of the US for 22 years now. The writings all come from dancers and movement artists themselves, and except for a very few years, the readership is the sole support for the magazine. The labour for producing it has almost been entirely volunteer and it seems to sustain itself by the unflagging need for dialogue outside of the institutions.
I always have my eye out for writings by dancers and have been reading Writings on Dance (WOD) probably since the first issues when one of its editors, dancer Libby Dempster, whom I met in the mid 70s in England, sent me one. I've found it to be a remarkable archive of analysis of the new dance practices which have been, and continue to be, extremely marginal, and at the same time significantly influential to the mainstream Western dance over the last 20 years or so. In WOD, it has struck me, that often (not always) the source or tools of analysis are semiotics and feminist criticism, both academic approaches and somehow a very narrow base when applied to dance. I often wondered why this emphasis and yearned for more personal and wider sources in this elegant publication. I gathered on my last visit how much dance comes out of the university system in Australia, and that dancers learn to validate their work based on these systems of analysis. I imagine, somehow, this dominant way of thinking enters the work they make. Yet there is also something that has come through WOD's effort to put dance in print that is helping to create a body of thought and stimulate the field beyond the continent of Australia.
I read RealTime for the first time on my last visit and noticed a similar language in much of the writing, however I was thrilled by the range of voices and sheer volume of activity and desire to be heard. These are precious publications, evidence of passion, discipline, self-criticism, and practice "in the face of…" It seems that personal voices and developments in dance, theatre and performance in the West have demonstrably not developed through institutionalised training and support.
Young artists usually have enough fuel to push through lack of support. The tragedy comes when artists have to quit before developing into maturity, leaving few models, few inspirations, and all that implies for the culture. We try to survive the same stupidity in the US.
RealTime issue #29 Feb-March 1999 pg. 28
© Erin Brannigan; for permission to reproduce apply to realtime@realtimearts.net