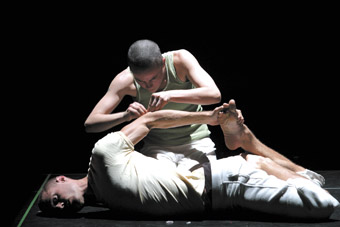 photo Rachelle Roberts
Kyle Kremerskothen, Kirstie McCracken, Aether, Lucy Guerin Inc
"EXHILARATING, STIMULATING, DISTURBING, EROTIC, PROVOCATIVE, CHALLENGING, HAUNTING." SYDNEY FESTIVAL HAS SELECTED THESE ADJECTIVES TO DESCRIBE THE SEVEN DANCE PRODUCTIONS IN THE 'FESTIVAL WITHIN A FESTIVAL' WHICH IS THE ABOUT AN HOUR PROGRAM FOR 2008. LAUNCHED IN 2006, THE SERIES IS ONE OF FESTIVAL DIRECTOR FERGUS LINEHAN'S MOST SUCCESSFUL INITIATIVES, ATTRACTING NEW FESTIVAL AUDIENCES TO THE SYDNEY OPERA HOUSE THROUGH A $25 TICKET FEE, SHORT PERFORMANCES AND PUNCHY MARKETING.
This year's program, subtitled Movers & Shakers, is devoted entirely to Australian contemporary dance. Sydney Festival was the successful bidder in a $200,000 tender from the Australia Council's Dance Board and Community Partnerships and Market Development Division for an initiative to build audiences for, and raise the profile of, Australian dance. Jennifer McLachlan, Director of Dance at the Australia Council, says, "The Sydney Festival has developed a smart concept that will provide an ideal platform to showcase Australian dance to a broad cross-section of the Australian community."
Realising that this program is the closest thing to a national contemporary dance festival Australia has had since Robyn Archer's 2003 Melbourne Festival, the Australia Council has focused additional funding on bringing a delegation of 12 key international presenters to the festival—from North America, the Netherlands, Belgium, Germany, France, Finland, Korea and Japan.
Fergus Linehan has created a program with mass appeal, seeking work with strong imagery and high production values. He has used the new funding to commission and co-commission world premieres and remount productions recently shown in other states and overseas. Works will be shown in the Opera House's Drama Theatre, Playhouse and Studio and at the Riverside Theatres in Parramatta. The festival has also commissioned a program of dance for screen, curated by Erin Brannigan of Reeldance, for the western foyers of the Sydney Opera House. There will also be a panel in the Eat, Drink, Talk Art series at The Mint which will bring the programmed choreographers into conversation with their audience.
force majeure
Amongst the world premieres is Force Majeure's The Age I'm In, a collaboration with Sydney-based photographer William Yang. Described by the company's director Kate Champion as "a revealing portrait of Australia today", the work is a slice-of-life examination of "a random and diverse selection of Australians aged between eight and 80." Force Majeure's 2005 production, Already Elsewhere was commissioned and premiered by Brett Sheehy for the 2006 Sydney Festival and the company's debut Same, same But Different premiered in Sydney Festival of 2002. Champion says,"The company came into being through the Sydney Festival so our relationship is heartfelt. We are thrilled to be part of this festival which we feel represents the 'here and now' of the Australian dance industry. The Age I'm In is extending our aim to represent a range of Australian experience that exists beyond the rehearsal room walls and is sourced from experiences of everyday people."
chunky move
Another world premiere in the season is Chunky Move's Mortal Engine (see the interview with director Gideon Obarzanek in RT81, p41), a follow-up to the widely toured dance and technology solo, Glow, which was shown at the Sydney Opera House Studio in 2007 as well as at Melbourne Festival and extensively overseas. In Mortal Engine we will experience a "new dance-video-laser performance using movement responsive video projections to portray an ever-shifting, shimmering world in which the limits of the human body are an illusion." Promising the same shift between the exquisite and the grotesque which characterised the mood swings of Glow, but with more dancers and more technological innovations, this collaboration between choreographer Gideon Obarzanek and German interactive video systems maker Frieder Weiss features the polished integration of movement and image characteristic of much of the Movers & Shakers program.
rings, benjamin, dunn
A double bill commission is the third world premiere in the season. Independent choreographers Frances Rings and Narelle Benjamin have created solos for dancer Kathryn Dunn. Rings' Belonging is an "evocation of the innate connections between the body and nature." Rings, one of Bangarra Dance Theatre's resident choreographers, says, " I feel this work is as much a journey back home for me as it is for Katie. With each of my new works I step closer to connecting with my roots. I'm excited to work with a soloist and really get down to defining my choreography and to partake in some Women's Business." Benjamin says her work, Figment, "was created to throw light on my sister's experiences as a suffering schizophrenic. Schizophrenia changed her reality, and re-wrote the path of her past for years before beginning treatment. After she began taking medication, and gaining some relief, she kept journals detailing her hallucinations and delusions. She also took the time to talk of those times and the ongoing battle she wages with this debilitating disease." Benjamin is using the same creative team she assembled for recent productions, Gossamer and The Dark Room, with Samuel James contributing projected images and Huey Benjamin the score and sound design.
shaun parker
Amongst the Sydney premieres are Shaun Parker's This Show is About People, a hit of the 2007 Melbourne International Arts Festival. Dancer-choreographer Parker collaborated with vocalists Mara and Llew Kiek and a talented group of dancers and musicians to create a humorous dance theatre work with appealing musical quirks (see John Bailey's review p8). Parker says,"I wanted to make a work about the nature of life and death and the questions one asks about humanity and to allow the production to be driven by the body and the voice—two of the fundamental aspects of what it is to be human. I want my work to connect with audiences, and challenge them all at the same time."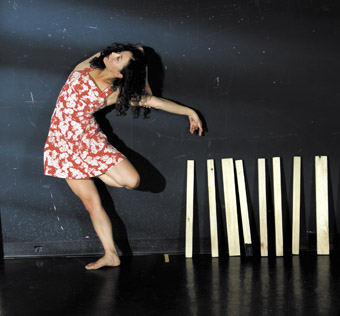 photo Chris Herzfeld
Kristina Chan, construct
tanja liedtke
Tanja Liedtke's Construct premiered in London in 2007 (see Martin del Amo's review in RT81) and toured the UK just prior to the choreographer's untimely death. Solon Ulbrich, associate director of the work and Liedtke's partner, says, "Construct received acclaim from England's The Times newspaper as 'a bolt out of the blue' and has been planned for presentation in the Sydney Festival since April 2007. The festival is to be commended for maintaining their commitment to presenting Construct. We are thrilled to present the work and fulfil Tanja's commitment to bringing audiences the finest, stimulating dance experiences."
lucy guerin
Lucy Guerin's Aether is new to Sydney, but the company certainly is not. Guerin says, "Being programmed in Sydney for the third time in 12 months is an incredible opportunity for our company to consolidate the audience base we have there and also to make some inroads in expanding it. Our company is on a strong upward trajectory with various opportunities appearing in our hometown of Melbourne, as well as around Australia and the world." Described by Guerin as "an intricate and chaotic dance piece", Aether "depicts the struggle of five dancers—at once fast, furious and delicate—as they transcend the messy clutter and confusion of contemporary communication and make direct, and ultimately human, connections."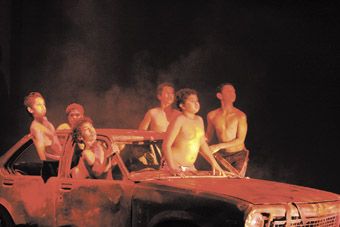 photo Joanne Bell
Kin
stephen page
Kin by Stephen Page, Artistic Director of Bangarra, is a surprise inclusion, featuring as it does, a cast of pubescent boys clambering over a burnt-out car and telling their stories in dialogue, rock music and rap as much as in dance and movement. Page calls Kin, commissioned by the 5th Asia Pacific Triennial and shown at the Melbourne International Arts Festival, "a contemporary initiation through theatre into the social and political problems in Aboriginal communities," yet his touch is light and the "young boy energy" which he celebrates ignites this production and makes it worthy of inclusion in a line-up of Australia's best dance talent.
Such an unprecedented line-up of dance productions is likely to attract excited audiences and it is no wonder that Linehan's launch publicity for the festival calls this season "our proudest programming achievement" and predicts it to become "the talk of the festival."
–
Sydney Festival 2008, About an Hour: Movers & Shakers, Sydney Opera House, Parammata Riverside Theatres, Jan 5-26, www.sydneyfestival.org.au

RealTime issue #82 Dec-Jan 2007 pg. 4
© Sophie Travers; for permission to reproduce apply to realtime@realtimearts.net