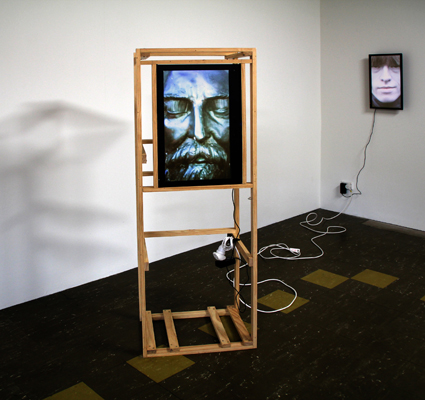 photo Sue Dodd, Anna Pappas Gallery
Sue Dodd, Significant Others, 2012
I missed Sue Dodd's video Significant Others (2012; a portrait-oriented single screen video, it's now on her Vimeo page) at the 2012 Melbourne Art Fair. But even when I first heard about the work it felt like a smart, snippy nipple-twist, commensurate with Dodd's established work. The concept is clear, concise and simple: a parade of animated sculpted bronze busts of Australia's prime ministers, who each in turn mouth the name of their wife. (It concludes with Julia Gillard mouthing "Tim.")
A performer as much as an artist, and one with a keen ear for Pop musicality, Dodd has ceaselessly trawled tabloid effects which progressively embalm icons regardless of stature or merit. Their emptied significance is intensified by her artistic appropriation of their eventuated nothingness. I feel Dodd's point is never judgemental or neo-Maoist in its orientation: for her, pop culture is accepted as fully formed and as unquestionable as those sitting with you on public transport. Lofty leftists often presume any engagement with pop culture is somehow automatically critical within the context of art—they probably don't use public transport much.
Like all good sharp-and-simple art, Significant Others amounts to more than the type of quips one could find on any two-bit feminist blog—written by some home-dad freelance copywriter for NPOs. The bronzed busts are all filmed onsite at Prime Minister's Avenue at the Ballarat Botanical Gardens. That place is a ground zero for the dumb meeting between art and politics. Presented to scale and installed at actual height, the busts have the gawky effect of bringing a PM down to the level of 'the people.' But it's a meeting on shaky ground: their post-war workmanlike sculpting (slightly expressionistic, but ultimately bad caricatures) ensures that far from being inspiring figures communing with their public, they now live out a life most ordinary as bad art.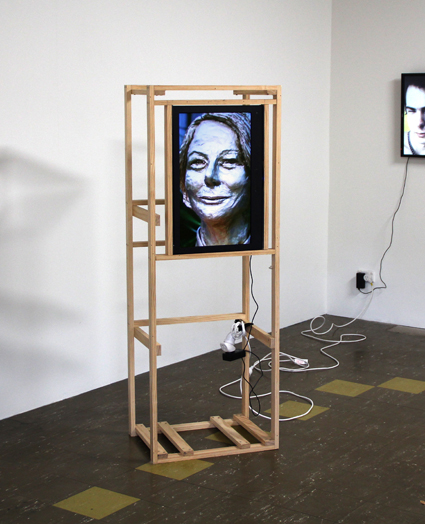 photo Sue Dodd, Anna Pappas Gallery
Sue Dodd, Significant Others, 2012
Yet this numbing normalcy generates a perverse hyperreal effect founded on their audiovisual potential: they look like what politicians sound like. Confronting their visage face-to-face evokes hearing a politician talk. And could a PM's voice —omnipresent in the mediasphere of its life span—be any more lacking in charisma, character, impact? What with their para-schizophrenic vowel-twisting that folds in rural xenophobia, grammar-school smarminess, concerned-parent ethical sighing and cheap filibuster theatricality, the voice of any PM is a choral overload of disingenuous and wasted earnestness. Always unconvincing, you can hear their shitty speech-writers cynically mouthing lame altruisms worthy of the most banal script-writers (without exception.) Looking at these bad bronze busts is like witnessing their collective vocalisation.
Significant Others utilises base-level digital animation (vector-warping zones of the filmed footage to simulate heads tilting and rotating, eyes opening and closing, and mouths parting) to have them enunciate a single name. It brings these dumb heads to life, ordinarily. This is the people (via Dodd the artist) speaking back through the PMs, just as they attempt to speak for the people while speaking through them. The animation is as dumb as the original busts: rather than impressing one with amazing effects and realism, it apes a technical cliché that crudely animates the busts to perform a completely unimpressive feat of magic (the opposite impulse of all current phantasmagoria). No, Toto—we're still in Ballarat; they're still a bunch of dead or near-dead PMs; and there is nothing of interest to be born of engaging with prime ministers as if they're important in the first place.
Well, that's how I read it when these pathetic heads spookily call their wives' names, gasping an unfinished sentence on their domestic deathbed, as chirpy morning birds babble in the background. For me, the power of Significant Others is the opportunity it takes not in debunking or mocking the power of politicians, but in emptying them of all power, and rendering them as mere ineffectual partners. As any gender-split 30-something BBQ will prove, wives love laughing at their husbands (despite them marrying the jerks in the first place), and the moaning automatons of Significant Others undress the male PMs as self-important schmos dressed by their wives. But this work is only superficially about politicians and gender issues. The smug mockery which the intelligentsia love so much in critical culture might be attributed to Dodd's puppeteering of the Ballarat PM busts, but it's the voicing of the unspoken that emboldens the work. By rendering sonic the aural utterance of an invisible power source within these people (ie 'the wife'), Significant Others incants solitary names which—like all fatal incantations—actualises the socio-political environment within which political performances are so unconvincingly staged. Under Dodd's audiovisual palette knife, each name uttered is like their last political breath.
For many, something like the outré nude cartoons of naked PMs in Larry Pickering's Playmates (instigated in 1978 and ongoing annually for 18 years) is an acceptable marriage between art and politics. But if there's anything more boring than politicians, it has to be the parasitic media/theory/comedy industries which drip from their collective colon. Just the thought of making a smart-arse crack about a politician—or worse, some investigative exposé of a politician's ethical infractions—marks your critical wit as deserving of as many Walkley Awards as you can fit up where it hurts. Contemporary Art—perhaps wisely, perhaps snidely—avoids such obviousness. It plays a cunning game of espousing (mostly soft-leftist) neo-global politics without veering too clearly into advocacy or militancy (though sideline supporting and petition-signing exonerate many artists' political opacity). But both tendencies—the parodic in the former, the poetic in the latter—are so clearly pre-labelled one wonders why they state anything in the first place. Conversely, Significant Others is a precisely attenuated act of name-calling: it utilises an accusatory device to highlight a form of silencing, and does so by defacing the sanctioned monumentalism of honouring the legacy of a nation's political leaders.
Artists being political is like politicians being artistic. One can only imagine what Sunday landscapes the Ballarat busts created over their combined lifetime. Significant Others sees Dodd reversing the Pygmalion impulse—a pathology founded equally in male artists reconstructing their female muses through breathing life into clay, and in politicised artists believing that their conscionable statements achieve a reality effect purely through them opening their didactic mouths in the mediasphere. In doing so, Sue Dodd breathes politics into Sound Art by refusing to mouth the pseudo-revolutionary self-address endemic to neo/retro-modernist strains of the form. Instead, she lets the art speak for itself.
–
Sue Dodd, Significant Others: Prime Ministers, http://vimeo.com/63632074. Source images were taken on location at the Prime Minister's Avenue at the Ballarat Botanical Gardens. The exception is the bust of Julia Gillard which was created by the artist for the video.
RealTime issue #121 June-July 2014 pg. 22
© Philip Brophy; for permission to reproduce apply to realtime@realtimearts.net