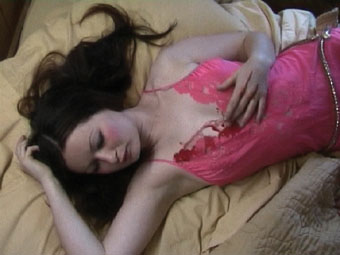 photo Bianca Barling
Mimi Kelly in Bianca Barling's Slasher Slutz
Destination: the budget motel. Transitory spaces filled with unfamiliar comforts, motels signify an arrival, a break in a journey. A motel offers temporary sanctuary; a place for respite, sex, sleep and shifting restlessness. With these ingredients of road movie consciousness in mind, 9 Adelaide artists invaded Motel 277 in Glenunga to stage No Vacancy, an exhibition of site-specific installation and performance art.
In Map Reference 201 D6, curator Honor Freeman delicately stitched beads around the perimeters of stains on bath towels, permanently and beautifully containing the area where each mark resides. Casually hung over a bathroom door and across the floor, the work sat harmoniously with Steven Carson's I Know You're In There. Brightly coloured buttons were methodically arranged, stacked and dispersed, growing like mould across the tiles, infesting the shower recess.
The wood veneer paneling and patterned textiles in Room 50 resonated with the luscious, tactile surface qualities of Sarah CrowEST's 3 'objects.' Ominously sitting in and around the bed, her comical blobs—oversized cakes or edible cushions—greeted the astonished visitor. In the next room, Tiffany Parbs' carefully placed pools of transparent resin, disguised as water and urine, lay in the sink and on the floor as the trace of departed guests.
Bianca Barling approached American motel fiction with filmic humour and excess. Her Slasher Slutz was a combination of performance, installation and digital imagery, conveying the spectacle of messy death. Peering in through the window as if onto a stage, viewers saw 2 young female victims lying on a bloodied bed in their blood-soaked slips. Next door, in Room 49, Greg Fullerton's Blue and White created a police crime scene, the unmade bed cordoned off, an abandoned cup of coffee on the kitchen bench, sugar scattered as if someone had left in a hurry. Part of Fullerton's Bloodlines series, photographs of the participating artists, blood oozing theatrically from their faces, were placed along the breakfast bar in a line-up of likely suspects.
Transforming private, unseen acts, illicit relations and anonymous violent crime into a public acts, No Vacancy was a spectacle of intimacy, staged melodrama and lighthearted conspiracy. And perhaps a parody of those temporary habitations frequented by Adelaide Festival visitors.
No Vacancy, Bianca Barling, Steven Carson, Sarah CrowEST, Bridget Currie, Rachel McElwee, Honor Freeman, Greg Fullerton, Mimi Kelly, Tiffany Parbs, Motel 277, Glenunga, SA, Adelaide Fringe, Feb 22-24
RealTime issue #60 April-May 2004 pg. 35
© Sarah Quantrill; for permission to reproduce apply to realtime@realtimearts.net