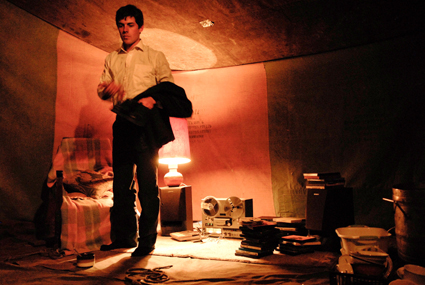 photo Heidrun Löhr
Matt Prest, The Tent
AN IMPORTANT DEVELOPMENT FOR AUSTRALIAN CONTEMPORARY PERFORMANCE IS ABOUT TO BE REALISED. THE MOBILE STATES CONSORTIUM, A STRONG SUPPORTER OF THE FIELD, HAS COMMITTED TO DEDICATING ONE OF ITS TWO ANNUAL TOURS TO A DIVERSE PROGRAM OF SMALL AND MEDIUM SIZED WORKS OVER THREE YEARS, STARTING IN 2010.
an expanding niche
The opportunities for contemporary performance works to travel regionally and cross borders have multiplied in recent years thanks to Mobile States (with sometime support from the federal government's Playing Australia program), Melbourne's Arts House, Sydney's Performance Space, Brisbane Festival's Under the Radar and a range of opportunities offered by Full Tilt (at the Arts Centre, Melbourne) and Malthouse (both of whom have presented works by Sydney's My Darling Patricia), Next Wave Festival (see articles by Reck, Karipoff and Warren), Sydney's Tiny Stadiums, Australia's international arts and fringe festivals and now regional players like the enterprising Campbelltown Arts Centre, west of Sydney, and Punctum in country Victoria.
Audiences are becoming increasingly familiar with contemporary performance as a regular part of their art diet—indeed as a substantial proportion of it in Arts House's 2010 Future Tense programs. As with the 2010 Next Wave Festival, Future Tense's offerings include the latest manifestation in the field—live art's extensive engagement with site, genres, games, media, science, sensory states and audience interaction.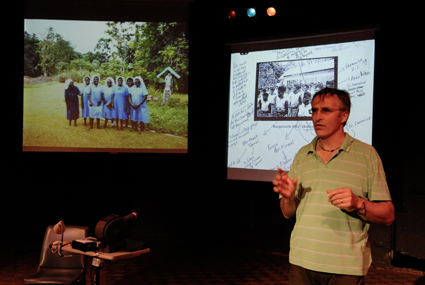 photo Heidrun Löhr
Paul Dwyer, Bouganville Photoplay
Mainstream theatre companies are also engaging with contemporary performance. In 2008 Sydney Theatre Company presented De Quincey Co's embrace: Guilt Frame (RT 83; RT84) and in 2009 performance trio Post were in-residence with the company. Malthouse's Tower provides a salaried venue for innovative works and Belvoir Street's B Sharp has programmed Post (Everything I Know About the Financial Crisis in One Hour) and version 1.0 (The Market is Not Functioning Properly) in a forthcoming Downstairs double bill and version 1.0's The Bougainville Photoplay Project Upstairs. Shutting down its B Sharp theatre program at the end of 2010, Company B seems set to commit to experimentation Downstairs: more room perhaps for contemporary performance to reach a wider audience.
mobile states: track record
Mobile State's particular interest is "in those artists whose practice is concerned with experimentation, research and the investigation of ideas and form" (Performing Lines website) as demonstrated by its strong track record. It has successfully toured Branch Nebula's Paradise City, Dancenorth's Underground, Back to Back's Small Metal Objects, Lucy Guerin Inc's Love Me, Tanja Liedtke's Twelfth Floor, version 1.0's The Wages of Spin, Chamber Made's Phobia, de Quincey Company's Nerve 9, Jenny Kemp's Still Angela and, most recently, Urban Theatre Project's The Folding Wife across the country.
The consortium members are Adelaide Festival Centre, Arts House (Melbourne), Brisbane Powerhouse, Performance Space (Sydney), Perth Institute of Contemporary Art (PICA) and Salamanca Arts Centre (Hobart) along with producing member Performing Lines.
modus operandi
I spoke recently with Harley Stumm, a producer for Performing Lines, the agency that produces, develops and tours Australian works of many genres nationally and internationally. He's a former executive producer for Western Sydney's Urban Theatre Projects and brings considerable experience to this new initiative which is so clearly responsive to developments in the field.
Asked how Mobile States works, Stumm says, "Performing Lines manages the curatorial process but it's a presenter-driven model. There were originally five members and now there are six with the Adelaide Festival Centre joining. We receive written proposals and vote on what goes forward. Performing Lines doesn't have a vote because as a presenter-driven model you can't vote to make someone put a show on. We participate in the discussions."
motivation
Asked why Mobile States took on touring "Best New Australian Performance" (Press Release), Stumm explained, "Over the years artists have pitched a half-hour work or an installation for Mobile States and you think it's a great piece, great to tour. But how? At various times we've talked about the idea of putting together a mini-festival to tour a broader spectrum of contemporary performance practice. There are new forms and genres arising but also new formats and new ways for audiences to experience work. So we developed the idea further, putting together a cluster of works to create an event that would build a bit of a vibe around this form of practice, and tendered for the Australia Council Touring Initiative from the Theatre Board. We'll tour programs of shorter and mid-length works, performance installations, sound installations, audio walks, durational performances. We've selected a menu for the first tour of four works: Rosie Dennis' Fraudulent Behaviour, Fleur Elise Noble's 2 Dimensional Life of Her, version 1.0's The Bougainville Photoplay Project and Matt Prest's The Tent."
complexities
The term 'menu' is apt. Stumm and the consortium had to grapple with the fact that not every venue could take on all the shows: "PICA in Perth has programmed all four works from the menu as a kind of mini-festival whereas other 'festival-ed out' presenters have selected certain shows as part of their seasons. Sometimes works have already appeared in a city, so they won't be selected: The Tent had already done Melbourne.
"We'd initially planned a menu of five shows but we didn't get Playing Australia touring money so we had to trim back. Then there were venue considerations. All of them have very different spaces—or not enough spaces—and different audiences, different budgets, any number of variables. Like all touring, there's a group of diverse presenters coming together and working out what they can share and where they can't compromise their own programming needs. On the other hand, there are benefits in touring to multiple venues—we've got four works going to five venues and no two venues have the same package, but there's very little downtime so it's still relatively cost effective."
in darwin
Stumm emphasises that the program "is a group curation. The five works that we originally programmed were all high on most of the presenters' wish lists." But Mobile States programs don't just go to the consortium's venues: "We've toured Tess de Quincey, Branch Nebula and The Folding Wife to Darwin with the Darwin Entertainment Centre. This time the Darwin Festival artistic director Jo Duffy was very keen to look at some smaller works. Paul Dwyer's The Bougainville Photoplay Project, which is about his father's New Guinea experiences against the backdrop of Australia's colonial history in the region, will go on at Brown's Mart, which is perfect for it—a nice intimate space. Obviously the connection between this work and Darwin's physical proximity to and historical relationship with Papua New Guinea interested Jo from the beginning."
In the other work for the Darwin Festival, says Stumm, "Matt Prest's The Tent will be performed on a strip of land on the waterfront, just down the hill from the CBD, between where they have the open air Deckchair Cinema and the new waterfront redevelopment. In the dry season when the accommodation in Darwin is booked up, all the ferals and grey nomads who've hit Darwin and either can't find a place to stay or don't want to pay for it, camp illegally in this park. So The Tent will be fantastic there. In The Tent there's a kind of bush philosopher who's opted out from the rat race. Matt says 'The Tent is pitched at the crossroads of sustainability and prolonged adolescence'."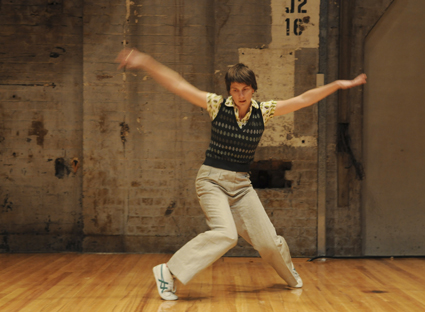 photo Heidrun Löhr
Rosie Dennis, Fraudulent Behaviour
going regional
I ask Stumm about Mobile States' commitment to regional touring. He replies that it's not just an ideal, but a practical necessity if funding from Playing Australia is to be secured: "The advice we got from Playing Australia was that there wasn't any issue with the model for the performance tour. It was simply a matter of regional reach. They have half a dozen selection criteria and so many program objectives. Regional reach is the top priority. So we have to extend our reach. And we want to do that. We have an application in for a stand-alone tour next year and another cluster—a menu of six works with each presenter choosing between two and four."
Stumm points out that Mobile States has had good regional reach: "With The Folding Wife, we said okay, where's the Filipino community located in Australia? And the answer is north Queensland and the Northern Territory. So we got that show to Mackay, Townsville, Cairns and Darwin. In the past, we got Branch Nebula's Paradise City to Cairns and Alice Springs, Dance North's Underground to NORPA in Lismore and to the Memorial Entertainment Centre in Bathurst." Stumm says there is strong interest in future package tours from a couple of regional centres that "have a bit of a history of presenting more contemporary, more adventurous work", but it has to mesh "with their own development programs. Stand-alone tours are definitely easier to sell to regional areas." But it's early days and Stumm is optimistic about the future of touring "performance clusters."
Mobile States continues to be a significant force for promoting contemporary performance in Australia. As Harley Stumm sees it, and you'd have to agree, "the list of works that Mobile States has toured surveys some of the most important contemporary work for the last five years." The new program of smaller scale works promises to bring far flung Australian audiences right up to date with new works and trends.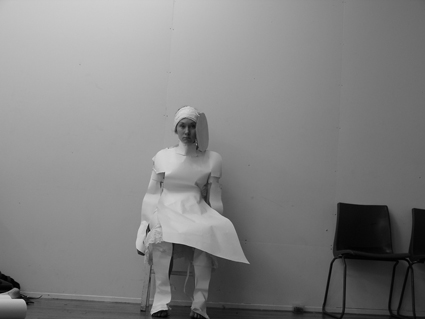 Fleur Elise Noble, The Two-Dimensional Life of Her
the works
Paul Dwyer's the Bougainville Photoplay is engrossingly informal, musing on a doctor's life in the 1960s in a brutalised neighbouring culture about which most of us know little. Fleur Elise Noble's 2 Dimensional Life of Her generates a magical interplay between the artist's own body and animated and paper sculpted personae telling us much about form, representation and self. So, in another way, does Rosie Dennis' Fraudulent Behaviour—where a little lie can become a great fiction and you leave bemused, if compelled to reflect on your own white lies and worse. In The Tent, you'll find yourself in an installation-cum-tent—sharing soup, entranced by puppet dreams and lateral glimpses into the meaning of life. These are works that engage in idiosyncratically different ways of telling and being. It's wonderful that they've been mobilised to embrace a growing audience for new performance.
Mobile States, performance works, see individual venues for shows and times: Arts House, Melbourne, Aug 12-15; Darwin Festival, Aug 18-22; Brisbane Powerhouse, Aug 20-28; PICA, Perth, Sept 2-5; Salamanca Arts Centre, Sept 8-11
RealTime issue #98 Aug-Sept 2010 pg. 12
© Keith Gallasch; for permission to reproduce apply to realtime@realtimearts.net