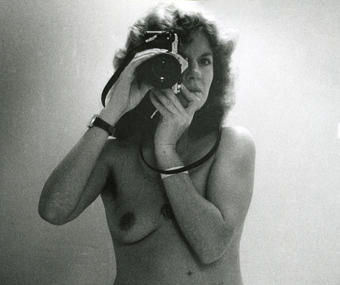 Carol Jerrems
Like any number of artists, photographer Carol Jerrems is familiar to an intimate circle, acknowledged by the cognoscenti and largely unknown to most Australians. Jerrems died in 1980 at the age of 31. Kathy Drayton's film portrait, Girl in a Mirror vividly documents the life and work of this remarkable artist drawing on Jerrems' considerable collection of photographs, short films and diaries, donated by her family to the National Gallery of Australia.
Kathy Drayton came upon 3 of Jerrems' images in the AGNSW's survey of 20th Century photography, World Without End. Her interest led her to the NGA collection and curator Gael Newton. Her 55-minute documentary features 73 of Jerrems' original prints, many never seen before, plus 166 new prints made from negatives in the archive by photographer/master printer, Roger Scott and the NGA's Barry Le Lievre. Drayton adds images of Jerrems herself from other collections, excerpts from her diaries revoiced by Justine Clarke and interviews with a number of Jerrems' photographic subjects—largely friends and fellow artists from the days when most artists lived in collective households and art and life were pretty much inseparable.
Notably, Drayton also stages in the film a number of recreations that draw on the photographic process. Carol Jerrems understood the photographer/subject relationship as an exchange and you sense she'd have approved of the filmmaker's efforts to get inside her pictures. In one sequence, Drayton interviews the subjects of Vale Street, probably Jerrems' most famous photograph. A bare-breasted young woman (Catriona Brown) faces the camera with calm bravura. Two teenaged boys behind her are shirtless and tattooed. The look the 3 share with the photographer is both ambivalent and suggestive. Intercutting with the interview to J. Walker's (Machine Translation) insistent score, cinematographer Andrea Howard's camera moves across Jerrems' proof sheet. Like a little movie, the stills animate the incidents that culminate in the iconic shot. Time collapses as we re-live and simultaneously reflect with the subjects on their moment of "fame or infamy." Mark Lean and Jon Bourke, former Sharpies from the tough West Heidelberg Tech where Jerrems taught at the time, now mild-mannered and middle-aged, recall how they could hardly believe their luck when Jerrems passed around a joint and the girl from the other side of the tracks slipped out of her shirt. When we get to the famous image, we fall through a small black square in the proof sheet and into the next sequence.
Says Drayton, "Throughout her life, as her photography evolved, (Jerrems) moved from observer and recorder of the historical moment, to a very personal open style: collaborating with her subjects in their representation, and often including herself in reflections in the frame."
The film also reveals a complex personality and the way its contradictions inevitably impacted on her practice. Lean and Bourke talk about the way that their teacher imaged them as much tougher than they really were; former colleagues and lovers speak with chagrin of having to come to terms with the way she used her sexuality as an entrée into the intimacy she desired for her photographs.
All these elements combine to make Girl in a Mirror both fitting tribute and fascinating response to the work of a significant Australian artist. An assured first feature documentary from Kathy Drayton, the film premiered at this year's Sydney Film Festival followed by screenings at Melbourne, the forthcoming Brisbane, Auckland and Wellington Film Festivals and has already attracted some international interest. The film screens later this year on ABC TV.
Girl in a Mirror: A Portrait of Carol Jerrems director Kathy Drayton, produced by Helen Bowden (Toi Toi Films)
RealTime issue #68 Aug-Sept 2005 pg. 20
© Virginia Baxter; for permission to reproduce apply to realtime@realtimearts.net