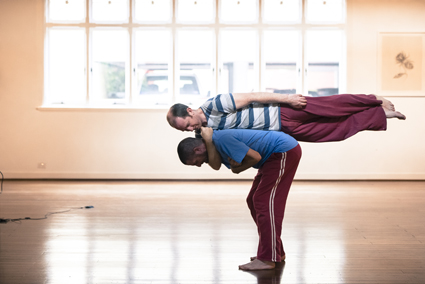 photo Gregory Lorenzutti
Jacob Lehrer, David Corbet, Entanglement
The inaugural MoveMe Improvisation Festival celebrates improvisation across dance, music and performance in Perth. Bringing together international, national and local performers and audiences, each performance carries the exciting sensation of spontaneous creativity. All three reviewed works share a key feature of fundamental trust, allowing performers to pursue creative risks on stage.
The Ferrymen
The Ferrymen is an engaging dance improvisation featuring strong comedic and theatrical elements. Andrew Morrish and Peter Trotman have been working together since 1981, and a strong sense of comfortable trust underlies their sparkling frisson of improvised movement. They embrace chatty text as part of their practice, opening by exploring the titular premise of Ferrymen. From a coracle to larger vessels, detouring by way of the motion of oars and the advisability of white men articulating their pelvises, Morrish explores various types of ferry and operator movements with the observation that the inducement that "there'll be sex at the end" will persuade men to try anything. The talkative monologue at front of stage is echoed in the freestyling moves of Trotman making the most of the black box space, quietly working his way across the back of the stage.
The performers unite using mime for light-hearted development of ideas, with eyes popping dramatically, whether to provoke audience reactions, restrain personal amusement or both. One running gag involves the lack of expense in preparation, featuring a phone with an attached speaker providing water sounds, even at the risk of affecting those with "urinary tract problems." Further jokes focus on dance themes and interests, appreciated by the audience packed with dancers. A particularly long monologue is interrupted by the audience, resulting in some good-natured anti-heckler ripostes, but quickly picks up physical pace and energy.
Ad hoc props are employed, such as scaffolding as a series of embarkation gates for Hades. New ideas are generated constantly, whether philosophical conceits, spoken patterns or movement devices, including a new way of communicating through slaps, stamps and claps.
The Ferryman is a constantly whirling combination of whimsy and discipline, producing some movements sharper and more compelling than achieved by more pedestrian choreographed works. When energy levels fall, performers and audience wait together to see what will arise next. Like a crystal forming from Morrish and Trotman's love of the artform, fed by their experience and confidence, the work branches in myriad and random directions. It comes to an abrupt halt in some aspects and yields fractally complex and satisfying results in others, leaving the audience with the memory of a unique experience, beautiful and bizarre.
Entanglement
Working with contact improvisation, using modelling from quantum mechanics as a jump-off inspiration, Jacob Lehrer and David Corbet's Entanglement presents improvised movement and soundscape growing together. All the movement is video-streamed to laptops, allowing musicians to work with software systems as well as piano and trumpet to develop a responsive tone picture.
Lehrer and Corbet are strong dancers, creating fascinating displays of trusting physical exploration and interaction in conventional balancing and pivot-based movements, bodies being swung around then closely entwined. Both demonstrate remarkable control when walking over and standing on each other, even balancing with a face as footrest. Controlled reactions and non-reactions add surreal dimensions to these moments. In another feat of strength and self-control, dance lifts using the folds of skin around the belly, looking like an attempted bare-handed appendectomy, yield revulsion and admiration in equal parts.
Quantum mechanics, particularly the notion of Entanglement, "the states of two or more objects have to be described with reference to each other, even though the individual objects may be spatially separated" (press release), features in both dance and musical motifs. The dancers repeatedly echo each other's movements from across the room and physically react at a distance. Audio artists Madeleine Flynn and Tim Humphrey develop and repeat themes as the dance unfolds, an incredible achievement in real time.
Lehrer and Corbet are working in the moment and with their performance space. Rehearsal Room 2 at the State Theatre Centre rejoices in floor to ceiling windows, its view framing Perth's Horseshoe Bridge with its ornate lanterns, the city skyline and passing traffic with lights moving past. These frames are used effectively to create silhouetted tableaux, and movement outside appears to trigger changes in movement on the stage.
A fantasy in movement and sound, Entanglement explores the possibilities of strength, movement and sound without any need for trivial communication between the parties, not even eye contact. This level of confidence and skill in improvisation is inspiring.
Happy Little Accidents
Happy Little Accidents presents theatrical improvisation, with Perth actors stepping up in response to challenges presented by the audience and bouncing ideas off each other to create spontaneous comedic entertainment. Shane Adamczak, Sam Longley and Sean Walsh are leading lights of the local improvisation comedy and theatre scene, most recognisable from The Big HOO-HAA! The performers are confidently fluent in improvised theatre, this presentation featuring carefully calculated timing bringing out the humour in each madcap scenario.
Despite an introductory explanation of the importance of audience contributions, the performers' skill at conjuring strings of skits and scenes from a single word means that not much is required after the initial prompt—"bubbles." The basic stage set-up—an empty frame, a water cooler and chairs—plays on height differences and vivid imaginations creating plenty of happy little accidents in diverse scenarios that include office cubicles and an internet blind date.
While some scenarios overstay their welcome, there are no breaks in the action. With lovely camaraderie nothing seems forced, nothing taken too seriously and the performers don't push for any major narrative arc. Each vignette is self-contained and enjoyable on its own merits, the series of accidents coming together as a whole. Longley, the MoveMe Festival MC, who had pointed out the absence of dance skills in the cast, draws laughs with a physical comedy/freestyle interpretive movement routine.
A welcome addition to Perth's festival line up, MoveMe Improvisation Festival provides plenty of inspiration and entertainment for both performers and audiences.
–
STRUT National Choreographic Centre & collaborating organisations: MoveMe Improvisation Festival, 22-30 Nov, 2014; The Ferrymen, PICA Performance Space, 26-28 Nov, 2014; Entanglement, Rehearsal Room 2, State Theatre, 27-29 Nov, 2014; Happy Little Accidents, PICA Performance Space, Perth Cultural Centre, Northbridge, 25 Nov, 2014
See also Maggi Phillips review.
RealTime issue #125 Feb-March 2015 pg. 29
© Nerida Dickinson; for permission to reproduce apply to realtime@realtimearts.net