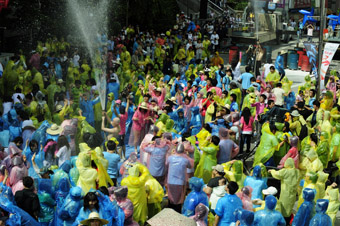 photo courtesy Chuncheon International Mime Festival
Opening Ceremony
THE VERY EXISTENCE OF THE CHUNCHEON INTERNATIONAL MIME FESTIVAL AND ITS HUNDREDS OF PARTICIPANT PERFORMERS, MOSTLY FROM ACROSS EASTERN ASIA, IS AMPLE IF SURPRISING EVIDENCE (TO AN AUSTRALIAN LIKE ME) THAT MIME IS STILL ALIVE AND WELL. BUT ALTHOUGH THERE WERE EXAMPLES OF THE FINE ART FROM MARCEL MARCEAU-TRAINED EXPONENTS, HYBRIDITY ABOUNDED—MIMES WORKING WITH MAGIC, CLOWNING, JUGGLING, DANCE, RITUAL—AND NOT A FEW WORKS SIMPLY PASSED AS FINELY HONED MOVEMENT-BASED CONTEMPORARY PERFORMANCE.
Chuncheon's mime festival is famous for the many acts that populate the small regional city's streets for over a week, climaxing in an all-nighter. Unfortunately, the suicide of a beloved former Prime Minister required the cancellation of the street performances and the redirection of visiting performers into workshops. Over four days I managed to experience a variety of work. I had to leave before the all-nighter but with a strong desire to see a complete festival, on the streets, in the near future.
A city of modest size, ringed by high hills and lakes, Chuncheon is a couple of hours north-east of Seoul. The centre of this year's festival was a small, new shopping plaza, open to the weather and complete with restaurants and cinema. The cinema foyer was the ideal location for Australian artist Jordana Maisie's magical human scale kaleidoscope, The RealThing, passersby puzzling at and 'dancing' to their multiplying refracted selves (RT 87, p33).
A stage at the centre of the plaza was the site for a number of free performances enjoyed by inquisitive families. The highlights in the session I saw were provided by two Japanese artists.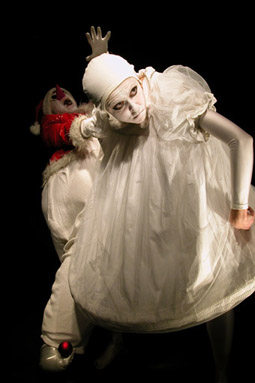 photo courtesy Chuncheon International Mime Festival
Astronomy for Insects 70, blackSKY white
Jidai's Witch Clown, a stooped, hooded European medieval character with a very long nose, a big wart to one side, is calculatedly ingratiating, countering her mocking of the audience with moments of comic self-deprecation and an ironic attitude to the art of mime. First, in a facile display of power, she stages a savage battle between her familiars, a pig and a lizard, both toys. She then attempts to fly on her broomstick but it weighs a ton, until a small balloon gives it a short-lived lift. Later, while miming a scary, seductive feminine self she's shocked to find she has no breasts (Jidai is male) and then loses her nose. The dynamic in the swings between smug condescension and moments of failure and panic is deftly sustained in this half-hour performance.
The other Japanese performer, Chiemi Kyomoto, opens her performance as one of those appalling living statues, seen too often in public places. She's a silver-masked, puppet-like woman who wears a rose that goes limp, has a hand that falls off and finds herself trapped in another mask beneath the first. Removing it, she then 'cleans' the fourth wall and is surprised to see us. Now she transforms into a ballerina-cum-balloon-sculptor, parodically dancing a dying swan while dextrously sculpting a balloon version of the bird. In a third phase, she uses a life-size male dummy to create a wish-fulfilment love story for herself that turns comically bad. Underpinned by mime, dance and modest skills in illusion, Chiemi Kyomoto's clowning is refreshingly idiosyncratic.
The opening event was on a vastly different scale from these intimate showings, running some three to four hours on a warm Saturday afternoon in front of a new department store on a street adjoining the festival plaza. At one end of the street a female trio from a French aerialist company, Compagnie Retouramont, with the assistance of a huge crane, hoisted themselves on high, engaging in lyrical solo swings and rolls and then interlocking trios to the instruments of the air (recordings of flute, didjeridu, accordion), all very slow motion and low on dynamism, like watching spiders doggedly moving about a web. The tone was about to change at the other end of the street as the crowd swelled. Atop the fully extended ladders of two large fire engines were mythical figures, gods of fire and water (I assumed), wearing large head pieces and flowing robes and issuing roaring challenges and declarations via head microphones.
On the road below was a dancing Japanese performance artist, Oikado Ichiro, who, after discarding his long white robes, ignited a two-metre wide roller which he pulled after him. A gang of young men burst through the crowd with extinguishers and dowsed the flaming roller and then the crowd before heading back to the site worked by the aerialists. There, a tuxedoed conductor directed an orchestra of sweepers and carriers who sloshed the street and shop facades with water, the brooms scratching their way towards the gods on their fire engines.
A surprising addition at this point was the appearance of two giant two-metre-tall baby dolls (created by Hamish Fletcher of Australia's Men of Steel) who wobbled their way down the huge sheet of an undulating blue plastic 'river.' There was no holding back the crowd eager to touch and photograph the babies close-up. Swept into the fray I was saved by a water spray from a fire hose on top of a nearby building and then, from other roof tops, by a shower of hundreds of plastic, yellow, pink and blue raincoats—diverting the crowd from the babies before more water flooded from above. Soon the street was a riot of colour and moisture and fumes.
From an underground carpark an army of young people carrying two long timber rafts, waving banners and pounding drums stormed onto the street. Riding the high rearing rafts in a sustained ritual war of words and provocative moves were the two gods. Then in the late afternoon, the crowd, still excited, danced with the drummers before drifting away. The festival had begun: comic, epic, diverse and participatory.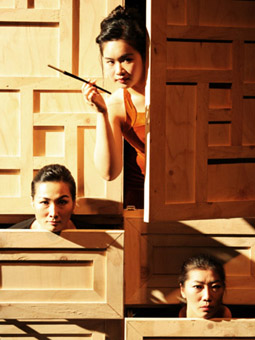 photo courtesy Chuncheon International Mime Festival
The Maids, Sadari Movement Laboratory
The variety in the program's evening peformances further amplified the sense of the festival's diversified focus on mime. In the Bomnae Theatre complex, a co-production between Korea's Sadari Movement Laboratory (their production of Buchner's Woyzeck is in Adelaide's 2009 OzAsia Festival) and the Macao Cultural Centre yielded an intriguing rendition of Jean Genet's The Maids. A cupboard ("a closet that symbolises the space that confines [the maids'] egos"; program note) stands mute centrestage. A drawer slides open, the head of a maid appears; from another drawer, the other maid. Later they open the cupboard doors to reveal Madame, their youthful employer. At one point, they dance beneath her dress, turning her momentarily into the doll-like puppet of their fantasies. Later they undress her to reveal sagging old age. The limited space heightens the play's already claustrophobic intensity while the truncated appearances of the performers lends them the fatalistic air, for all of their machinations, of manipulated puppets. When one of the maids is locked out of the cupboard the panic is palpable. The performers' dexterity at working extremely constricted spaces was truly impressive.
Japan's Imuro Naoki Mime Company, who apparently trained with the late Marcel Marceau, performed Follow the Arrows, a tightly choreographed, whimsical tale of lost opportunities for love, rich in comic coincidence. Simple props—newspapers, arrow shapes—became magical and bodies swirled and tumbled about evoking a great range of locations and states of being. My initial resistance to the sometimes endemic cuteness of this kind of classically informed mime gave way to admiration for the production's inventiveness and rich sense of humour.
Close to midnight, as I was about to leave the Bonmae Theater, I was whisked into a small, darkened, packed studio to witness a female shaman, elaborately costumed in flowing silks, reeling about, snatching paper money and tugging resisting female associates, while three traditional musicians generated a hypnotic pulse from flute, drum and cymbal. The Seoul Jinogee Gut ritual is apparently an exorcism ritual focused on the relationship between the living and the dead as they are separated and the passage of the dead to the otherworld.
In the second part of the ritual, before a table loaded with fruit and vegetables, the shaman's associates unfurled a long strand of gauzy material and held it taut at chest height while the shaman pushed, shearing through its length, collecting the paper money resting on it and tucking it into her headband and clothing. She then appeared to 'become herself', speaking fluently and distributing the offerings on the table to the audience. A naive witness, I was taken by the raw theatricality, beauty and unpredictability of the ritual.
A contemporary, shaman-inspired performance followed, titled Hyang (Incense). Four musicians established a sonorous percussive hum in the dark while a small, blurred circle of red light danced on high and then down at our feet. A soft stage light revealed the source as a bundle of glowing incense before which sat a woman in prayer. Behind her, emerging from the dark, two hands danced from the wrist with increasing speed and acute articulation only to disappear and be replaced with the soles of two feet that moved with a similarly remarkable if more lyrical fluency. When the performer (revealed to be the festival's director Jin-Gyu Yu) stood, he and the woman reached for the incense as the stage light cut out. What ensued was an entrancing dance in the dark of expiring incense sticks, long red lines sketched and evaporating across the black as our sense of height and distance dissolved amidst the enveloping music.
A festival highlight was the Moscow-based blackSKYwhite's Astronomy for Insects 70, a nightmarish epic (only an hour, but in dream time), directed by Dimitri Ariupin. It's wordless and almost impossible to describe let alone interpret—an episodic, discontinous fantasy (to an apocalyptic surround sound score) framed by 10 tall internally lit columns and a huge mutating door, collectively evoking a temple or sci-fi palace. A woman in a wheelchair managed by two bald, wide-eared giants in squarish white suits is wheeled on. This disabled figure, a recurrent image in the work, is helpless but also vigorously rejects massage and manipulation, especially in a late episode where she turns viciously on an eccentric Santa Claus who has given her legs. In between, among others, there's a protracted scene with another kind of woundedness, a soldier in a state of psychological and physical dissolution (his weakening legs an elaborate dance of death), the music evocative of early 20th century conflict between Germany and Russia. There's no literal mime involved, but the evocation of crippled being, physical decay and a recurrent motif of delicate bird-like movement are evidence of advanced skills of mimicry. The London Times aptly wrote of "diabolically pixilated human animation" when the work was presented at the London International Mime Festival.
Australia's Men of Steel, working on a relatively tiny scale, presented a fantastical, intimate adventure experienced by two 'puppeteered' gingerbread men cookie cutters. In encounters by turns vicious and comic, the men grapple with fruit, doughy selves and bloody sprays of tomato sauce, enter a broccoli forest and are Star Trekked into outer space by a portable gas cooker. The company battled bravely with a huge venue, the Chuncheon Puppet Theatre, and restless hordes of the tiniest of tots, but never faltered. Men of Steel, Jordana Maisie and Strange Fruit comprised the Australian component of the festival, part of a larger program of artists, including Snuff Puppets, in Korea in May with the support of the Australia Council for the Arts and with more visits on the way.
A forum in the festival addressed "Activating Critical Writing for Interdisciplinary Arts and Building a Network." The brainchild of Kyu Choi, the festival's deputy artistic director, it brought together organisations feeling a need for joint action to raise the level of critical commentary and build audiences for the hybrid arts. Visiting Australia for Time_Place_Space in Brisbane earlier this year, Kyu Choi was taken by RealTime as a possible model for promoting interdisciplinary practices and so invited me to come to Chuncheon to talk about the magazine's evolution and functioning. Attending the forum were In Ja Im (Marginal Theatre Festival), Sung-Hee Kim (Festival Bom), Baek-Gi Kim (Korea Experimental Arts Festival, run by KoPAS, Korea Performance Art Spirit), Jung-Ja Bae (Physical Theatre Festival), Doo-Eun Choi (Nabi Arts Center, a new media arts organisation with an international, collaborative program), So-Yeon Kim, a theatre and interdisciplinary arts critic (one of the few apparently), and from Arts Council Korea, Hae-Young Jung. Also present were Bo Young Lim from the Australian Embassy, Erik Kuong, Macau's first independent producer and associate of the Macau City Fringe, and Catherine Lau, administrator of the Hong Kong Fringe Club.
Each of the festival directors spoke about the challenges they faced as their artforms hybridised, audience expectations changed, reviewers failed to connect and works went undocumented. The forum represented a first step in identifying shared needs and discussing the possibility of action. It certainly gave me some insight into the organisations and a desire to see them at work, not least those like Nabi Arts Center and the intriguing Korea Experimental Arts Festival that have Australian connections. The opportunities for exchange, collaboration and co-production have great potential. Thanks to a Chuncheon Mime Festival initiative, Jordana Maisie has been part of the Korea Arts Council-funded Moving Space Project, working on Time Slices with Young-Ah Noh (aerial and physical theatre artist, Korea) and Matthias Erian (sound designer, Austria).
Although I only saw a portion of the 2009 Chuncheon International Mime Festival, I was struck by its intimacy, intensity, inventiveness and collaborative spirit. The festival's friendly staff and the huge army of amiable, efficient volunteers, many of them arts students from across the country, made the visit additionally pleasurable, as did the town's relaxed mood, lively markets and new food experiences. Mime is alive and well in this festival, if adapting and evolving and eager for a matching critical responsiveness.
Keith Gallasch was a guest of the Chuncheon International Mime Festival. Thanks especially to Deputy Artistic Director Kyu Choi.
Chuncheon International Mime Festival, Korea, May 24-31, www.mimefestival.com
RealTime issue #93 Oct-Nov 2009 pg.
© Keith Gallasch; for permission to reproduce apply to realtime@realtimearts.net