<img src="http://www.realtime.org.au/wp-content/uploads/art/12/1222_bailey_ot.jpg" alt="Katherine Tonkin, Philip McInnes, Luke Ryan,
OT: Chronicles of The Old Testament">
photo Jeff Busby
Katherine Tonkin, Philip McInnes, Luke Ryan,
OT: Chronicles of The Old Testament
THERE ARE, BROADLY SPEAKING, TWO SCHOOLS OF THOUGHT WHEN IT COMES TO THE READING OF SACRED TEXTS. THE FIRST IS A LITERALIST OR FUNDAMENTALIST APPROACH, WHICH TREATS A WORK AS A VEHICLE FOR THE TRANSMISSION OF A STABLE SET OF TRUTHS. THE SECOND, THE MODERNIST SCHOOL, EMPHASISES THE ROLE OF INTERPRETATION AS A DYNAMIC, FLUID AFFAIR, IN WHICH EVEN SCRIPTURE IS SEEN TO WORK ON THE LEVEL OF METAPHOR OR ALLEGORY, AND THE ROLE OF THE READER IS TO ARTICULATE MEANINGS TO THE GIVEN WORDS AND IMAGERY.
Two recent productions in Melbourne put these approaches into fascinating and provocative contrast. One took a religious text which forms the foundational myths for several thousand years of history and opened it up to interrogation, teasing it apart in order to question the assumptions that underlie its received wisdom. The other engaged a canonical text in the history of modern theatre but did so with a secular reverence to the transcendent, timeless psychological truths it found therein. Religion, it turns out, doesn't hold a patent on the sacred.
uncle semolina's OT
At Malthouse, Uncle Semolina (& Friends) presented OT: Chronicles of the Old Testament, a chaotic, hyper-kinetic rendering of a vast collection of stories drawn from the first half of the Good Book. It re-orders and revises its source material, attentive to the dramatic power of these tales—and they're nothing if not spectacular—while maintaining a second level of engagement which allows its audience to assess the contradictions and problematic assumptions which underscore them.
Unlike the New Testament, the older tales are those of an ambivalent and at times terrible deity whose relationship with humanity is hardly as the loving father figure later scribes attempted to posit. This is a god who creates, but as often destroys. In OT, Yahweh is the central figure of interest but is presented as much in the form of what literary critics would term a structuring absence. Senile, slumbering, confused and eventually entirely absent, his omnipresence is refigured as a lack—he may be everywhere, but he is equally nowhere.
The work begins with the cardigan-clad, balding Yahweh sleeping on a chair as four performers race through various Testament stories. Their renditions are overtly, perhaps excessively performative, reaching deep into a grab-bag of theatrical tricks and styles, from Commedia-style farce and clowning to mime, video projection and puppetry. The Uncle Semolina style is strongly defined by this thrift-shop aesthetic in which found objects become props, biblical characters in this case played out by action figures and plush toys. When the performers take on roles themselves it is with an equally irreverent spirit: Samson becomes a "hard cunt", handy with a shotgun, Job a nervous stand-up comic whose bad jokes gradually reveal the terrible treatment he suffered at the hands of a cruel God.
Early in the piece, there are strong hints that these stories are being played out in order to appease that God, who demands entertainment from his creations. At first, they are trying to keep him awake; later, after he begins to withdraw from the stage, they attempt to bring him back by recalling those moments in which they had pleased him. There's a level of pathos to this reading, which suggests that the scriptures themselves, and our re-reading of them, are not simple descriptions of holy events but active attempts to recover a deity who has forsaken the world, and even whose crueler moments are preferable to his departure.
But even that God's awful status is problematised as an issue of interpretation—after he wakes, but well before he assumes any kind of autonomous presence, he himself becomes a puppet to his subjects, who animate his limbs and speech in a grotesquely hilarious routine. Perhaps, finally, this is where OT is at its most impious, in offering the possibility that Yahweh is merely a result, and not the cause, of these stories. An effect of the creative spirit, rather than its inspiration.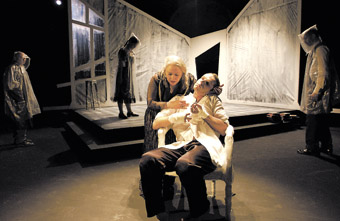 photo Deryk McAlpin
Andrea Swifte, Jay Bowen, Ghosts
branch theatre's ghosts
Branch Theatre Company's production of Ghosts offers a curious counterpoint. Ibsen's 1881 play was a shocking number for its day, its themes of incest, religious hypocrisy, sexual degeneracy and suicide a bold challenge to the mores of the period. Moreover, as a work by one of the founding fathers of modernist theatre, it was both a formal and thematic reaction against the comfortable dramas that worked to reassure rather than challenge audiences.
Curious, then, in that this production handles its material with a respectful care that sometimes jars with the more confronting aspects of the work. Certainly, the design of the piece is wonderfully non-naturalistic, a construction of stark, receding lines that form an almost expressionist series of slashes across the playing space. This set, along with the costumes, are all rendered in shades of grey, black and white with the occasional intrusion of striking reds. The ambience created is of a cold other-world, the ideal setting for a family drama revolving around a deceased patriarch whose monstrous legacy grips those he has left behind.
But beyond these elements, Ghosts is a devout and mostly realist attempt to access and purvey the profound interior truths of its characters. Certainly, it is a wonderfully realised and performed production of which Ibsen might well be proud, but its strangeness lies in precisely that fact. If Ibsen, like many of his successors, attempted to find new ways of expressing a psychological realism, these truths no longer appear so fresh a century or so later. Rather, Ghosts' power is as a kind of riveting drama quite distant from the experiences of its contemporary viewer. It could be updated to add relevance, but I think that would be beside the point. But our very distance from the context of its first production could at least be acknowledged.
What unites both of these mostly successful works is, in the end, a humanist underpinning which seeks to speak directly to a common experience—in one case, by critically questioning the accepted interpretations of a canonical text, in the other by attempting to reaffirm them. That humanism, perhaps, is the ghost that most stubbornly haunts our theatre today.
Uncle Semolina (& Friends), OT: Chronicles of the Old Testament, devised and directed by Christian Leavesley and Phil Rolfe, performers Amelia Best, Philip McInnes, Luke Ryan, Peter Snow, Katherine Tonkin, lighting Paul Jackson, Malthouse Theatre, Melbourne, May 4-27; Henrik Ibsen, Ghosts, director Melanie Beddie, performers Jay Bowen, Ming-Zhu Hii, Bruce Myles, Andrea Swifte, James Wardlaw, design Emily Barrie, lighting Richard Vabre, Branch Theatre Company; Theatreworks, Melbourne, May 4-20
RealTime issue #79 June-July 2007 pg. 31
© John Bailey; for permission to reproduce apply to realtime@realtimearts.net