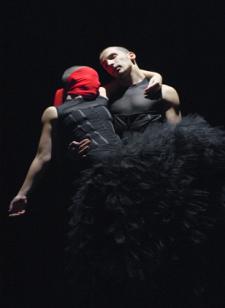 photo Michael Rayner
Trisha Dunn, Derrick Amanatidis, Mercy: a dance for the forgotten
Four years of war in Iraq, Guantanamo Bay and web broadcasts of torture have made us familiar with horror inflicted in the name of belief or public safety. Unfortunately, we too easily visualise that hostage with a bag over his head, being threatened on grainy video. New Zealand choreographer, Raewyn Hill has devised Mercy: A Dance for the Forgotten for TasDance. The work, exploring ideas of imprisonment, torture and the strength of the human spirit, was born of a visit to Port Arthur and a book by Margaret Scott about the massacre there in 1996.
From the first moment of Mercy a powerful aesthetic is revealed. A bell peals, like a call to prayer and four dancers are shown face down in each corner of the stage. Each is contained in a hazy cone of light that forms a rectangular cell on the floor. Red bands of elastic run from their prone hands and feet to the heights of the fly tower. As a recording of Pergolesi's Marian Vespers swells around the audience, a sole female, in black corset and delicate ruffled skirt, falls and twirls in the space made between the red lines. It is a scene that is visually striking, sensual and ambiguous. While the solo dancer is obviously imprisoned, it is difficult to ascertain her state of mind from the flowing, rolling gestures.
As brief scenes progress, the aesthetic vocabulary is consistent and ambiguity lingers. Each corseted dancer is affected by some form of torture as the glorious voices of the Pergolesi fill the auditorium at a constant intensity. Amidst the stylised horror, a love story emerges between the leading dancers. These sequences between Trisha Dunn and Derrick Amanatidis shine with a sense of fragile, tender connection, built around cradling and carrying.
Mercy stems from a very genuine engagement with the idea of imprisonment. The emotional connection to the material is clear from Hill's statement in the program, but I can't help thinking that the dance needed to go further, to dig deeper. Having once spent several weeks visiting concentration camps in Eastern Europe, I expected to see more of the complexities of imprisonment in this work. Yes, there are definitely triumphs of the human spirit in horrendous circumstances, but there are also many questions around the potential for any one human to inflict cruelty on another. From my observation the triumphs are rarely grand gestures but more points of light in the dark—one person wrote a book on tiny pages, another made playing cards small enough to hide in the mouth. Gender, sexuality and personality are stripped in these circumstances, the body wastes, the spirit is heavy. Watching Mercy, a work of undeniable beauty, I couldn't reconcile this knowledge against the sexiness of the costumes, the sensuality of the gestures, the relentless energy of the dancers or the uninterrupted formality of or the stylised production design.