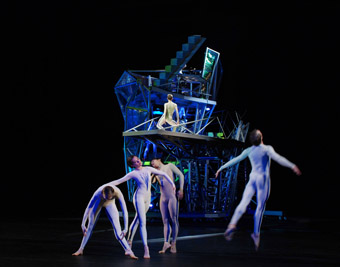 photo Anna Finke
Nearly Ninety, Merce Cunningham Dance Company
MERCE CUNNINGHAM TURNED 90 ON THURSDAY. THAT DAY, I AM AT THE NEW MUSEUM ON THE LOWER EAST SIDE AT AN EXHIBITION TITLED THE GENERATIONAL: YOUNGER THAN JESUS, A JAM-PACKED SURVEY OF 50 ARTISTS UNDER THE AGE OF 33, WHICH "(DRAWS) FROM THE BELIEF THAT SOME OF THE MOST ENDURING GESTURES IN ART HAVE BEEN CARRIED OUT BY ARTISTS EARLY IN THEIR CAREERS." AS THOUGH AGE HAS SUDDENLY BECOME A DEFINING FACTOR, ACROSS TOWN AT BAM IS THE PREMIERE OF CUNNINGHAM'S NEW WORK, NEARLY NINETY, WITH MUSIC BY SONIC YOUTH, JOHN PAUL JONES AND TAKEHISA KOSUGI, UNDER THE SEASON'S TITLE OF MERCE CUNNINGHAM AT 90.
Cunningham was 25 when he presented his first solo show. He was 34 when he formed his company with John Cage, and set about ridding modern dance of expressionism, narrative, cause and effect and most particularly, its dependence on music. His intention was, and still is, that dance itself should be the subject of dance. To serve his ideas, he formed a movement vocabulary that in turn became a technique, which is where I first encountered him at 16 in a church hall on Friday nights. (Coincidentally I was first listening to Sonic Youth about the same time.)
Despite writing an abundance of essays on his influence on dance while at university, Nearly Ninety was the first work of Cunningham's that I have had the opportunity to see live, and I was both excited and slightly apprehensive that I would find it outmoded, particularly with all those unitards.
The stage is filled with dancers warming up, stretching and rehearsing phrases. I get a thrill watching this casual run through. Here they are: the stag jumps, the triplets, the jolting moves into the air that come from nowhere and evaporate just as quickly. The precision of the dancers is evident, even in tracksuits.
The first part of Nearly Ninety has the dancers performing downstage in front of a screen, serving for both video projections and as an opaque division for a metal tower behind, part Tower of Babel, but mostly Dr Who Tardis, inside which the musicians play on three levels. The dancers begin in duets, supporting and moving into one another with an attitude that suggests the partnering is coincidental, and just as easily move away from each other. From my position, up high, I am reminded of science videos of cells free floating, attaching and separating. They are wearing unitards, complete with gloved hands on one side, with patterned angles of black and white. On the white side, there is the clear ripple of muscle: the muscular effort involved in executing this Cunningham vocabulary.
It is hard work, all this theory. The independence of each dancer, the independence of each move that enforces an almost clinical clarity, calls for an intense virtuosity, but not the kind that shows itself off in a flinging abandon or finds a release. This is constricted, solid, intellectual. I feel my own muscles tightening in empathy.
The dancers are constantly on and off stage, and always within the dance as they enter and exit. There are moments of almost extreme slow motion, punctuated by flickers of speed, each dancer with their own timing and phrasing. Legs arc out and bodies lean, creating protractor-like measurement of angles between body and floor, between limbs, and space between bodies. There is no movement outside the Cunningham lexicon, nothing pedestrian which, knowing my dance history, shouldn't be a surprise, but is.
In the second half, the screen disappears, and the tower behind is turned so that the musicians become more visible, a larger part of the visual texture. The movement now is faster with more of the company on stage for more of the time. The overall feel is fluid, though individual movements are just as staccato and autonomous. There are brief moments of silence where the dancers' footfalls and jumps are audible, but mostly the music score takes its turn in precise intervals between Kosugi, Jones and Sonic Youth: ambient, static-y or swirling.
I enjoy watching this dance. I enjoy thinking through again what a great innovator Merce Cunningham was, evident here within his movement. I am almost moved to tears seeing him in his wheelchair for the curtain call, dressed in a soft velvet suit.
Yet this performance occupies a strange place. It is incredible to see this technique, these dancers live, in the here and now. But it also has a certain museum quality—the innovative phase of the choreography has passed. Placed against what the New York Times calls the "trendy" elements (the music, the tower, the video projections), I find the work jarring. I cannot put Kim Gordon, in heels, playing her guitar with her super cool stance together with these unitard-clad dancers in front of her. This is partly because Sonic Youth's music sprawls, spirals and builds towards a climax in a most un-Cunningham-like way, but also because choreographer and musicians seem from different eras.
This is, of course, most likely the point—to reframe the dance continually, to allow it to be constantly re-seen, and though one might argue that Cunningham did make his 'enduring gesture' early in his career, it still certainly endures. It's like a live mash-up, not too dissimilar from the sampling of random elements of the much younger 'digital natives' over at the New Museum.
Merce Cunningham Dance Company, Nearly Ninety, choreographer Merce Cunningham, music composed & performed by John Paul Jones, Takehisa Kosugi, and Sonic Youth (Kim Gordon, Thurston Moore, Lee Ranaldo, Steve Shelley), decor Benedetta Tagliabue, costumes Romeo Gigli, lighting Brian MacDevitt, video design Franc Aleu; BAM, Howard Gilman Opera House, April 16-19
RealTime issue #91 June-July 2009 pg. 10
© Jane McKernan; for permission to reproduce apply to realtime@realtimearts.net