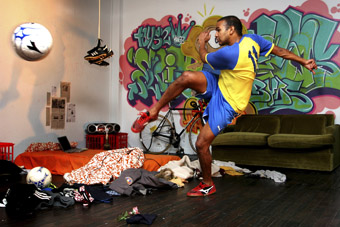 photo Wendy Kimpton
Ahilan Ratnamohan, 2008/9 mentoree, The Football Diaries
FOR AN EMERGING ARTIST, A SUCCESSFUL MENTORSHIP IS ONE THAT FORGES AN INNOVATIVE CREATIVE RELATIONSHIP. IT IS ABOUT COLLABORATION AND A GENUINELY DYNAMIC EXCHANGE THAT BUILDS CONFIDENCE AND POLLINATES CREATIVE IDEAS. FOR MANY YOUNG AND EMERGING ARTISTS IN AUSTRALIA, SIMPLY BEING NETWORKED TO OTHER ARTISTS CAN OVERCOME ISOLATION AND SPARK NEW CREATIVE DIRECTIONS.
Running 2003-08 with the last mentorships ending in 2009, Spark was the Australia Council for the Arts' National Mentoring Program for young artists, supported by the Dance Board, Theatre Board and Community Partnerships division. A tender was put out in 2008 by the Australia Council for a new version of this program for the development of young and emerging artists (part of the $6.6m over four years, 2008-09 to 2010-11, announced last year, covering a wide range of areas). The winning tender is likely to be announced in April.
Managed by Youth Arts Queensland (YAQ), Spark aims to establish young artists within the arts industry through intensive professional development workshops, individual project development and relationship building between senior and emerging practitioners. The outcomes of Spark however are multi-faceted and for many participants the value of the program goes far beyond its aims.
As Spark is an initiative focused on personal and innovative partnerships, its participants must forge their own relationships with a potential mentor and unlike other shorter more intensive schemes such as Time_Place_Space, or Run_Way, Spark is structured over a 10-month period giving the mentoree an opportunity to expand and unpack their practice. Zane Trow, former Manager of Spark at YAQ says the program "allows artists room to stretch out their practice" and "empowers artists to take control of their own culture, whilst widening people's choices and networks."
In a recent evaluation of Spark, Joon-Yee Kwok, from QUT Creative Industries Faculty found that the participants placed the most value not on skills sharing, such as grant writing, but on the reassurance that the young artist's process, both in practical and emotional terms is an important element of creative development. "When an artist feels anxiety over their practice it is often through the relationship with their mentor that they realise that this is normal." Kwok says "the mentorship relationship can assist these artists find their process, and it is often through this personal interaction that they feel legitimised".
Several examples can illustrate how unique a Spark experience can be depending on each participant's approach and, ultimately, how they have utilised the program to embark on new directions through collaboration.
WA-born mentoree, Tanya Dupagne says being awarded an 08/09 Spark mentorship has validated her "sense of worth as a community arts worker." New to the arts, Dupagne came from a community development background, working in the USA and Africa in camps for underprivileged kids. Taking on the responsibility of teaching kids jazz dance in Cape Town when her teacher became ill, she was able to develop her technique and experience life as an independent community arts worker.
Ever grateful to her past mentors, Dupagne acknowledges that they were ultimately one-way training relationships. "The difference with Spark is that it is self-directed" she comments. Her mentorship with Jenny Simpson, Director of Awesome Arts in WA has been much less directive and has essentially networked Dupagne into the community arts sector, positioning Spark as a program that assists artists who are self-motivated and entrepreneurial.
2006 Spark mentoree Keith Lim believes he would not have had the confidence to approach his mentor Kate Champion without the Spark program as a motivation. YAQ encouraged Lim to dream: "If you could work with anyone who would you want it to be?"
At the onset of the mentorship Lim and Champion established a rapport that was collaborative and equal, rather than directive. Champion would spend a full day per week workshopping ideas and engaging in critical feedback with Lim during his two-month residency period at Performance Space, where he was working on a solo physical theatre piece, Out of Body Experience. The exchange, Lim believes, gave him "strong affirmation" that he was on track.
As a hybrid artist, Lim says "meeting other Spark participants at the YAQ-run workshops, and the conversations and showcasing of work that happened on the side, were extremely valuable." This can also be seen in the forming of new collaborations such as the one between 2006 participants Kieran Swann (QLD) and Daniel Koerner (VIC) who have since worked together on self-devised performance works.
For scriptwriter and 2003 Spark participant Julian Hobba, simply being part of the Spark community was valuable: "working solo can feel like I'm in no-man's land most of the time and Spark felt like a real opportunity with a concrete definition".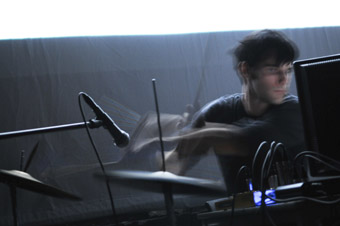 photo Heidrun Löhr
James Brown, Asisthesis, Tiny Stadiums Festival
2007 mentoree Lara Thoms shares this opinion. She believes "the most valuable aspect of Spark was meeting other emerging artists from across Australia at the YAQ-run intensive development workshops." This is aomething, she argues, "emerging artists rarely get a chance to do."
Given the very nature of Thoms' interdisciplinary practice she immediately took the opportunity to workshop ideas and concepts with artists from other disciplines and regions of Australia, and has since collaborated with artists Willoh S Weiland (VIC) and Ashley Dyer (NSW), weaving their knowledge and creative input into Quarterbred, PACT Theatre's three-year-old artist run initiative supporting and presenting hybrid arts projects, a collective that Thoms co-directs. Weiland and Thoms also collaborated on the project Hard Party, a site-specific interdisciplinary event on a Sydney harbour cruise in January 2009, examining binge culture and extreme partying with several artist groups including Post, Brown Council, DAMP and 2005 Spark mentoree Teik Kim Pok (RT 89, p38). Dyer and Thoms also curated and produced the 2009 Tiny Stadiums Festival, a City of Sydney funded project incorporating performance art, live art and interactive installations throughout the streets of Erskinville in March.
Thoms believes she has learnt as much from the other 'Sparkies' as from her mentor. She sees Spark as encouraging equal creative exchange, but is quick to acknowledge the benefit of working with senior practitioners such as Caitlin Newton-Broad who, through years of experience, can offer insight into tried and tested methodologies when making new hybrid projects.
The creative possibilities of collaboration and cross-fertilisation were not lost on the other 2007 participants, and it was through their collective initiative that Spark Plug, a workshop and presentation event was conceived. Run by the mentorees themselves, the daily workshops and showcases, held at Performance Space in May 2008, were an informal and exciting way to engage with each other's Spark projects and pollinate future collaborations. The forum nurtured complex debate and peer recognition, an unexpected but highly valuable professional and personal development outcome of the Spark Program.
Joon-Yee said participants throughout the six years of Spark were unanimous in their opinion that workshops run by mentorees for mentorees had been extremely valuable. For example a video artist would teach the group valuable editing and shooting skills giving artists an opportunity to step outside their own practice, even though interdisciplinary collaboration has not been a strategic aim of Spark.
It seems the value of exchange in Spark goes far beyond the mentor-mentoree relationship. Depending on the participant, contact with other emerging artists and mentors can mean an entirely new creative direction and the cementing of partnerships and collaborations across the country and across disciplines.
NSW-based musical composer Gareth Hudson forged a partnership with contemporary performance maker Ashley Dyer (NSW) during Spark 2007. The new work, currently in its second stage of development is part of a PACT Theatre Vacant Room project. It incorporates text, dance and image material, as well as music and sound through the use of loop stations and live sound looping software. For Hudson, this project offers an exciting opportunity to work within contemporary performance.
Spark enables these connections to take place. However, to address the gap in networking opportunities on a national level for emerging artists, perhaps workshops such as Spark Plug should form part of the future strategic directions. Perhaps this will be an outcome of the Australia Council's tender for a new young and emerging initiative that targets organisations who are leading innovators, "that consistently stretch artform practice." This may redefine Australian young and emerging initiatives as cross-disciplinary, national hubs that not only provide long term mentorships between emerging and senior artists but ultimately seed ideas that will inform the future of contemporary practice.
Spark 2008/09 participants are: artist Natalie Abbott VIC (mentor Ros Warby); James Brown NSW (Gail Priest); Sophie Chapman QLD (Judith McLean); Tanya Dupagne WA (Jenny Simpson), Janie Gibson NSW (Alicia Talbot); Mish Grigor NSW (Bruce Gladwin VIC); Luke Hickmott VIC (Carlee Mellow); Ben Hjorth VIC (Brian Lipson); Laura Levitus VIC (Bec Reid); Ahilan Ratnamohan NSW (Lee Wilson); Georgie Read NSW (Leisa Shelton VIC); www.yaq.org.au/
The Football Diaries will be presented by Urban Theatre Projects, April 22 – May 2, Hackett House, Bankstown
www.urbantheatre.com.au
RealTime issue #90 April-May 2009 pg. 22
© Nina Stromqvist; for permission to reproduce apply to realtime@realtimearts.net