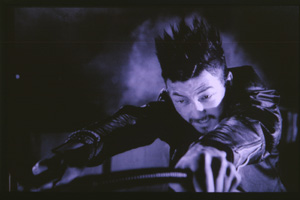 Electric Dragon 80,000 Volts
By any standards, this year's Melbourne Film Festival was a major success. Attendances were at record levels, and for good reason, as the festival has capitalised on past innovations such as the wide distribution of a free catalogue, the use of major media partners and government promotional support, as well as 4 good theatres close together in the CBD. Overall, the festival gave solid expression to the importance of screen culture to the city.
There were some fine European films such as Agnes Varda's The Gleaners and I and François Ozon's Under the Sand (both reviewed here after their Sydney screenings). However the big news was the increased programming emphasis on Asian cinema under new director, James Hewison. There is obviously a hole in the market that the festival filled. Mainstream cinema has decamped to the shopping malls and the arthouses are clogged with crossover films and the rancid stench of Sundance. Anyone with eyes for new vitality can see that it is coming from east Asia.
We have come to associate the Brisbane International and Sydney Asia Pacific Festivals (see p20) with strengths in this area, but Melbourne gained a lot of ground this year with 2 programming coups: a sustained focus on new Korean film and a retrospective on Japanese director, Ishii Sogo.
South Korea has emerged as a major regional cinema, capturing over 40% of its domestic box office with locally made film (compare this to Australia's highly touted 8% last year). The output of the Korean industry combines popular genres and specialised art cinema, and Melbourne contained a good range of it with 10 features. The quality varied, but it was valuable to see a range of films and get a sense of the cultural, industrial and aesthetic outlines of this as an emergent national cinema.
Of the 10 films, 3 were outstanding. Bong Joon-ho's debut film Barking Dogs Never Bite is a brilliantly constructed fable of disillusionment and the endurance of hope. It takes the familiar theme of emotional emptiness at the heart of urban life, but finds fresh hope by looking to new (or under-represented) social groups. It contains one of the great female heroes of our times. Forget Lara Croft, this girl walks out of the office to save lost puppy dogs!
Hong Sang-soo's The Virgin Stripped Bare By Her Bachelors is an experiment in modernist narration. It tells a narrative then seizes up and retells the same story in altered form. You can play the Rashomon interpretive game about the subjective nature of interpersonal relations, but more importantly, this is a puzzle about the role of memory in narrative comprehension.
The Isle divided a lot of viewers with its minimalist dramatic style combined with brutal imagery. Baz Luhrmann might believe that love stories are constructed out of banal mush, but here is a love story in which a lot of fish hooks get inserted into bodily orifices. Boy meets girl and a lot of blood gets spilt in the process. The disturbing aspect is that there is quite a compelling logic to everything that happens.
We've seen political thrillers in the past from Korea such as last year's Shiri. This year's version was Joint Security Area, an immensely enjoyable thriller-comedy about the irresistible impulses toward political reunification and the attendant fears involved in the process. A political cinema which can successfully frame urgent contemporary issues in popular genre terms is no small achievement.
The Korean cinema looks to have its fair share of dark horror films and thrillers. The whodunnit Tell Me Something by Chang Youn-hyun contained so many red herrings I think I ended up being the killer. It's replete with dismembered body parts and wild car crashes without much pretext other than a commitment to the richness of genre experience.
Schoolgirl horror is an ascendant cycle within the supernatural genre, following Whispering Corridors. This year's entry was Memento Mori, which takes us once more into the heady atmosphere of schoolroom crushes, suicide, guilt and the return of unquiet spirits. This is carried off in a compelling way here as the narrative shuttles back and forth through memories until finding a redemptive image of happiness to bring its horror to a close.
The director of Whispering Corridors, Park Ki-hyung, had a new film, Secret Tears, once again centring on a schoolgirl with that bad, bad mixture of teenage angst and supernatural power. The impulse behind this cycle seems to be the realisation that women have stuff inside them, which once released, threatens to change the world. Let's hope they find out quickly.
The other major event in the Asian component of the festival was a retrospective of 7 films by Ishii Sogo dating from 1970s Crazy Thunder Road to the irresistibly named Electric Dragon 80,000 Volts. This most recent film led off the retrospective and resulted in enormous queues for all of Ishii's work. As a child its protagonist had absorbed an enormous charge of electricity that could only be dissipated through an electric guitar. You can't go wrong with a quickly cut film based around noise and music played at a volume to make the seats shake.
The key to Sogo's work is his commitment to excess, either in the frenetic performance style of his early films such as Crazy Family (1984), the overwrought montage and audio-sweetening of his most recent films, such as last year's samurai film, Gojoe, or the excessive restraint of his middle period films, best represented by Labyrinth of Dreams (1997).
The most significant film from China was Jia Zhang Ke's Platform, which was unfortunately only available in a truncated version. This did some violence to a film about the texture of social change in the transition to market socialism. This immensely important change is chronicled through a troupe of cultural workers who begin the film performing Maoist propaganda and end as a breakdancing group. The film continues the thread of Chinese filmmaking, which includes Edward Yang and Hou Hsiao-hsien, in which long takes and distant framing are combined with innovative staging to discover new ways of manipulating space.
The news wasn't all good for those who follow Asian filmmakers. New films by Takeshi Kitano (Brother) and Abbas Kiarostami (ABC Africa) were major disappointments, and I'm still looking for someone with a good word for the aptly-titled horror prequel Ring O. However you don't judge a festival simply by the good films it serves up. Good festivals bring new things to your attention in a concerted fashion. I'm thinking maybe Thailand next year for a regional focus?
50th Melbourne International Film Festival, various venues, Melbourne, July 18-August 5
RealTime issue #45 Oct-Nov 2001 pg. 21
© Mike Walsh; for permission to reproduce apply to realtime@realtimearts.net