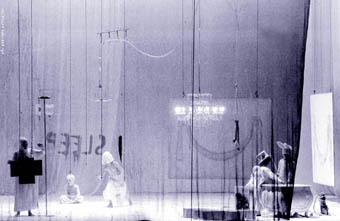 Genesi
In the online edition of RealTime 50 I wrote that at last Melbourne has a festival where local artists have been given deserved prominence side by side with some unique overseas and interstate productions. The last festival in which Melbourne artists enjoyed such visibility was Barrie Kosky's 1996 Adelaide Festival.
Robyn Archer's 2002 Melbourne Festival is centred on text ie language in performance, the next one, on the body, and the third, on voice. If you're expecting a season of nice plays, forget it. Archer's choices and her vision of text in performance are as wide-ranging and provocative as you'd expect from her Adelaide Festival programs. She deals another blow to the myth that postmodernity has been the ruin of language. Here it comes embodied in dance, puppetry, music, physical theatre, installation, multimedia, contemporary performance and, yes, plays, but what plays.
The profoundly disturbing, not-to-be-missed Societas Raffaelo Sanzio make their first Melbourne appearance with Genesi, from the Museum of Sleep. Ivan Heng's 140 minute solo about power and gender, Emily of Emerald Hill, comes from Singapore. The 150 minute virtuosic adult marionette work , Tinka's New Dress, has Ronnie Burkett creating and voicing 37 characters. From Berlin's Hebbel Theater comes Total Masala Slammer, Heartbreak No 5, an erotic adaptation of Goethe's The Sorrows of Young Werther. There's The Fortunes of Richard Mahony, adapted by Michael Gow from the novel (QTC/Playbox), and the Pinter version of Proust's Remembrance of Things Past (VCA).
In an interesting piece of programming from (as Archer sees it) our much neglected southern hemisphere neighbour, Argentinian writer-director Frederico Leon presents his play 1500 metres above the level of Jack (centred on a performer in a bathtub of the water for the hour), and curates a mini-festival of recent Argentinian cinema.
An exploration of the rich possibilities of contemporary theatre is evident in a handful of very intimate performances designed for small audiences. It includes the Canadian STO Union & Candid Stammer Theatre's Recent Experiences (you're inside the set with them), 3 works by US actor-writer Wallace Shawn (My Dinner with André) performed by local actors in small spaces, and IRAA Theatre's Interior Sites Project, an all-night stayover theatre experience for audiences of 7 only. Gertrude Stein's Dr Faustus Lights the Lights (St Martin Youth Arts Centre) gets a rare airing, and Daniel Schlusser, Evelyn Krape and sound artist Darrin Verhagen take a tough new look at Medea. And there's more, from Five Angry Men, The Keene/Taylor Project, NYID (with David Pledger writing as well as directing; see interview), Chamber Made Opera (libretto by Duong Le Quy), Back to Back Theatre, Company in Space (text by Margaret Cameron; see interview), Arena Theatre Company, novelist and playwright Joanna Murray-Smith and composer Paul Grabowksy teaming to create music theatre, Helen Herbertson (her magical Morphia), Trevor Patrick (dancing with some fine text) and work-in-progress showings from others including RantersTheatre .
From Sydney come 2 multimedia experiences that also work with text in interesting ways: Kate Champion's impressive dance theatre work Same same But Different; and Sandy Evan's Testimony, a powerful and beautiful big band multimedia tribute to Charlie Parker to a libretto by American poet Yusef Komunyakaa. From Berlin there's Uwe Mengel's murder mystery installation, Lifeline, where you become an active investigator. From the Kimberley region of Western Australia comes the passionately debated Fire, Fire Burning Bright. Premiered at the 2002 Perth Festival and presented by an all-Indigenous cast, it's the idiosyncratically told story of a massacre early last century and its impact. There's also a visual arts program (featuring Susan Norrie and Nan Goldin), a National Puppetry & Animatronics Summit and a timely national symposium on "The Art of Dissent."
I met with Robyn recently and asked her about the focus on small to medium companies and productions in her 2002 Melbourne Festival. Was it a budgetary decision, was it heroic? How would the works fare up against international talent when they are mostly brand new works? Was this about what Australia now has to offer the world?
Robyn Archer: Speaking to you a couple of years ago in RealTime, I really thought it was going to be a couple of easy years for me. It was just when I'd backstepped out of the Gay Games—mainly because there just wasn't enough money to do what I wanted to with Asia-Pacific gender-bending stuff. I thought it was back to my own work. Then when Melbourne came knocking I really had to think, do I really want this or not? And probably what made it worth doing was the challenge of a completely different city that needed another look at its festival. What was patently obvious was that the joint was overflowing with really inventive artists, really good people like David Pledger, Hellen Sky, Michael Kantor, Kate Cherry, IRAA, Back to Back, Arena, all those companies. I had lunch with 5 or 6 of them and said, well, what would you want a Melbourne Festival to be? And Michael Kantor instantly said, "In the perfect environment where we were all creating our own work, with the financial resources and the venues we needed to make our best work, we would only want the Melbourne International Festival to bring inspiring international work. The fact is that's not the environment we're in." There was this feeling that there were a whole lot of people out there having immense difficulties making the work they wanted to make. I regularly used local Adelaide companies during the 2 festivals I was there. In Melbourne it's times 20. It's a bigger city. But also, it's true that alternative theatre really blossomed down in Melbourne through La Mama and the APG (Australian Performing Group) and that whole thing. And it does seem there's a residue of that drive here.
It's a different kind of milieu now isn't it, more contemporary performance, physical theatre, multimedia, new media, music theatre?
It's not primarily playwriting. That's interesting because in the Buenos Aires scene Federico Leon comes from and in Tehran where I was in February, what young, adventurous, bold, courageous artists do is write plays and put them on. In some cases the play is absolutely the thing. But I looked at the strength of the projects here (and there were many more than I've included) and I thought what a great basis to have in an essentially theatre-based festival. If you're looking at text-based work, you could invite the world. So I thought, okay, my criterion would be I'll invite something that I can't get here, that audiences don't actually see in Melbourne, not necessarily something bigger and better.
You've got something like 20 new Melbourne performance projects including some works in progress.These companies are usually lucky to get a new show up each year. If they get it headlined at a festival that's very good for them—we know that the capacity of the small to medium companies is to tour internationally. Many carry the flag for Australia already.
Absolutely. I was singing in Zurich recently and it was amazing to see 5 or 6 Australian shows there, admittedly one of them was Elision's opera, Moon Spirit Feasting, and the other The Theft of Sita. On the other hand, Moon Spirit is the product of Artistic Director Daryl Buckley's amazing persistence and comes out of a new music ensemble which by any other standards would be seen as small and doing wildly out-there new music.
A French dance festival in Val du Marne in November is featuring Sydney-based artists Tess De Quincey, Rosalind Crisp and Gravity Feed—Gravity Feed's first gig overseas.
That's the festival we're doing an exchange with for 2003, bringing out some French companies that otherwise wouldn't come here, and we'd love to be able to invite Ros Crisp as well. I personally can't imagine that there will be an invidious comparison between the Australian and the international guests at this year's festival precisely because the work I've invited is set on totally different premises. Total Masala Slammer and Genisi are just right-out-there, large productions built on individual genius. You couldn't say that either of them fitted into any mould. It's not a kind of international theatre—they're one of a kind. I'd say the same of Ivan Heng and of Ronnie Burkett. It isn't like bringing the Royal Shakespeare Company. And I feel they have more in common with a number of individual Melbourne artists.
What can be the future for the companies in your festival other than continuing their local existence with a new show every year or two?
There's an increasing audience for Australian work overseas. I think we're on an incredible cusp at the moment. And whether we capitalise on that is entirely to do with attitudes on the way our international push goes. There have been several big bangs of umbrella-ed Australian work like at BAM (New York) for instance and the Expo thing that I did in Hannover and the Heads Up thing in London. My gut feeling at the moment is that we've done enough of those. The market is already there, forged for example, by the exemplary work of Maria Magdalena Schwaegermann (Hebbel Theater, Berlin; Zurich Festival) who came to Australia several times, did her research well at a really intimate level, simply talking to artists. Her recent Zurich Festival had 5 Australian shows including Melbourne's Museum of Modern Oddities. So it wasn't just big things. William Yang was there. Paul Grabowsky and I did some cabaret. And Michel Caserta has invited to the Val du Marne dance festival artists that he likes and it's not a particularly a commercial mob. I've been saying in a number of quarters that I really think supporting the 'natural' invitations is the way to go and increasingly getting the information out about what is available, rather than what I call the"sheltered workshop" approach. We don't have to proselytise any more. I get the feeling that now a lot of international presenters are looking for what they can invest in. And most of those presenters are more interested in small companies that don't cost so much to tour.
As ever, Archer is an eloquent spruiker for her festival, and a very attractive festival it is, as well as a provocation to those arts festivals in Australia that persistently refuse to headline all but a few local artists and companies and, when they do, often lose them in the small print.
This year's Melbourne Festival wasn't about me commissioning anybody to do anything. It was really just a group of very good artists busting to get the next project up and the festival being the way that could happen. And I think it's safe to say that many of those projects would be unrealised in their entirety and some would simply have been much smaller versions if we weren't able to give cash assistance and the help it gives to sit in the festival brochure.
In the past there's always been a few standout shows a year that draw interstate visitors to the Melbourne Festival, but in 2002 I feel the pull of the whole program, a unique opportunity to see such a display of Victorian performance talent at one time in the context of distinctive and provocative international productions and considerations of the reinvigoration of language in performance.
Melbourne Festival, Oct 17-Nov 2. www.melbournefestival.com.au
RealTime issue #51 Oct-Nov 2002 pg. 40
© Keith Gallasch; for permission to reproduce apply to realtime@realtimearts.net