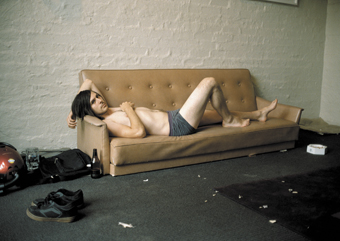 Lyndal Walker, Pat, Smells like Teen Spirit, 2005
"I was looking for a quiet place to die," says a narrator in Greta Anderson's digital video as a foamy river appears onscreen. This melancholy vignette—Uncomfortable Conversation—is one of 3 in Anderson's Walking and Talking (2005), a series of richly coloured film stills with audio and large, brochure-glossy photo tryptichs. Anderson's work situates humans in magisterial environments—lush rainforests, towering pine groves—to highlight existential questions. These human dramas, played out in picturesque settings have something David Lynch about them, they're eerie like fairytales and philosophical like a John Sayles film, but not without humour. "She mentioned Camus, Vonnegut…I thought she'd been to Paris," continues the narrator, "but she'd just read a lot in the bush." Another voice, in Confidence, reflects on the childhood killing of a sparrow. "I watch them now when I eat my lunch…" he says, then adds after a meaningful pause, "chicken." Anderson has said, "I like to think of my work as tinkering with the tradition of 'easy-viewing.' The photographs are moments shorn from a narrative. I like how a single frame can suggest an on-going story even though it doesn't contain it, remaining ambiguous." Anderson's video montages more successfully conjure her themes than the photos alone, which lack, say, the strangeness of Gregory Crewdson's abject landscapes, though they're technically as accomplished.
This theme, of life observed at a slight remove, features in several works at the Australian Centre for Photography. In fact, the exhibition—If you leave me can I come too?—has the more serious subtitle, Melancholy and Dissociation in Australian Photomedia Practice. You'd be forgiven for anticipating a show about dark emotion and defensive psychological manoeuvres, but curator Bec Dean's attraction to the cool distancing effect of irony ensures plenty of levity.
In focusing on the various slobberies of blokes' domestic spaces, Lyndal Walker's portraits eschew any attempts to objectify, even though each man-boy poses in his underwear. Walker's large, colour photographs (Stay Young, 2005) snap bare-chested boys surrounded by all the ephemera of share-houses and student life. Her subjects' presumed willingness to be photographed like this is both touching and amusing, because their particularities and frailties are so baldly on show: their pale, unsculpted bodies, their terrible underpants (one pair sports a half-obscured magnet and a logo that probably says "chick magnet"), the way their possessions emphasize the fleeting moment of their youth (the Return of the Jedi poster, a high-school relic?). One man sits in a bedroom with wallpaint that runs out near the ceiling, conveying both youthful energy and lassitude ("Luke, School's Out"). Who could be bothered finishing the paint-job, there are more urgent things to be done!, like lying on a vinyl couch with an ashtray full of butts and a longneck ("Pat, Smells Like Teen Spirit"). Walker's titles read like ironic pop cliches: "Gerry, Feast of the Gods", "Ford, Barely Legal", "Rob, Easy Tiger" and the boys' expressions at least suggest they're in on the joke. (This is somewhat verified by the story accompanying the exhibition at PICA: "…as word spread of the sittings among Melbourne's bursting network of bony-arsed bohemian boys who were to be [Walker's] subjects, they were practically lining up to do it.")
In the ACP foyer are Ian Tippett's large colour digital prints, The Last Cigarette, forming a neatly realist counterpoint to Natasha Johns Messenger's Lost in Space series on the opposite wall. Melbourne-based Tippett continues his interest in the rituals and details of the CBD, this time photographing workers having a smoke. Tippett frames his human subjects amid the monumental geometries of city buildings, savouring a drag in a high-rise foyer or reflected in windows on concrete forecourts. The smokers stand mostly alone, modern pariahs, their faces wreathed in toxic plumes. One woman has closed her eyes as she draws back—she might be in pleasure or pain—but these are rare moments of personal time stolen from corporate routines.
Lost in Space also features contemplative figures in urban settings but Johns Messenger photographs plastic figurines in dioramas and further abstracts them by blurring areas of each print. Strangely, this slippage between the real and the stage-managed lends each scene a tender melancholy, and though the specifics are blurry the emotion is heightened: figures seem to communicate, leaning toward each other, standing under plastic trees or sit alone in whimsical contemplation. Because they're so minimal we're left to fill in the blanks: their little plastic clothes look 60s—ski jackets, leggings, boots and beanies; it must be cold—they're rugged up, the colours are rich and cool. Celeste Olalquiaga calls the diorama a voyeuristic spectacle which gives us "that uncanny feeling of secretly watching what is forbidden or impossible" (The Artificial Kingdom, Bloomsbury, London, 1999). By using this form, Johns Messenger anoints very simple, banal scenes with the enticing promise and pleasure of glimpsing 'another world.'
Yet another world is offered up in Elvis Richardson's Slide Show Land (2004-6), a dual projection of family slides taken by American Dorothy E Elsberry between 1951 and 1976. Like French artist Christian Boltanski who famously exhibited found photographs of "dead Swiss" (taken from obituary pages) or school photos of children who died in the Holocaust, Richardson is a recycler, gathering her materials from thrift shops and, in this case, e-Bay auctions. Slide Show Land commemorates what Boltanski calls "small memory", moments that might otherwise go unnoted because they're not recorded in history books, or publicly commemorated. By exhibiting some of Elsberry's extensive family pictures (1600 slides in all), Richardson commemorates an otherwise forgotten 'ordinary' life and the poignant particularity of its rituals. Elsberry's favourite subjects appear to be her horseriding husband, Jack, and celebratory feasts, sometimes both—here's Jack eating a roast chook at a carefully decorated table. Her photos are raw, direct and amateurish; the 1960 and 70s film stock gives everything a familiar dullish tinge and there's something particularly American about these table spreads: the superfluousness, the food itself—two ice cream sundaes with Oreo cookies, the gingham table cloths, a cherry pie. Elsberry's prints testify to the importance of ritual and relationships, and the care and pride with which she attended to occasions. In representing them Richardson, like Boltanksi, seems "not concerned with questions into the aesthetic quality of artistic excellence, but with the banal reproducibility and multiplicity of photography and importantly of the multiplicity (and regeneration) of human life and death" (Paul McNally, review on www.source.ie).
Bec Dean says she was inspired to bring together photomedia that often produced a melancholy effect, even if this was not necessarily intended by the artist, and the other works in this thoughtfully arranged show bear this out in more or less obvious ways.
If you leave me can I come too?, curator Bec Dean; Australian Centre for Photography, Sydney, March 3-April 9
RealTime issue #72 April-May 2006 pg. 48
© Mireille Juchau; for permission to reproduce apply to realtime@realtimearts.net