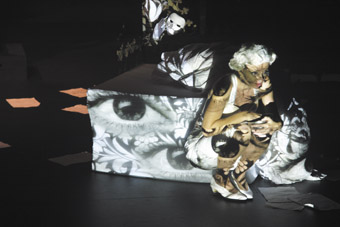 photo Bev Jensen
Scotia Monkivitch, A Mouthful of Pins
THE NEST'S A MOUTHFUL OF PINS ATTEMPTS TO WRING ENDURING BEAUTY FROM THE TERRIBLE EXPERIENCE OF MELANCHOLIA OR DEPRESSION. KOKO (LEAH MERCER), AS OUR CONTEMPORARY, CARRIES "THE TORN PAGES OF HER STORY UP THE STAIRS OF AN OLD VICTORIAN APARTMENT BUILDING IN BRISBANE." HERE SHE MEETS, OR IMAGINES SHE MEETS, TWO DIFFERENT HISTORICAL CHARACTERS, ONE AN EXTRAORDINARY REGENCY PERSONAGE BASED ON THE LETTERS OF JANE AUSTEN (AOLE T MILLER), AND THE OTHER A 50S HITCHCOCK BLONDE/HOUSEWIFE (SCOTIA MONKIVITCH). THERE IS A SETTEE AND A COLLECTION OF BIRD-LIKE COMMEDIA MASKS SUGGESTING THAT THEY ARE KOKO'S ADOPTED PERSONAS.
Madness is in the air. Nature is outside (flitting bird images) and projected titles record the remorseless succession of days in a series of cryptic notes and quotes: "'There isn't a Monday that would not cede its place to Tuesday.' Anton Chekhov." Live music (piano and violin), song, visual images, the dislocation of narrative units along with highly suggestive symbolic actions invest the piece with deliberate ambiguity. These strands came together most movingly in an extended piece played by a violinist over the recumbent, temporarily enervated and silent figures on stage. At this point it became evident, looking at it from a Lacanian perspective, that "The things we are dealing with…are things in so far as they are silent. And silent things are not quite the same as things that have no connection with words." At the very beginning, in order to define the space, words on paper are laid out in a circular pattern blank side up so that they are ritually obscured from sight. We are not dealing with a clinical case. What is of primary importance is, in Julia Kristeva's terms, the rhythms and alliterations of semiotic processes which, combined with the polyvalence of sign and symbol, "unsettles naming." In the best sense, The Nest's project is grandiose: attempting to capture the sublime in art.
As a writer, Leah Mercer is obviously conversant with psychoanalytical concerns but (rightly) stops short of fully articulating them: "Sadness is a memory of something long ago, can you call it a memory if you can't remember it? A memory of something I cannot quite recall, the unremembered, the unrememberable sitting there high in my chest." Her adoption of a depressed person's monotonous and rhythmically repetitive delivery stems from this sadness lodged in her chest, sentences that, as Kristeva describes them, "come to a standstill." I admired what amounted to a sustained virtuosic performance of its kind, but questioned whether Mercer's affects contributed to theatrical efficacy. At times it seemed that the beating heart of the production had also come to a standstill, and surely the beautiful words of her last song—"Singing is breathing, is thinking, is speaking…"—demanded soaring to the heights? The depth of Koko's situation is encountered through an act of fellatio which, on the surface, seemed to imply for some in the audience a history of sexual abuse. I read it, to the contrary, as a rupture of Koko's hermetic world. Abruptly propelled into a different space, she finds resources of compassion and forgiveness that lead her to intervene in the ritual self-harm perpetrated by the Monkivitch character.
The choice of a male to play the Jane Austen part had pluses and minuses. It allowed for Koko's repudiation of the phallic mother in the fellatio scene but didn't necessarily enable her to resist the circuits of patriarchal exchange within which they function as objects. But I'm afraid that Miller's drag queen performance militated against any elaboration of this idea. This was a pity, though this richly written role has sent me off in search of Jane Austen's letters.
Scotia Monkivitch's hard boiled but vulnerable Hollywood diva displayed symptoms of hysteria rather than melancholia. She points this out herself when she expresses the view that Freud would have labeled all three characters hysterics. In this respect, she also appeared to be less passive than the others—the literal metaphor for her character being that the shoe doesn't seem to fit. Monkivitch is also the most engaging performer, combining a clown's panache with acid one-liners that cut (!) through Koko's unremitting gravitas and the high-handed style of Miller's Jane Austen. Her eruptive dancing with the latter evokes the sheer possibility of jouissance, of an active resistance. She is a fusion of acting and acting out. Unable to utter the void, she too is "growing a book/ tending slender pages of skin/ to replace you" (her ex-lover). Her brashness only renders her self-laceration more painful to the audience; attacking her own thighs with a knife in semi-seductive fashion negates all concepts of desire. Her most gorgeous and revealing theatrical moment occurs, however, when she comically stuffs her mouth with marshmallows. This action was prefigured when she insouciantly demanded her share of opium drops medically prescribed for her Regency counterpart.
Monkivitch's excessively mimed bulimia is likewise prescriptive but also contains the idea of a not wholly successful attempt at self-determination. Thus there is unresolved irony as the lights fade after Koko's apparently triumphal song. Monkivitch crouches like a cornered animal confronting the audience with her steely determination to remain hard boiled (thus untamable), at any price, unless the future manifests the kind of social revolution that legitimately grants women autonomy as subjects. There was much to admire about this brave and ambitious piece of contemporary performance despite a demonstrable need for reworking.
A Mouthful of Pins, writer Leah Mercer; director Margi Brown Ash, performers, Aole T Miller, Leah Mercer, Scotia Monkivitch, visual artist Jaqui Vial, production designer Bev Jensen, lighting designer Simon Johnson, music composed & performed by George Valenti and Moslo, songs & soundscape by Reilly Smethurst; Brisbane Powerhouse, Feb 14-16
RealTime issue #84 April-May 2008 pg. 38
© Douglas Leonard; for permission to reproduce apply to realtime@realtimearts.net