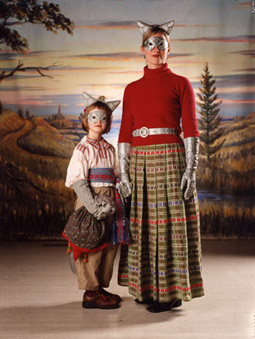 Jazmina Cininas, Iron She Wolves: Daina & Arielle  2002
THIS IS NOT A PRINT SHOW LIVES UP TO ITS TITLE, BECAUSE, ALTHOUGH ITS CURATORS AND SOME OF ITS PARTICIPANTS HAVE A BACKGROUND IN PRINTMAKING, ALL HAVE PUSHED THE BOUNDARIES OF THE MEDIUM OR RE-THOUGHT IT BY PRESENTING WORKS BEST DESCRIBED AS CONCEPTUAL AND/OR INSTALLATION, USING OTHER MEDIA.
There is a very strong sense of theatricality to this exhibition as soon as you enter the gallery—an overwhelming sense of things happening. Out of the corner of your eye you see a room-sized installation of suspended, decorated plastic, all colour and shine; another room holds an extraordinary contraption of laser-cut black acrylic, wire, plastic beads with lithographed images—mostly stylised portraits or profiles—on clear film. Both Mohd Fauzi Sedon's Iced Donuts and Neil Emmerson's The Dream invite the viewer to enter and interact.
All this colour and movement is complemented by three transgressive photographs by Jazmina Cininas. These vaguely disturbing images feature costumed female figures against idealised, artificial forest backdrops. The figures are masked and dressed in outfits that refer to Cininas' Lithuanian background. The artist's evocatively titled Girlie Werewolf Suit is a costume presented as a sculpturesque installation comprising a linocut on calico with ears, mask, gloves, tail and belt.
Addressing warfare in the Middle East, Belinda Fox presents an installation approximating helicopters in camouflage colours, hovering above a stylised camouflaged landscape. Already despairing of the futility of the Iraq conflict, Fox's work made me feel even more aware of something so apparently beyond resolution.
Alexis Beckett references museum displays of birds in glass domes in a way that foreshadows the idea of extinction with a sense of the memorial. Tom O'Hern's images, influenced by popular culture, are striking and confronting, large-scale homoerotic works. I was particularly taken—amused even—with Learning to Love Myself in which, in multiples, the artist (I presume) is depicted in acts of self-oral-genital stimulation.
But it is Sedon and Emmerson whose works stand out in this very fine show. Sedon, who completed a PhD at the Tasmanian School of Art and is currently a university lecturer in Malaysia, critiques consumerism and depicts mundane objects—in this case, the iced donuts of the title—creating spaces in which these images overwhelm the viewer. Light is used to create a seductive glow and to enter the installation of dozens of long, plastic ribbons is to be delightfully disorientated.
Emerson teaches at the Otago Polytechnic in Dunedin, New Zealand and is interested in taking printmaking techniques into completely new arenas, using other media including plastics, fabrics and recorded sound to create complex assemblages. His installation is sensual and seductive. The faces depicted are of an obscure Chinese student hero and Aubrey Beardsley—a strange pairing. In referencing Beardsley, Emmerson is drawing upon the artist's reputation as a purveyor of erotica. As the suspended images twist and turn, there occur "shifting visual overlays" (catalogue essay) and the multiple portraits seem to become indistinguishable. It is difficult to find words to describe these compelling works—a sign of their uniqueness.
This is not a print show, curators Karen Lunn, Milan Milojevic, Plimsoll Gallery, Hobart, May 18-June 8. Touring: Burnie Regional Art Gallery, Oct 26 – Dec 9; Wagga Wagga Art Gallery, Feb 8-April 13, 2008; Gippsland Art Gallery, July 12-Aug 17, 2008; Lake Macquarie Art Gallery, Sept 26-Nov 2, 2008
RealTime issue #80 Aug-Sept 2007 pg. web
© Diana Klaosen; for permission to reproduce apply to realtime@realtimearts.net