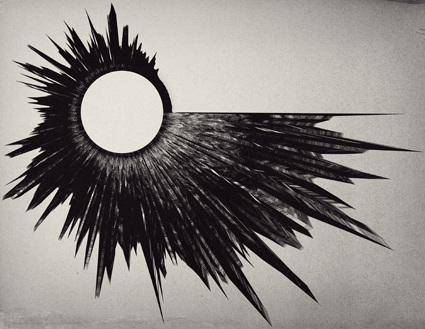 Untitled, 2010, sound generated digital still, Riley Post, ANU graduate
DARREN TOFTS ONCE DESCRIBED THE PREHISTORY OF TECHNOLOGICAL TRANSFORMATIONS OF CULTURE AS "EVERYWHERE FELT BUT NOWHERE SEEN IN THE TELEMATIC LANDSCAPE OF THE LATE 20TH CENTURY." AS WE MOVE INTO THE SECOND DECADE OF THE 21ST CENTURY, THE AFFECTS THAT TECHNOLOGICAL TRANSFORMATIONS PRIVILEGED IN CULTURE AND ART IN THE LATE TWENTIETH CENTURY—INTERACTIVITY, INTERACTION, IMMERSION—APPEAR NOW TO US AS COMMONPLACE AND THEIR USE IN ART AND MEDIA TAKEN FOR GRANTED. IT IS EASY THEN TO FORGET JUST HOW VIBRANT THE MEDIA ARTS SCENE HAS BEEN IN AUSTRALIA SINCE THE 1980s. MEDIA ARTISTS' ENGAGEMENT WITH THE TECHNOLOGICAL INNOVATIONS OF THAT TIME CAN, LIKE A KIND OF FORGOTTEN PREHISTORY, ALSO BE SAID NOW TO BE EVERYWHERE FELT BUT NOWHERE SEEN (WELL, RARELY).
The restructuring of the Australia Council boards in 2005, which included the replacement of the New Media Arts board with the Inter-Arts Office and the transfer of funding for a significant portion of media arts practice to the Visual Arts Board (VAB) and the Music Board, was meant to reflect the subsumption (or is it sublimation?) of media arts practices to the mainstream. According to the Media Arts Scoping Study produced in 2006, these changes did not reflect a failure by media arts to consolidate itself as a set of stand-alone practices. Rather, it was testament to the success of these artists that what was once a discrete field was now something that arts practitioners from all fields were incorporating into their practices.
Similarly, media arts as an academic discipline seems to be settling back into more established disciplines—Fine Art, Media and Communications, Design, Creative Arts and Science and Technology—no longer a monstrous hybrid struggling to find its place in the gallery or the museum. Again, whether this is indicative of subsumption or sublimation is hard to tell. Certainly, in a post-Bradley Review tertiary education environment, university managements prefer disciplines that are recognisable and established (not to mention attractive to the mainstream).
One sure outcome (for this writer at least) is that it makes the whole question of the Australianness of the media arts curriculum quite difficult to answer. Of the 10 academics that I spoke to, only two, Kathy Cleland (The University of Sydney) and Darren Tofts (Swinburne University), placed a pointed emphasis on Australian media art in their curriculum. Interestingly, both of the subjects that they teach approach media arts from a predominantly theoretical perspective and use Australian media artists as case studies. Tofts' interest in the historical trajectory of media arts in Australia is evident in his response to the question of the importance of using Australian examples:
"In focusing on Australian artists there is an immediate context for students to ground media art practices; but more importantly it is valuable for students to be aware of the crucial contribution Australian artists have made and continue to make to the international media arts scene. For instance, cyberfeminism as an international formation, movement, arts practice and concept is impossible to think of outside the contributions made by VNS Matrix, as well as the subsequent, individual arts practices of its founding members (Francesca da Rimini, Josephine Starrs); or for that matter the crucial, pro-active curatorial/critical work and advocacy of Julianne Pierce and Virginia Barratt."
Brogan Bunt and Lucas Ihlein (University of Wollongong) pointed out that their main engagement with local context is through regular guest lectures. "We have recently had artists like Wade Marynowsky, Deborah Kelly, Louise Curham, Lucas Abela, Mike Leggett and Lynette Wallworth give lectures to our students. We try to incorporate at least two guest lectures by local practitioners in each Media Arts studio subject each session. We also have strong commitment to contributing to local Media Arts culture. Apart from dialogue with local Wollongong artist run spaces (Project Contemporary Art Space, 5 Crown Lane, and so on), we have also been building links to relevant festivals/events/groups in the Sydney metropolitan area."
Other practitioner academics such as Ross Harley (COFA, UNSW), Martine Corompt (RMIT), Oron Catts and Ionat Zurr (SymbioticA) and Troy Innocent (Monash University) all commented that while they would use Australian examples where appropriate and available, the necessary resources were not always available to make that possible. As Zurr noted: "…our programme focuses on art and science and furthermore, predominantly on art and the life sciences. Therefore, our teaching is focused on artists (Australian or non-Australian) who engage in working with life, living materials and biotechnology (rather than generally media art or art and technology). There is a growing number of artists within Australia who are working within this field but publication wise—the majority of books (scholarly or not) magazines, journals etc are produced overseas without emphasis on the 'Australian' aspects."
The question of access to resources certainly recurred in many of the responses. The accessibility of the artworks themselves and the scarcity of critical responses to the art, as well as the lack of documentation and poor archiving of media artworks have presented challenges to academics working in the field.
Kathy Cleland noted that as a result of her experience as a curator over the last 10 years, she has a lot of documentation of Australian media art works which she uses in her course. She also pointed out, however, that there are not that many books specifically focusing on Australian new media art (Darren Tofts' Interzone: Media Arts in Australia is one of the exceptions) and that "books published internationally don't tend to mention many Australian artists with the exception of Stelarc who is in everything!"
Darren Tofts pointed to John Conomos' Mutant Media which examines the convergence of media arts, film and video art as a key text. "Stephen Jones' recent Synthetics is also an important contribution to the field, evidencing the robust longevity of Australia's contribution to the international scene." Both Cleland and Tofts pointed to RealTime as "invaluable" with Tofts' noting that "the Australian media arts scene is unthinkable beyond the support and stewardship of Keith Gallasch and Virginia Baxter." All of the respondents agreed that more online magazine/journal resources focused on media arts would be welcome.
Norie Neumark, in her role as Director of the new Centre for Creative Arts at La Trobe University argued that "it would be useful to have more and varied material and critical analysis of Australian media arts, including online resources, DVDs and CDs. However it is also vital to see Australian media artists included in broader publications, both about contemporary Australian art and about international media and contemporary art. In my own recent publication, my co-editors and I were particularly keen to include Australian media artists in a routine way in an international publication." (Norie Neumark, Ross Gibson, and Theo van Leeuwen eds,Voice: vocal aesthetics in digital arts and media. MIT Press 2010; reviewed in RT103)
As Martine Corompt noted, the difficulty of accessing artworks continues to plague media arts: "I used to have a great collection of early interactive works, on CD and floppy disk, but of course they are all unplayable now due to changes in operating systems. Even some of my own old work also can't be played." The platform-specific nature of many media artworks is compounded by the difficulties they present to collections managers and archivists. This is not, of course, specific to Australian media artworks. However, more needs to be done to preserve what is left if the impact of Australian artists is to continue to influence the local curriculum. Paul Thomas (COFA and Curtin University) has been instrumental in drawing attention to this pressing issue through his involvement in the Media Arts Scoping Study (MASS) and the National Organisation of Media Arts Database (NOMAD). Similarly, the ARC funded research project, Reconsidering Australian Media Art History in an International Context, led by Ross Harley, Anna Munster, Sean Cubitt, Michele Barker, Paul Thomas, Darren Tofts and Oliver Grau aims to create a foundational online resource which will "provide future artists and curators with a cohesive overview of Australian media arts' recent milestones and developments, crucial to making significantly innovative new work." (See http://bit.ly/pu9f6z)
As a discrete discipline, the sound arts continue to have only a tenuous hold in academia. Their public profile, in contrast, is maintained by a robust (and youthful) underground of practitioners (see Julian Knowles, "Sound art and the extended university," RT80). As Knowles points out, "it is clear that, despite its fragility, the contemporary sound and experimental music performance scene is significantly intertwined with the small network of university departments who embrace this area of practice and that the best students have developed into exceptional practitioners through this informal collaborative network." It is in this context that he argues for the importance of the practitioner/teacher in universities: "Staff who work at these institutions, though now small in numbers, are often highly active as practitioners in the field with substantial profiles. They are also active as organisers of events and festivals that provide both a modest infrastructure for established and emerging practitioners and an opportunity for students to immerse themselves in the exceptionally rich and diverse sound culture in Australia."
This probably explains why all of those whom I tried to interview for this article were unavailable. But the point is well made and supported by Norie Neumark: "The role of the Australian artist who is also an educator is crucial. In the current climate, where creative practice as research has been recognised through ERA [the Excellence in Research for Australia initiative], artist educators are particularly well placed to contribute both to the research environment and to provide direct inspiration and models to students. And working with students, from undergraduate to postgraduate, is energising and stimulating for the artist educators themselves. I see artist educators as vital in bringing theory and practice together in a vibrant way, both in their own teaching and in collaboration with others."
Australian media arts may not be as discretely visible inside and outside the academy as they seemed to be during the 1990s but there is room for cautious optimism about its future. The new centre at La Trobe is particularly promising and the work being done to preserve a history of Australian media arts is invaluable. But vigilance is required to ensure that the sublimation of media arts practices to the mainstream does not result in their subjugation.
RealTime issue #104 Aug-Sept 2011 pg. 36
© Lisa Gye; for permission to reproduce apply to realtime@realtimearts.net