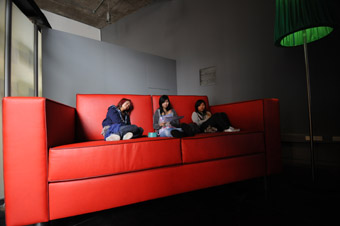 The Room (1994/2007) exhibited in Gravity Be My Friend (2007-2008), Pipilotti Rist. Viewers of Rist's video works sit on outsized lounges: "When we watch TV the reality around us shrinks or disappears." (Catalogue)
THE CULTURAL MAGNET WAS IN FULL FORCE DURING LIVERPOOL'S YEAR OF CULTURE 2008. WITH AN IMPRESSIVE PROGRAM OF EXHIBITIONS, PERFORMANCE, DANCE, CONFERENCES AND ASSORTED EVENTS THE LURE TO LIVERPOOL WAS FELT FAR AND WIDE. ONE OF THE EPICENTRES OF THIS CULTURAL LOVE-IN WAS FACT (FOUNDATION FOR ART AND CREATIVE TECHNOLOGY), THE MOVING IMAGE AND NEW MEDIA CENTRE ESTABLISHED IN 1988 AND CURRENTLY UNDER THE ENLIGHTENED DIRECTORSHIP OF MIKE STUBBS.
Many in the Australian cultural sector would know Mike Stubbs from his time at Melbourne's ACMI (Australian Centre for the Moving Image). As Head of Exhibitions, Stubbs skilfully developed a range of programs that brought together sonic arts, moving image and new media. Now at FACT and working with a savvy team he is developing FACT as a focus for interdisciplinary practices in the UK.
The FACT building itself is surprisingly discrete and tucked away. Situated in the historic Ropewalks area of Liverpool and nestled in amongst warehouses and disused shops, the glass façade offers a stark contrast to the dark hues of Liverpool's cobbled streets. In many ways the building, opened in 2003 and designed by architects Austin-Smith:Lord, is the direct opposite of the architectural signature style of most contemporary museums and galleries. Rather than screaming, "look at me I'm an icon of art and design", FACT's impact is integrated into the scale and history of its surroundings. It is this embedded approach into the fabric of the city that makes it an inviting and popular place for both locals and visitors.
With a café, cinemas, bookshop, black box performance space and galleries, FACT is always busy. There's a sense that anyone can drop in at any time, have a coffee, read a book, check their email and see a film or exhibition. This welcoming approach in itself provides a gentle introduction for the general public to emerging forms of practice. New media and interactive artworks are often maligned, especially in the media for being user-unfriendly or inaccessible. FACT in many ways works to dispel this myth by directly engaging a wide public with the broad depth of contemporary art practices. The foyer entrance area is constantly in use as an exhibition space, providing an effective lure to explore the gallery, other spaces and ideas generated through FACT's integrated programming strategies.
Having established itself as a centre for a range of audiences, the populist nature of the Liverpool Capital of Culture additionally provided FACT with a platform to raise its profile and to introduce a range of new programming and curatorial directions. A new director in any arts organisation will work with the team to shake things up, consolidate and develop an artistic vision for the future. With Mike Stubbs taking up his appointment in May 2007, the 2008 Capital of Culture provided an opportunity to introduce a series of annual themes that would engage with and create debate around wider cultural, political and social issues.
The first of these thematic directions, running throughout 2008 was Human Futures. The aim of this year-long program was to create an opportunity for prolonged and sustained debate about complex issues facing the future of humanity. In a series of exhibitions, performances, film programs and debates, questions were raised about how we deal with change, the impact of technology, the ethical and moral issues of scientific research, the limits of the body. The program brought together a broad range of international artists, thinkers, writers and critics to directly engage the public in often difficult and challenging debates. In the publication accompanying the program, Stubbs and Laura Sillars (Head of Program) wrote, "Through actively encouraging experimentation, provocation and interference, we acknowledge that it is artists who have repeatedly provided early warnings to the cultural, economic and political ramifications of new technologies through a variety of mediums, tactics and gestures."
In developing a thematic discourse, FACT provides a platform for a broad spectrum of artists and positions new media and sci/art practice as a compelling genre from which to question the issues and challenges of the 21st century. With commissioning, exhibition and publication artists are provided with opportunities to expand their practice and develop new bodies of work. For Human Futures, the renowned Swiss video artist Pipilotti Rist premiered a new work Gravity, Be My Friend with additional new elements designed especially for FACT. The international group exhibition Sk-Interfaces, curated by Jens Hauser, explored the idea of skin as a technological interface with installations by Orlan, Stelarc, the Arts Catalyst group, Tissue Culture and Art, Zane Berzina and Julia Reodica. In a very memorable and confronting performance on the opening night of the exhibition, Swiss artist Yann Marrusich sat perfectly still in a perspex box, having ingested methylene blue which, over the course of an hour, slowly seeped from the pores of his body. A symposium was also staged in October and BBC Radio 3 and Radio Merseyside's Festival of Ideas focused on the broader themes of Human Futures with speakers such as novelist Will Self and the KLF's [Kopyright Liberation Front] Bill Drummond exploring the 21st Century Brain and The Value of Experience.
In 2009, the thematic thread is Unsustainable and is a response to Liverpool's 2009 Year of the Environment. A major thrust of this overarching theme is to engage the audience and throughout the year the Climate for Change program will involve workshops, residencies, labs and debates. In responding to the city-wide focus on environment, FACT will open its doors to school groups, students and local residents to become actively involved in the generation of an arts and cultural dialogue around questions around leading an 'unsustainable' lifestyle.
A highlight for the year is Abandon Normal Devices, a new festival of cinema and digital culture launching in September, which goes beyond Liverpool with events in Manchester and other centres in England's northwest. As part of AND, Thai filmmaker Apichatpong Weerasethakul will present a new installation Primitive, exploring further his preoccupation with myth, dream and memory, recounting the last 48 hours in the life of Boonmee, a passionate yogi who is able to remember his former lives.
This integration of cinema, digital media, interactivity and audience engagement is at the heart of FACT's programming directions. It situates the building as a site for exploration and engagement, but also as a base to extend its reach into new arenas. The team at FACT is acutely aware of the rise and impact of the YouTube generation, DIY media and social networking, and in 2008 established FACT TV. This is an online channel dedicated to broader discussions of FACT's programming, an outlet for showcasing film and video by artists and an opportunity for the local community to feedback and provide comment on events and exhibitions. FACT TV also provides an increased online presence for FACT's resident community TV station tenantspin.
FACT is an example of an institution acting as an 'agent of change.' In its programming and curatorial approaches it aims to provide a platform for artists and audiences to respond to the transforming landscape of our society, environment and culture. As a regional centre it emphasises local involvement with an outwardly national and international focus. It takes seriously the challenge to our cultural institutions to be pro-active and engaged in the urgent debates of our time.
FACT, Foundation for Art & Creative Technology, Liverpool: www.fact.co.uk
RealTime issue #89 Feb-March 2009 pg. 28
© Julianne Pierce; for permission to reproduce apply to realtime@realtimearts.net