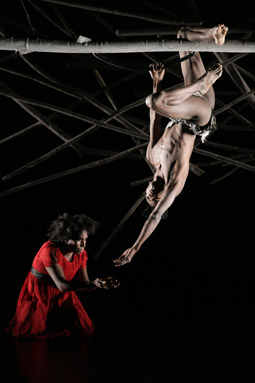 photo Jeff Busby
Elma Kris, Patrick Thaiday, Mathinna, Bangarra Dance Theatre
Inspired by a young girl's journey between two cultures, Mathinna traces the fragmented history of a young Tasmanian Aboriginal girl removed from her traditional life and adopted into Western Colonial society, only to be ultimately returned to the fragments of her original heritage.
Young Mary was born on Flinders Island, Tasmania, in 1835 to the Chief of the Lowreenne tribe, Towgerer, and his wife Wongerneep. As a young girl, Mary captured the hearts of Governor Sir John and Lady Jane Franklin and was adopted into their household at Government House in Hobart. Mary was renamed Mathinna. Somewhat of an educational and charitable project, Mathinna was raised with the Governor's daughter Eleanor and was described as a "very nice, intelligent child."
When Governor Sir John and Lady Jane Franklin returned to England, Mathinna was sent to the Queen's Orphan School in Hobart where she struggled to adjust. When Mathinna was sixteen she left the School to rejoin her people at an Aboriginal station at Oyster Cove, south of Hobart. At this settlement Mathinna's life came to a disheartening end.
Mathinna became the archetype of the 'stolen child.' Bangarra Dance Theatre recreates her powerful story of vulnerability and searching in an era of confusion and intolerance. [Text courtesy of Bangarra Dance Theatre.]
credits: choreography Stephen Page, music David Page, set design Peter England, lighting design Damien Cooper, costume design Jennifer Irwin
performances: the Arts Centre, Melbourne, May 2008; Queensland Performing Arts Centre, May-June 2008; Canberra Theatre Centre, June 2008; Illawarra Performing Arts Centre, Wollongong, July 2008; Civic Theatre, Newcastle, July 2008; Sydney Opera House, July-August 2008; Parramatta Riverside Theatre, Sydney, February 2010; Arts Centre, Frankston, October 2010; Geelong Performing Arts Centre, October 2010; Theatre North, Launceston, October 2010; Theatre Royal, Hobart, November 2010; Karralyka Centre, Ringwood, November 2010; Westside Performing Arts Centre, Shepparton, November 2010; West Gippsland Arts Centre, Warragul, November 2010; The Capital, Bendigo, November 2010; Esso BHP Billiton Wellington Entertainment Centre, Sale, November 2010; Drum Theatre, Dandenong, November 2010
reviews/articles – realtime
bangarra at 20: circle of connection
jeremy eccles, realtime 92, august-september, 2009
video
other
a savage lesson in 'civility'
cassandra pybus, the age, may 10, 2008
mathinna
stephanie glickman, herald sun, may 20, 2008
dream team's dance of power
paul stewart, sunday herald sun, may 25, 2008
moving expose of the rape, ruin of an innocent
olivia stewart, courier mail, may 31, 2008
a lost spirit among the colonists
shaaron boughen, the australian, june 2, 2008
bangarra: mathinna by stephen page
chris boyd, the morning after: performing arts in australia, june 21, 2008
sad but poignant steps
lyn mills, canberra times, june 24, 2009
bangarra takes narrative track
kilmeny adie, illawarra mercury, june 26, 2008
matthina
jill sykes, sydney morning herald, july 24, 2008
mathinna
alex lalak, daily telegraphy, july 26, 2008
hope in the darkness
jo litson, sunday telegraph, july 27, 2008
mathinna
julie huffner, sun herald, july 27, 2008
mathinna
kevin jackson, kevin jacksons' theatre blog, august 16, 2008
a review of mathinna
nicholas birns, hyperion 4.1, april 2009
matthina
lynne lancaster, arts hub, february 24, 2010
tassie tale triumphs
lesley graham, hobart mercury, november 4, 2010
© RealTime ; for permission to reproduce apply to realtime@realtimearts.net