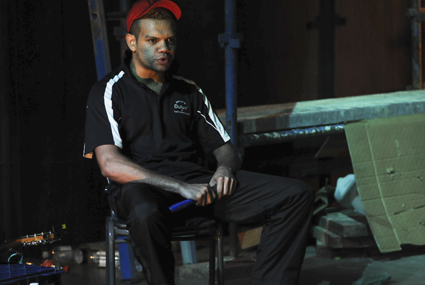 photo Heidrun Löhr
Meyne Wyatt, Buried City
BURIED CITY IS BILLED AS A CO-PRODUCTION BY BELVOIR ST THEATRE, URBAN THEATRE PROJECTS AND THE SYDNEY FESTIVAL, SCRIPTED BY RAIMONDO CORTESE AND DIRECTED BY ALICIA TALBOT. BUT FOR THOSE WHO HAVE BEEN WATCHING TALBOT'S WORK OVER THE PAST DECADE, BURIED CITY FEELS LIKE THE FINAL INSTALMENT OF A FOUR-PART SERIES ABOUT SYDNEY, WHICH STARTED IN 2006 WITH BACK HOME AND HAS CONTINUED AT TWO-YEAR INTERVALS EVER SINCE, WITH THE LAST HIGHWAY (2008), THE FENCE (2010) AND NOW THIS PRODUCTION.
Like its predecessors, Buried City is concerned with the experience of those who exist on our social and political margins. Previously, this has involved audiences travelling to geographical margins too: a backyard in Blacktown (Back Home), a warehouse in Bankstown (The Last Highway) or an old boarding school in Parramatta (The Fence). Here, however, we sit in the city—its skyline visible through a hole in the theatre wall—looking at Belvoir's familiar triangular stage. Even though Mirabelle Wouters has succeeded in transforming it into a semi-abandoned building site, with scaffolding, milk crates and a small demountable office, it still feels strange. Can it be that there is a margin buried beneath this city centre? More to the point, how will its subjects appear on this very mainstream stage?
The show introduces its six performers/personas (they use their own names) slowly. The first person to speak is the security guard Effie, a confident young African-Australian woman who chastises Russell, a white middle-aged worker, for falling asleep on the scaffolding. Sitting nearby is a young Aboriginal man called Meynedog, whose role at the site is not entirely clear but who seems content just to hang around, stirring. Soon Russell's friend Perry enters and plays a song on the guitar. Later, Hazem, a self-described "Palestinian Muslim fucking fundamentalist Jihadi fucking queer," arrives with Val, an Asian woman he's only just met. Over the course of the evening, these characters cover pretty much everything from the rise of China to the fall of the unions, the role of race, racism and religion, and the number of chickens the Chinese will eat if they adopt a Western diet.
This looping, overlapping dialogue is one of Talbot's trademarks, as are the split stage (we often have to decide where to look and what to miss) and the deceptively slow unfolding, which eventually explodes into violence. The biggest fight is between Russell and Haz: the former is a proud unionist who still describes himself as a socialist; the latter a young man on the make, talking about money, property and "multiplatform" everything. It seems he used to go out with Russell's daughter, but it all fell apart. Their messy, inelegant fight is what happens when you reach out to pass the torch only to find the inheritor has his hands full, shaking on deals with the moneymen. If it sounds melancholy, it is, but it is also funny: at the end of the fight, for instance, Meynedog looks down from the scaffold and says brightly, "That was terrific guys." Similarly, in the final scene, when Perry is playing one of his beautiful songs and the show is threatening to tip into sentimentality, Meynedog interrupts with an aggressive song from the stereo, his lithe frame dancing around the stage like lightning.
While the set and script are strong (apart from the occasional monologue), the performances are slightly uneven: Meyne Wyatt is both mercurial and magical as Meynedog; Russell Kiefel simultaneously belligerent and bereft as he watches the world go by; and Hazem Shammas projects determination as well as confusion. But Perry Keyes' usually strong stage presence goes missing, as does Valerie Berry's, and both seem somewhat stilted. Effie Nkrumah does slightly better, but she doesn't have much to work with. In fact, neither of the women do; as in Back Home, where women were absent, and in The Longest Night, where they were often without agency, the gender lines in this piece are stark.
This is not to criticise Talbot and Cortese for sexism, simply to observe that their interest here is to chronicle the crisis in masculinity brought about by the post-industrial world. In a decade of incredible wealth there has also been incredible stealth, as the gaps between classes, ethnicities, genders and generations have remained or even widened. For this reason, even though Buried City might not be Talbot's finest or, more accurately, freshest work (it feels too familiar for that), taken together with its three siblings it still marks a major achievement. She, Cortese and the entire artistic team manage to evoke a feeling likely to become more familiar to many of us as the mining boom continues—a strange sense, not unlike like the post-party blues, that everyone else is having a slightly better time of it.
Urban Theatre Projects, Belvoir & Sydney Festival: Buried City, director Alicia Talbot, writer Raimondo Cortese, co-devisors & performers Valerie Berry, Perry Keyes, Russell Kiefel, Effie Nkrumah, Hazem Shammas, Meyne Wyatt, set & costume designer Mirabelle Wouters, lighting Neil Simpson with Sean Bacon, composer & sound designer Paul Prestipino, singer-songwriter Perry Keyes, movement director Kathy Cogill; Belvoir, Sydney, Jan 8-Feb 5
RealTime issue #107 Feb-March 2012 pg. 5
© Caroline Wake; for permission to reproduce apply to realtime@realtimearts.net