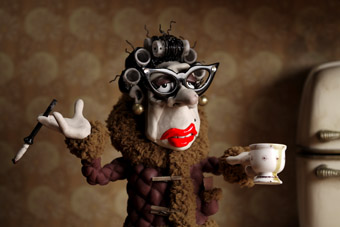 Mary and Max
WHEN ADAM ELLIOT'S SHORT FILMS HIT THE AUSTRALIAN FESTIVAL CIRCUIT IN THE 90S THEY WERE LIKE A SOAKING OF SUMMER RAIN, FRESH AND SWEET. HIS WRY HUMOUR, THE EXPLORATION OF AN ODD ASSORTMENT OF FAMILY MEMBERS WITH THEIR SUITCASES FULL OF QUIRKS—IN THE TRILOGY UNCLE, COUSIN AND BROTHER—AND THE MEMORABLE DEADPAN VOICEOVERS BY THE LIKES OF WILLIAM MCINNES USED TO SING IN YOUR HEAD AS YOU WALKED OUT OF THE CINEMA. AND IT SEEMS THAT HIS SINGULAR TAKE ON AUSTRALIAN SUBURBAN LIFE TRANSLATED INTO A LANGUAGE UNDERSTOOD ACROSS THE GLOBE, HIS FILMS WINNING THE TOP CRITICAL AND AUDIENCE AWARDS AT MOST KEY ANIMATION FESTIVALS—AND THAT WAS BEFORE THE BIG ONE. HIS LONGER SHORT HARVIE KRUMPET WENT ON TO WIN THE 2003 OSCAR FOR BEST ANIMATED SHORT FILM AND IT WAS A HIGHLIGHT OF MY VIEWING CAREER SEEING THE MEEK AND MILD ELLIOT AND PRODUCER MELANIE COOMBS WALK DOWN THE RED CARPET TO ACCEPT THAT AWARD WITH GEOFFREY RUSH SMILING ON.
It's wonderful to see that moving onto a feature hasn't lessened the impact or creativity of Elliot's unique vision. Shooting in Melbourne over 57 weeks, he has extended the boundaries from the Ned Kelly letterboxes of suburban Melbourne to the sky-sculpted landscapes of New York—where the Twin Towers loom crookedly in the background. What unites all of Elliot's films is his exploration of difference and diversity, his passion for the disenfranchised. I smile to imagine him pitching Mary and Max to Hollywood execs in the post-Academy Award hysteria: "It's an animation with a subdued colour palette, set in the 70s, about a pen pal friendship between a young girl with a birthmark on her face who has no friends and a loner who has Asperger's Syndrome and can't relate to anyone." Like Elissa Down's impressive Black Balloon (which took out a host of AFI Awards last year), Elliot has gone back in time to his childhood memories of the 70s (shrinkies; icebreaker swims that make 'erect nipples'; desert boots) to explore the lives of people coping day-to-day with disabilities/mental illnesses like depression, vision impairment, Asperger's, stuttering, agoraphobia and just plain awkwardness. Apparently Elliot did have a pen friend in the States for 20 years with Asperger's and this was the starting point for the script.
What's incredible about the film is the level of detail, both in the amount of information voiced in narration but also in what's being designed and animated on screen; there are sight gags so quick you blink and miss 'em. The narration is rich, every second full of a tonne of ideas and Elliot's usual offbeat humour. This filmmaker has the ability to pull off tragi-comedy in a way no other can, where you choke on laughter and sobs at the same time: In his letter writing Max veers from "My mother shot herself" to "Do you like chocolate hotdogs?" in the next sentence. By using a combination of an always-present narrator (Barry Humphries) who can comment on all the goings-on, plus the voices of the individual characters (Bethany Whitmore as the younger and Toni Colette as the older Mary and the sublimely sympathetic Philip Seymour Hoffman as the gravelly Max)—and the narrative device of letter writing as an exchange—we get to see the characters in 3D. The animation style features subtle hues of sepia in the Melbourne scenes and whites/greys/blacks in New York, with the occasional shock of colour from the red of a tongue inside an open mouth. It's exquisite to look at. A wonderfully disturbing hallucinogenic scene revolves around the adult Mary, having taken a bottle of valium, suspended on a chair in that moment of despair before suicide, the song "Que Sera Sera" swirling around her like a noose.
What unites eight-year-old Mary and 44-year-old Max, and most of Elliot's characters, is their sense of loneliness, their difficulties in adjusting to an external world full of confusing people and their need to create a safer and special universe just for themselves (much like their director playing with clay, I imagine). They both share a love of the TV show The Noblets, because everyone in this land has "oodles of friends." Mary sits in her suburban home watching her mother Vera 'test' the cooking sherry. Her favourite colour is brown and she wonders whether babies really come from the bottom of a beer bottle. She lives next door to Len who is "scared of outside and has a disease called homophobia." Max sits in his grey apartment eating chocolate hotdogs and trying to keep his life "symmetrical" to avoid being institutionalised. Every Thursday he attends Overeaters Anonymous. He wishes there was a maths equation for love: he once gave his girlfriend a feline rectal thermometer for Valentine's Day because she adored her cat. His imaginary friend Mr Ravioli sits in a corner reading self-help books with titles like How to Win Friends and Toxic Relationships, and in the end even he hops out the window and abandons Max.
Mary and Max is so full of imagery and words that sometimes it needs more pauses to give it space to breathe (the timing was note-perfect in his shorter films). It's like Elliot wants to make the most of every moment and, as a viewer, I wanted a few more gaps in the pace to ponder; sometimes just to show rather than tell is enough. But there is so much great material here that he could have used two thirds and it still would have been a wonderfully hearty mix. Love, death, politics, religion. This film tackles all the big themes, along with the smaller, more important ones, like whether you should ever eat anything as big as your own head.
Mary and Max, director, writer, designer Adam Elliot, producer Melanie Coombs, voices Toni Collette, Philip Seymour Hoffman, Barry Humphries, Eric Bana, Bethany Whitmore, director of photography Gerald Thompson, editor Bill Murphy, Melodrama Pictures, 2009
RealTime issue #90 April-May 2009 pg. 26
© Kirsten Krauth; for permission to reproduce apply to realtime@realtimearts.net