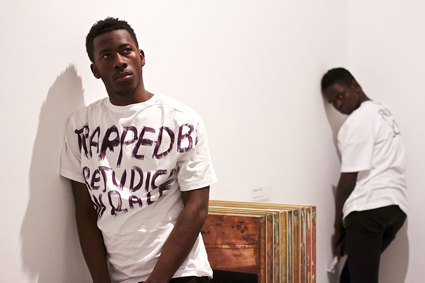 photo Jon Avila
Joe Felber, Kontaktraum: Ausländer
Four formally experimental and expressively personal exhibitions in Adelaide reveal their artists' feelings about life and art. They seem to search for languages to communicate their experience and fix their identity in a world dramatically in flux.
Kontaktraum: Ausländer
Joe Felber's Kontaktraum: Ausländer (Space of contact: Foreigner) is like a personal retrospective of his work since the 1970s. Felber moved to Australia from Switzerland in 1980 and shifts between Australia and Europe. Trained in architecture, he works in painting, installation, sound and performance. Kontaktraum: Ausländer is a critical self-examination by a nomadic artist responding to cultural difference, commenting on the world's intolerance and materialism and enquiring into the nature of art itself.
The gallery floor is completely covered in raw canvas tarpaulin on which Felber has painted a complex design of symbols, slogans and illustrations, with tyre-marks left by a bicycle wheel dipped in paint. As well as a painting, the tarpaulin may be seen as a road, a map, graffiti, a heated conversation or a record of thoughts while in transit. Memorable slogans and quotes highlight enduring debating points. Around the gallery are works from previous exhibitions, including batches of paintings stacked in racks as if in storage, denying reception and disorienting the viewer. The captions identifying the artworks' homes (many are on loan for the exhibition) are like career milestones and thus proxies for the milestones of Felber's wandering life. From a suitcase sitting in the middle of the floor, the sounds of the iconic Swiss cuckoo clock and of hurried footsteps are heard. Moments of Luigi Nono's politically concerned music are also heard, triggered by the viewer's movement.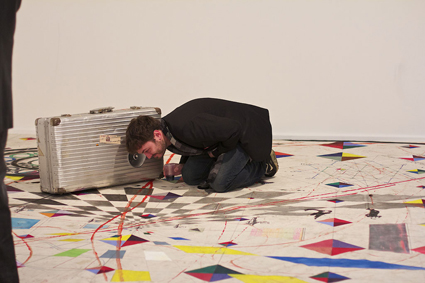 photo Jon Avila
Joe Felber, Kontaktraum: Ausländer
The tarpaulin is also a stage as, on opening night, three simultaneous performances occur. Performers write slogans on each other's white T-shirts referencing the experience of migrants and refugees. Another performer stands facing into a corner or gazing at a book under a light bulb on a pendulum as if engrossed in private contemplation, occasionally singing brief passages. And a couple engage in animated discussion on art, philosophy and politics while they walk, sit, lie or dance the tango. Their performance suggests the internal dialogue that haunts one's consciousness and the emotional states that trigger human expression. The inclusion in the script of quotes like "Who's afraid of red, yellow, blue?" (painter Barnett Newman) and "The true artist helps the world by revealing mystic truths" (Bruce Nauman) invite re-evaluation of artistic developments in recent decades. The couple, actors Mikaela Davis and David Geddes, are outstanding, giving a sustained performance in which they improvise around Felber's outline directions.
Felber is sensitive to the political issues besetting the world and he questions how art might respond. He knows how art can become devoid of power and meaning, and in critically evaluating his own, he draws on significant influences, for example Pina Bausch's dance theatre and Nono's music. In a compelling manner, Felber combines art, sound, language and performance in a magisterial exhibition.
Metabolism: the City Coming Together and Coming Apart
Stanislava Pinchuk (aka Miso) draws by making lines of pinpricks in sheets of heavy drawing paper using an awl. The lines form images, for example, the moon's craters, constellations of stars, spiderwebs, buildings, trees and mountains. Her tracery images also represent the movement of people in urban space. Pinchuk is an amateur tattooist and the piercing of the pristine textured paper is analogous to the piercing and staining of sensitive bare skin. This exhibition has two thematic elements: The City Coming Together, in which pinprick lines map the movement of people through Tokyo where she spends much of her time, and The City Coming Apart, in which she maps Kiev in her home country, the pinpricks tracing revolutionary action in the Maidan. She added pinpricks daily to record violent acts as they happened. Her exquisitely sensuous, minimal work is not only about image-making or mapping. It's a coded diary recording her experience of life in the organically growing and decaying city.
A Serious of Objects
Sarah crowEST's A Serious of Objects is a collection of many things: a row of paintings; two shelves of nondescript-looking ceramics (she calls them Nasty little brown things and Beautiful little brown things); unstretched canvases on which small pieces of cloth cut from friends' clothes are stitched; index cards with reminders written on them (her father's, which she has kept in memory of him); blob-like sculptural forms, some with cute teddy-bear eyes; and a wall of photos of previous work, like a mini-retrospective. The paintings suggest the tension between experimentation and commodification, while the stitched, raw canvases are a personal record of close associations, their captions listing the names of those who donated cloth. She endlessly makes things and the process of making appears spontaneous and intuitive, again a kind of personal mapping. In highlighting the importance of hand-made objects her work implicitly questions our materialism.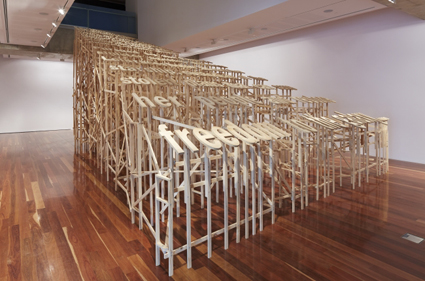 courtesy Anne & Gordon Samstag Museum of Art
Roy Ananda, Slow crawl into infinity, 2014, installation view
Slow crawl into infinity
Roy Ananda's Slow crawl into infinity is a huge timber framework, almost filling the Samstag Museum's ground floor gallery. Mounted atop in plywood lettering is the explanatory scrolling text that opens Star Wars Episode IV: A New Hope. The whole form is about 5 x 10m and the plane of lettering slopes downwards, from about 5m to 2m high. This site-specific work is designed to be viewed both from underneath, where it appears as a forest of thin wooden strips, and from the gallery's internal balcony above, from where viewers read the text. Rather than displaying, say, a statue of a Star Wars character (Darth Vader is the typical emblem), Ananda converts the text into a wryly spectacular monument. It comprises 3,000 metres of raw timber and 15,000 tech screws, and though it deliberately looks obsessive, its presence is overwhelming. In his artist's talk, Ananda described the work as an expression of fandom, an amateur-looking homage. Its ramshackle character suggests the rickety foundations underpinning civilisation. Ananda's art often addresses popular culture and the relationship between an image and the reality behind it, raising vital questions about contemporary culture.
The art of the personal
The navigation point for these four artists facing a world in flux is contemporary culture's forms, values and beliefs and the power of symbols. Their studios are implicitly open to public view—Ananda built his work in the open gallery to enable viewers to witness its painstaking construction; Pinchuk's art-making is documented on her web-page; crowEST's approach can be found in her photomontage; and entering Joe Felber's show is like entering his thoughts. The studio is the space for contemplation and communication.
Joe Felber, Kontaktraum: Ausländer, CACSA, 13 June-3 July; Stanislava Pinchuk, Metabolism: the City Coming Together and Coming Apart, Hugo Michell Gallery, 5 June–5 July; Sarah crowEST, A Serious of Objects, AEAF, 23 May–28 June; Roy Ananda, Slow crawl into infinity, Anne & Gordon Samstag Museum of Art, Adelaide, 20 May–18 July
RealTime issue #122 Aug-Sept 2014 pg. 52-53
© Chris Reid; for permission to reproduce apply to realtime@realtimearts.net