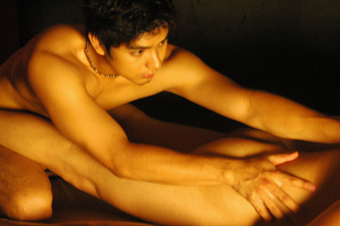 Masahista directed by Brillante Mendoza
Seeing films at the Mardi Gras film festival requires a different mentality to forking out for, Brokeback Mountain. It's a chance to map out some queer nodal points which you won't necessarily be able to duplicate on mainstream screens. Having had quite a fill in 2005 of independent queer cinema—it felt like the halcyon days of the 90s again there for a while with new films from Todd Solandz (Palindromes), Greg Araki (Mysterious Skin) and Gus Van Sant (Last Days)—I approached previewing some of the films from this year's Mardi Gras Film Festival hoping to find out what is percolating beyond the US-art household names.
Another good thing about queer film festivals is that there isn't all that hoo-ha that goes on in the press when subcultural films are released into the mainstream (eg Heath's disclaimers about Brokeback Mountain NOT being a GAY film). I wouldn't go quite as far as the festival programmer, David Pearce, who sees the festival as an opportunity for a queer audience to be in the company of "people who share similar thoughts and feelings as you, and laugh at the same jokes as you." Assuming that level of homogeneity seems doubtful no matter what. Watching many of the films I tried to double-guess what their up-coming audience's response might be, especially when I was left cringing at atrocious scripts, or not laughing at outright farce that made me wonder if I hadn't been to the right camp school. Though once the algorithms of sheer diversity start amassing after watching so many different films with some form of queer content, even the rare duds seem to have their place. And it is important to stick films out to the end. Watching the slap-stick hi-jinks of 2 gay samurai in Yaji and Kita (director Kankuro Kudo, 2005)—a film which suggested a Japanese Monty Python (meets Monkey Magic)—I hoped the crowd interested in cult and the bizarre will find their way to the cinema. Festivals are all about translation, and not just language which can be subtitled, but the cultural memes that such films release internationally. Some of the 'magic realist' scenes, for want of a better description, near the end of this film (the inconsolably sobbing figure at the source of the River Styx and the mushrooms growing out of Yaji's neck in the butterfly forest) made me pine for a mythic psychedelic 1970s, and wonder excitedly whether someone might film a Murakami novel one day.
Another gem in the selection I previewed was an independent American film Loggerheads (2005) written and directed by Tim Kirkman. This one has the style of a Raymond Carver story, building detail upon detail to the point of spiritual catharsis. Three inter-related narratives, all set in distinctive small town locales and staggered between 1999 and 2001, are spliced together around an ultimately elegiac adoption story (based on real events). The ambience of the film never falters, the ensemble cast perform with subtlety and depth and the plot is on perfect slow-release. Loggerheads refers to a breed of turtles (the females always mysteriously return to the same beach to lay their eggs) and contains echoes of the broader conflict between liberal and conservative American social politics. You hear George Bush's speech after his first 100 days in office on a radio in the home of the minister and his wife, though the film eschews direct polemic. It's great to see such strong and pivotal female roles, and an equally sensitive and mature gay 'seachange' character. I like this film as much as Ang Lee's The Ice Storm which used a family story as a filter for the crisis of middle American social mores in the 70s, and all the more because it takes on contemporary 'turn of the century' lives with attenuated grace and gravitas.
After Loggerheads, the Finnish reproductive comedy/drama Producing Adults (2004), directed by Aleksi Salmenpera, seemed trite, prolonging an unconvincing and laborious bisexual miasma, and the Dogme95 style UK film, Gypo (Jan Dunn, 2005) got bogged down with all the best intentions in telling a refugee story with a seemingly incongruous lesbian twist. Blood, Sasha Aicken's Sweat and Glitter (2005) might interest the Sydney performance community, as it is about San Francisco's Miss Trannyshack competition which positions itself as an alternative to traditional drag. However with its predominantly white American contestants it is not as culturally interesting as Paris Is Burning. In the swimsuit competition, ever-the-egoist Diva Dan wears a bulging Budweiser one piece, and aborts a foetus on stage with a coat-hanger, while Kiddie comes out in a cossie made of safety pin chain mail. Kiddie is the only real artiste (he brands himself on stage in a move reminiscent of the piercing performances once seen at cLUB bENT) while the rest of the contestants are more Mardi Gras.
New Zealander Stewart Main's Fifty Ways of Saying Fabulous (2005) is part of the youth program of the festival and is based on a semi-autobiographical novel by Sydney writer Graham Aitken. Impeccably styled to reproduce 1970s rural New Zealand, the film starts promisingly in terms of style and cinematography (offering a nostalgic portal into a certain generation's collective memory). However, the plot and script (on an admittedly low budget) soon transpire to be more like a telemovie. The film doesn't resonate as strongly as Peter Jackson's Heavenly Creatures in terms of the lengths children can go to make an imaginative escape from small town life and obsessive same-sex fantasy. That said, it does treat early adolescent sexuality in an explicit and yet sensitive way more often found in novels, perhaps due to the moral panic involved in working with young actors.
In Fifty Ways of Saying Fabulous, chubby girlie-boy Billy and his tomboy cuz Lou negotiate a provincial rugby-mad town during a drought (making the barren landscape look like something from the kids' favourite schlocky sci-fi TV show). It's the element of farce which disrupts things for me; Billy wearing a blonde pigtail attached to his hat and his constant refrain 'fabulous' get a bit grating. His compulsion/repulsion response to Roy, a much maligned misfit with whom he has his first masturbatory encounters remains unnerving though and provides the film with a dark underside.
Brillante Mendoza's Masahista (The Masseur, 2005) is a Philippine feature. Its low budget yields a neo-realist style (especially in a mortuary scene where a corpse is dressed) and a compelling focus on locale. It tells the story of Iliac, a young boy working in a massage parlour. Long intimate scenes in the cubicles capture the coquetry of the boys with their clients, while also positioning the viewer voyeuristically, allowing them the vicarious sensuality of the cinematic eye. However any sexploitation is underwritten by the dual awareness of the commercial contract at play and Iliac's emotional ambivalence during the funeral rites for his recently deceased father (who had abandoned his family).
Gael Morel's Le Clan (3 Dancing Slaves, 2005) is the story of 3 French-Algerian brothers. It is a kind of uber homoerotic Faster and Furious meets Rumblefish. Highly amped up to satisfy every rough trade fantasy, including a real Last Exit to Brooklyn scene where the middle, kind of Anthony Mundine-like brother, Marc, fucks a transexual, I was happy to lie on the couch and watch as the TV screen shimmered with testosterone. There are also moments of exquisite sentiment in this film though, especially in the disavowed relationship between the youngest brother and his Arab lover, Habib.
Queer Screen premiered Brokeback Mountain on Australia Day and it will be showing during the Mardi Gras Film Festival. But using your own hand-drawn compass, make sure that you map out your own program of some of the smaller, more obscure films in the festival.
13th Mardi Gras Film Festival, Feb 16-March 2, www.queerscreen.com.au
RealTime issue #71 Feb-March 2006 pg. 15
© Keri Glastonbury; for permission to reproduce apply to realtime@realtimearts.net