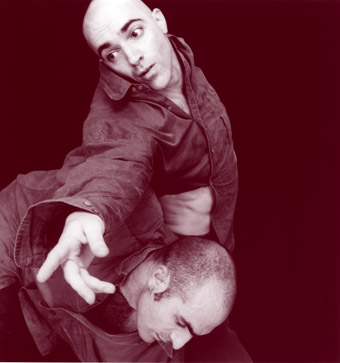 photo Hugo Glendinning
Russell Maliphant & Robert Tannion
UK dancer and choreographer Russell Maliphant is in Sydney in February to run a 2-day workshop and perform with his company at Performance Space. Russell began developing his own work in 1991 and now tours extensively creating work for companies such as Ricochet Dance Company in England and Batsheva Ensemble in Israel. He also teaches internationally, having developed a practice integrating various disciplines including the Rolfing Method of Structural Integration.
You have worked with numerous and varied companies and individual choreographers: Royal Ballet and Sadlers Wells, DV8 Dance Theatre, Michael Clark and Company. How did your obvious openness to different ways of working inform the formation of your own company in 1996?
I consider my experience working with those companies to have been my apprenticeship. However, I didn't think about making pieces myself until I began to work on improvisation methods with Laurie Booth. During the first project of his which I worked on, he taught me possible methods to employ during an improvised performance. That was my first contact with ways of creating relationships to other performers in the space, and relationships to music, to light, to the stage as a blank canvas on which to paint. During that work and subsequent projects together, the issues we were dealing with were those of instantaneous composition, working with a motif, repetition, level and placement in space, energy, focus…
It was the work with Laurie that presented me with the tools and the personal challenge to create. It was not until I had begun to explore those tools that I had a context to make use of what I had experienced in companies like Sadlers Wells, Michael Clark and DV8. It was also at this time that I met Michael Hulls, who is the lighting designer I have been collaborating with since 1995.
Working with a broad range of companies has afforded me opportunities and exposed me to very contrasting and, at times, conflicting viewpoints of what is important in creating movement-based work. And this has made me reconsider my own viewpoint.
So there has been a clear demarcation in your career between being a dancer and being a creator of dance. Was this related to the company structures where you did your "apprenticeship"?
When I was working primarily as a dancer I felt that all the explorations I wanted to do, and had time for, were to do with things like quality, articulation, and exploring techniques that would benefit me as a performer. That's what led me into exploring exercise/movement-related forms like Pilates, Tai Chi, acrobatics, Capoeira, and Yoga. I didn't have a desire to explore my own creativity outside of that terrain.
How do you strike a balance between recognising the value of these various methodologies and deciding on what works for you?
I feel that my visually based aesthetic has grown from the qualities and dynamics I have seen and experienced over the years. The 'shape' vocabulary I choose tends to sit with aesthetic concerns I must have picked up from sculpture and painting as much as concerns I have learned through my dance experiences (such as the idea of 'line' from classical ballet). I think the methodologies are now used at the service of my aesthetic viewpoint.
Some people will be familiar with the film version of Critical Mass (directed by David Hinton) which was shown here last year. Is there a continuity across the program at Performance Space between this work and the other two pieces, Shift and Two you'll be presenting?
Shift and Two are more lighting-driven pieces and the primary relationship (from my point of view) is between the performer and the light. They are both solos. Critical Mass is a duet, with less emphasis on the relationship of light to the choreography, because the primary driving force is the dynamic between the two performers.
The collaboration with lighting designer Michael Hulls and an exploration of the relationship between movement and light is clearly central to the work of your company. Why, in your opinion, does dance seem to offer so much in terms of the use of lighting within performance?
Light has the ability to sculpt the body and manipulate the space. It is a fluid medium of change, as is the body, and therefore offers a multitude of possibilities for representation. I am interested in how the body and light can shape space and construct environments of mood and contrast through which meanings may be engendered.
So perhaps they are all duets, with light providing the 'partner' in Shift and Two—another kind of outside, manipulative force?
That sounds about right…
Does your collaboration with Hulls begin from the very genesis of the work? The 'duets' with light are obviously more visual processes than the creation of a danced duet. How do you proceed?
Each process has, up to now, been different. On our first duet, Unspoken, we wanted to reverse a more regular approach where music is used from the beginning and light is put on at the end. We began with light; Michael designed and set-up a rig and we began to work with that over several weeks. The composer came in after about 3 or 4 weeks when we had already mapped out a lot of material.
This process has not always been possible, as it requires a theatre and can be expensive. We have been fortunate in building relationships with venues that have co-commissioned work, so have always had at least some time in a theatre during the creative process. We have also been fortunate in having had development periods unrelated to having to produce new work, which has often fuelled ideas for future creations, giving us something we want to work with before having any particular project in mind. Other times, it has not been possible to get space with light and I have begun by making work in the studio, bringing lights into the process in the third or fourth week (for a week or so) then continuing in the studio.
Shift happened very quickly—1 week working together, 3 days with lights. I had worked with some movement ideas for a while before, but I abandoned these once we saw what worked with the light. Two took 15 days in the studio to create, but we had already discovered the light-to-movement elements that we wanted to explore.
The compatibility of light and movement is something cinema has recognised for some time. Is there anything cinematic or photographic about the work?
I think so, yes. It is certainly an inspiration for both of us at times.
Russell Maliphant Company, The Performance Space, February 5-7, 8pm.
RealTime issue #41 Feb-March 2001 pg. 26
© Erin Brannigan; for permission to reproduce apply to realtime@realtimearts.net