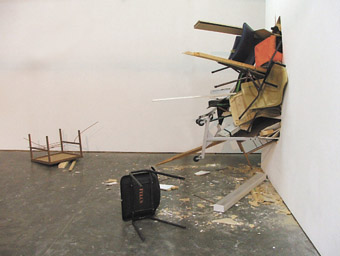 image courtesy of Tamsin Green
Ardi Gunawan, Untitled Construction, 2007
IN A MELBOURNE GALLERY, WEDGED IN A HOLE IN A FREESTANDING WALL, IS A CINDERBLOCK. CLOSE INSPECTION SHOWS AN ICY, CRYSTALLINE COATING. AS THE OPENING EXPANDS, GREYISH DROPLETS FORM, THE BLOCK MELTS, SEEPING DOWN BOTH SIDES OF THE PLASTERBOARD, SPORADICALLY DRIPPING AND SPLATTERING GREY FLECKS ON THE GALLERY FLOOR AS IT MESSILY PAINTS ITS OWN COLLAPSE. THIS IS IMMOVABLE OBJECT (2007) BY KEL GLAISTER (SEE OUR COVER IMAGE), PART OF THE GROUP SHOW, FLOATS LIKE A BRICK DOESN'T, AT THE ARTIST RUN INITIATIVE BUS. THE INCLUSION OF THIS EXHIBITION AS PART OF THE MAKING SPACE PROGRAM IS AN APT ONE.
Making Space, a co-ordinated programming event by the recently formed VIA-n (Victorian Initiative of Artists Network) was a first. The program included exhibitions across Victoria's many Artist Run Initiatives (ARIs) and produced an accompanying publication of the same name. Highlighting the history of the network and showcasing contemporary ARI practices, whilst tentatively hinting at future developments, Making Space became a catalyst for discussions around the evolving nature of these spaces. In this context Floats Like A Brick Doesn't—which involved a hectic three day commando-style installation of false ceilings, extended gallery walls and works that were literally supported by the gallery infrastructure—is an interesting reminder of the relationship between artists' practices and the ARI system.
ARIs have a tradition of supporting site-specific practices, that (vitally) wouldn't often otherwise be realised. In conversations with Glaister, she emphasizes the importance of ARIs maintaining flexibility in their sites, offering freedom to splatter paint and cut holes in walls, as a means of facilitating specific and developed responses to ARI spaces.
After the Bus opening, in the dark gallery Glaister's diminishing cinderblock slips out of its wedged position. A heavy chain attached to the cinderblock swings and smashes it against the gallery wall, the collision between artwork and ARI leaving an evidentiary grey paint splatter. Equally conscious of the gallery space as container was Ardi Gunawan's work: a large hole cut into a wall, then jammed full with institutional debris. This protrusion of chairs, wooden planks and a broken ceiling fan created a faux explosion; appearing at a glance like a chaotic slammed-up assemblage, it quickly changed as one noticed both its compositional clarity and the odd sense that the objects were being either sucked into or spat out of the wall. This work was suggestive of how ARIs are in part congenial to spatial experimentation, whilst often retaining formal conditions of the archetypal white cube.
These works employ an elegant yet raw aesthetic to explore their entropic and gravitational concerns, referencing the dumpster-trawling, makeshift approach traditionally associated with ARIs, although the recent spawning of designer logos and an overall polished neatness now hints at the surface gentrification of many galleries. But, says Tamsin Green, "The works don't just pay lip-service to a nostalgic idea of ad-hoc ARIs."
­Green's work Drip (2007), a video embedded in an uncomfortably lowered false ceiling, saw viewers craning their necks upwards in the oppressive space to see liquid pooling from drips, whose direction was disconcertingly difficult to ascertain.
Green animatedly described the process of trying (with little to no building expertise) to construct the false ceiling, which involved people crawling underneath the plasterboard whilst others frantically hoisted ropes. Of some remarks made about the 'crappy aesthetic' of this raised roof, Green remains nonchalant; "it's as good as I could make it; it's honest, slightly incompetent and under-resourced."
In another room, with wry humour Carl Scrase makes tents levitate on the ceiling, defensively refusing to submit to their functionality. Yet the effort invested and melancholic effect created by all these works surpasses a straightforward "ironic repositioning of found objects." The exhibition is parodic, yet the artist's self-conscious and undeniably informed use of 'found object aesthetic' is simultaneously whimsical and cynical. Glaister says, "the poetic nature of found objects isn't always convincing; for it to work as a found object you have to be aware of it as a found object."
Glaister's Irresistible force (2007) clearly illustrates this approach; a cinder block, this time unalterably real, is elevated by fine silver cables and metal rulers. The delicate detailing of this support system and its distant anchorage points in the gallery walls create an odd sense of ease in the object's suspension, steadily hovering, if not quite floating, above a one metre ruler bending slightly from the weight. The arc of the ruler, exhibits the vulnerability of logical, imperical measurements forced into structural relationships of gravity and weight.
Irresistible force is equally tongue-in-cheek about the clichéd notion of 'I had it in my studio, it was right there so I used it.' Although using springs and rulers, which could have feasibly been lurking around, the perfect aesthetic and functional cohesion of the complex construction would clearly have required multiple pilgrimages to hardware stores. This doesn't make it a 'faked' found aesthetic, but it does partially over-ride the economical imperative (both financial and process based) generally identified as a driving force in this type of production.
Of course a found object practice remains a logical choice for cash-strapped artists, particularly when we consider the equally cash-strapped status of Melbourne ARIs that necessitates charging substantial rental fees to exhibiting artists. Making Space enabled ARIs to provide free exhibition space for some shows, yet this is not the norm.
The increased professionalisation of ARIs is both a response to funding body parameters and a strategy for artist viability. It is witnessed in their increased longevity, evolving committee based structures and greater marketing emphasis. Yet despite ARIs often appearing increasingly slick and businesslike, financial insecurity remains. The volunteers who still primarily run ARI spaces often have to solve problems like being just too skint for a liquor licence or a necessary door repair.
One of the ARIs most vocal about professionalism as a survival tactic, and one of the key instigators of Making Space, is West Space. Their Making Space group exhibition Rules of Engagement included Patrick Pound's ongoing C.V.—a work in progress (1992-2007) which parodies the greater professionalism across the entire arts sector, seeing artists cultivating their CVs like delicate bonsai. Equally satirical, Danius Kesminas' Post-Traumatic Origami (1999-2002) displayed the crushed cube of Robert Hughes' car wreckage. Kesmina's inclusion of items like a beer can made the vitrine presentation—hinting at a sealed, evidentiary state—somewhat redundant: unnecessary value-adding that over-referenced the artist's institutional critique.
Both the Bus and West Space exhibitions benefited from the self-reflective atmosphere the Making Space program encouraged, contextualizing the ambitions of the exhibiting artists and the ARIs involved. As a logical finishing point to Making Space most of the Bus show ended in a dumpster out the front of the gallery, to be returned to the tip from which some of it had already come.
Floats Like a Brick Doesn't, Bus Gallery, May 22-June 9; Rules of Engagement, West Space, Melbourne, May 25-June 16; Making Space, Artist-Run Initiatives in Victoria, April-June, www.via-n.org
RealTime issue #80 Aug-Sept 2007 pg. 53
© Amy Marjoram; for permission to reproduce apply to realtime@realtimearts.net