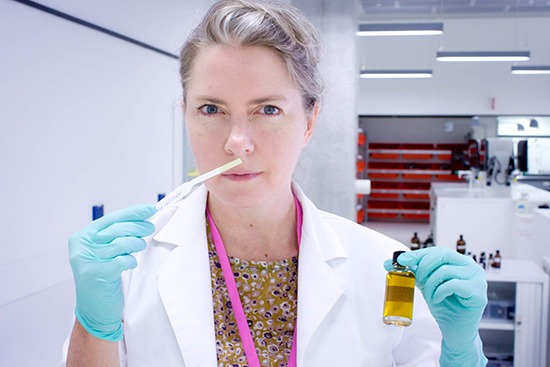 photo courtesy the artist and Sydney Festival
Cat Jones
When I was in my early 20s I became obsessed with making my own perfume. In particular I wanted to capture the scent of my favourite flower, the freesia. Weekly I trekked to Rookwood Cemetery to gather baskets full of flowers that grew wild there, then layered them between oiled muslin cloths in an attempt to extract their fresh, sweet smell. After a month's steeping and changing, steeping and changing, I wrung out my oily rags to reveal what could only be described as a sweaty, meaty scent, with undertones of rot. I named it "Essence de Burger Ring."
From this I learned that perfumery is alchemical and from sweet things horrendous smells can emerge and vice versa. (For example, sweet musk was originally derived from unpleasant substances in the gland of a range of animals including the musk deer, the musk rat, the musk duck and even the crocodile, where you'll find it nestled away in the cloaca.) Artist turned conceptual perfumer Cat Jones has been dabbling in this mysterious art for a while now and, at the invitation of the Sydney Festival, will be exploring the scents, both sweet and rank, that might be distilled from this big, bad, beautiful, mixed blessing of a city called Sydney.
Leading with the nose
Olfactory elements have been present in Jones' previous works Somatic Drifts and Anatomy's Confection, but it was not until Port Adelaide's Vitalstatistix commissioned her to create a work in 2015 for their Climate Century project that scent became the central element, materially and thematically.
Jones' Century's Breath responds to the site of the LeFevre Peninsula in South Australia which is called, in the language of the Kaurna people, Mudlhannga, and translates as "the nose place." Through conversations with locals, peers and passersby the artist gathered visions of the future, more specifically "olfactory portraits" of it. She explains the process: "Each person has their story documented and describes the smell of the idea or the place or the habitat and gives it a title…I act as a verbatim scribe with a few tweaks. So it comes in forms that are either prose or poetry or block words—the writing form changes because everyone expresses themselves in a different way." The resulting installation took place at the South Australian Maritime Museum and contained a series of smellable "olfactory landscapes" and "commemorative perfumes," along with brief text evocations that include the scent concept, the aroma description and the materials used to create the smell. The work won the Sadakichi Award for Experimental Work With Scent in the Art and Olfaction Awards 2016 presented at the Hammer Museum, Los Angeles.
Essence de Sydney
Subsequently Jones was approached by Sydney Festival to create a work along the lines of Century's Breath for the 2017 festival. For this manifestation, Jones says, "[Visitors] will come into a room that is kind of like a social space. I will have two artists who are there to talk to them—engage them in conversation. There will be five tables, one for each of the themes— Competition, Extravagance, Resistance, Democracy, Landscape—the key identifiers of Sydney's personality or Sydney's foundations. In each of the tables will be embedded audio excerpts from interviews I've had with selected participants over the last month or so—two for each theme. Visitors will listen with headphones and then on each side of the table will be the smell that has emerged from the [interview]…The scents are on the inside of a ceramic cloche which will sit upside down on a ceramic plate. People can lift it and sniff—almost like a wine tasting in some ways."
The 10 interviews were conducted with "people from all different walks of life who have a unique relationship to Sydney and the theme": feminist author and publisher Anne Summers, Indigenous elder and environmentalist Aunty Fran Bodkin; creative entrepreneur, performer and accessibility advocate Sarah Houbolt; academic and social housing expert Michael Darcy; Kamilaroi political activist Lyall Munro Jnr; journalist and TV presenter Patrick Abboud; documentary maker and activist Pat Fiske; photographer/performer William Yang; and author and architecture critic Elizabeth Farrelly. Jones says, "I wanted to capture a diversity and nuance. To build an olfactory portrait of Sydney you need a lot of input, it's not something that one person can decide. [The interviews are] installed in a group, as if they are in conversation with each other [and] the two scents on each table are in conversation as well."
To create the scents, Jones has undertaken extensive research, including a residency in 2015 at the Institute of Art and Olfaction in Los Angeles. In preparation for Scent of Sydney she has a residency at the University of Technology's Science Super Lab, where she is generating the 10 signature fragrances, an exciting process for her. "I have found a methodology that I love—[in particular] the scale; the macro and micro. This tiny, tiny scale that has a huge emotional and [temporal] impact inside you. [Scent] has a materiality and an ephemerality that is immediate, or in the case of base notes, can last for days. Each of the choices in the making has an impact on the concept you're trying to communicate so I find it is rich in conceptual materiality."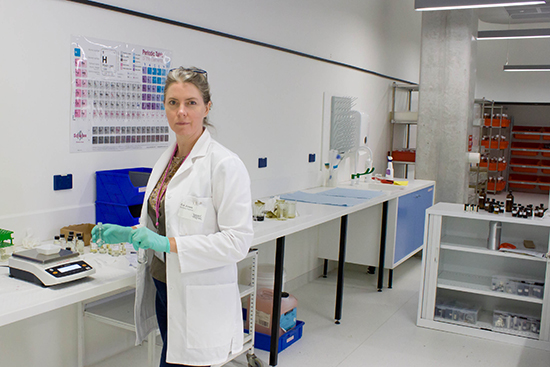 photo courtesy the artist and Sydney Festival
Cat Jones
To tell a smell
With our sense of smell being so subjective I was curious as to what kind of language Jones is finding people use to describe these olfactory imaginings. "Every person is incredibly different and that's reliant on their scent history, their sense memory and their relationship to scent itself. I don't know about other languages but particularly in English we don't necessarily have words that describe smells. We have words that describe things that are like smells or things that might emanate smells, so we describe the thing rather than the smell. Descriptions are of the literal object; or metaphors [are used]; or sometimes people will describe emotions around a particular smell, rather than the smell itself; or make a moral judgement whether it's good or bad. There's always a moral judgement. But some people are able to describe texture and smell's dynamic. Does it emit? Does it linger? There's a movement, a choreography essentially in the sense of smell."
Scent-carried conversation
While scent is the carrier, conversation is definitely the key to this work and Cat Jones' relational art practice. During our interview, she deftly manages to turn the tables and I find myself a participant in the kind of discussion in which a visitor to the space might find themselves. Through gentle interrogation I am encouraged to concoct a conceptual fragrance called "Grinding through to Green," that smells of grinding metal and human sweat with an after-tang of dusty city greenery, that describes my feelings about Democracy in this currently Baird-bullied city. My conversation joins those of other audience members to be compiled into an online archive for wider access.
But don't expect to come home with your own sample swatch of Sydney's Democracy or Competition or Landscape. Resisting the demand for takeaways is partly an environmental consideration, but Jones is also hoping to slow participants down so they can "immerse themselves in each scent and the conversation it came from…They will verbalise the experience, describing it rather than just saying, 'Here, smell this'." This, in addition to a comprehensive public talks program confirms that for Cat Jones, Scent of Sydney really is all about dialogue and communication, which is timely because in this corporate capital-driven city, where culture fights for every waft of sweet air, there's a lot we need to talk about.
–
Sydney Festival: Cat Jones, Scent of Sydney; Carriageworks, Bay 19, 7–29 Jan, 10am-6pm; public conversations, 10, 11, 17, 18, 24, 25 Jan, 6pm–7pm; FREE
You can buy the limited edition scent Radical Ecologies from the work Somatic Drifts here and samples and the boxed book set from Century's Breath here.
RealTime issue #136 Dec-Jan 2016
© Gail Priest; for permission to reproduce apply to realtime@realtimearts.net