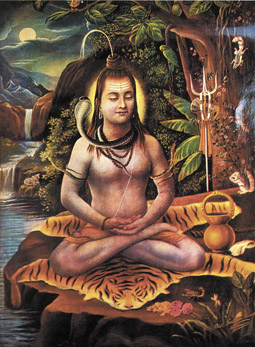 Historical print referenced by Srinivas Krishna
THE ENGLISH POET PETER REDGROVE'S THE BLACK GODDESS AND THE SIXTH SENSE (BLOOMSBURY, LONDON, 1987) OFFERS REMARKABLE PERSONAL AND LITERARY ACCOUNTS OF 'WEATHER DEPRESSION', A CONDITION NOW UNDERSTOOD TO BE WIDESPREAD AND TREATABLE BY, AMONG OTHER MEANS, ADDITIONAL DOSES OF LIGHT. MELBOURNE'S FEDERATION SQUARE, GEARING UP FOR ITS THIRD LIGHT IN WINTER EVENT, OFFERS THE PUBLIC RESPITE FROM THE NARROWING LIGHT OF THE IMMINENT WINTER SOLSTICE.
Light in Winter's director, Robyn Archer, tells me that the event is "not just pretty lights or making the square a decorative domain." Lighting designer Nathan Thompson (of The Flaming Beacon design group) will, she says, "warm" Federation Square, nine Melbourne communities will present works in light and Canadian filmmaker Srinivas Krishna will premiere his multiple LED-screen, free-standing installation, When Gods Came Down to Earth. Like other innovative filmmakers—Peter Greenaway, Atom Egoyan—Krishna has turned to making installations as an alternative way to explore and expand his vision.
srinivas krishna's gods
Krishna's When Gods Came Down to Earth will screen 24 hours daily for four weeks from June 12, a slowly morphing stream of images from the Hindu pantheon as filmed recently, says Archer, on the streets of Mumbai, drawing on posters, statuary, ritual face painting and shrines. Krishna's creation is anticipated to be richly coloured, sensual and contemplative, a welcome polytheistic counter to monotheism's cooler often wintry artistry.
Archer says that Krishna has long wanted to make The Gods… She explains that the filmmaker has been particularly interested in how the vivid public displays of the gods emerged late in India's history, particularly during British rule and with the advent of three-colour processing, and even moreso in the 60s with the arrival of the Beatles in India. Most people could not access temples, so posters suddenly allowed them to have the gods in their homes and on the streets—and now they can download them too.
The images in Krishna's installation, says Archer, will be very stylised, slow moving, focusing on detail and creating a number of narrative strands built from public images of the gods. Clearly, When Gods Came Down to Earth will be an immersive, contemplative experience, generating inner warmth on cold days and nights and, possibly, reflections on the nature of belief and worship.
srinivas krishna: filmmaker
Srinivas Krishna was born In Madras, India, grew up In Toronto, studied history and painting at the University of Toronto and then cinematography at Philadelphia's Temple University. He is best known for his 1991 feature, Masala (referring to the spice mix and the film's mixed means). Directed, written, produced by and starring the then 26-year-old artist, it's a wild displacement of the Hindu gods from ethereal realms into the everyday of Canadian domesticity, television production, sport (the god Krishna as an ice hockey star), Bollywood and the VCR as a means of communicating with deities. In 2002, the British Film Institute voted Masala the Best South Asian Film of the 20th century.
Krishna's other feature films include Lulu (1996), about a mail-order bride from Vietnam, which premiered in the Official Selection of the Cannes Film Festival. After Lulu, his work has included directing dance films and creating and producing television dramas and mini-series, writing stage plays and creating installations. He is currently writing a sci-fi thriller based on the Nebula-award-winning novel, The Terminal Experiment, by Canadian author Robert J Sawyer and is directing his first documentary, Ganesh, Boy Wonder.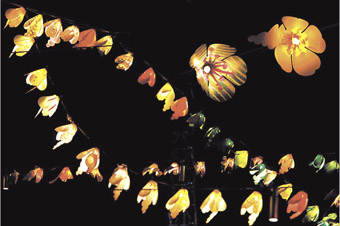 photo David Simmonds
The Japanese community's contribution to The Gift of Light, Light in Winter, 2007
the gift of light
On June 21, in The Gift of Light, nine of Melbourne's communities—Aboriginal, Japanese, African, Indian, Burmese, Chilean, Turkish, Vietnamese and Afghani—will install light-based works in Federation Square. Each has worked on their project with a funded artist. The installations will, for the first time, all be "switched on at once" and be collectively in place until July 5, adding new dimensions to Nathan Thompson's re-lighting of the square. Archer says that six communities were involved in the 2007 event (their creations documented on video) and the aim is to gradually enlarge the number of communities participating, to expand the sense of what light means in different cultures and to share that.
Light in Winter also furthers the sense of Federation Square as a truly public space, not just one for hire. Archer sees it as "a great playground" with the square's chief executive officer, Kate Brennan, strengthening its association with the arts and filling gaps in the city's cultural life.
For the darkest month of the year, Melbourne's citizens will be able to repair to Federation Square for enlightenment and soulful succour.
Light in Winter, artistic director Robyn Archer, producer Federation Square, Melbourne, June 5-July 5; www.fedsquare.com
RealTime issue #84 April-May 2008 pg. 20
© Keith Gallasch; for permission to reproduce apply to realtime@realtimearts.net