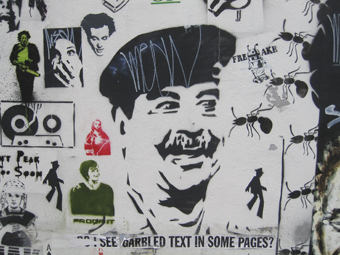 Canada Lane, from Rash
Nicholas Hansen's Rash premiered at the 2005 Melbourne International Film Festival 2005 and is now being featured in the 2006 Adelaide Festival. A fascinating film in itself it opens our eyes to a range of unimagined graffiti (including stencils, posters and performance), the idiosyncratic artists of the night and some rarely seen parts of Melbourne transformed by a vigorous and committed subculture.
The 73 minute Rash deals with art in public space as both a political and an aesthetic endeavour, challenging the public, local councils and the law with work that transcends the banal wall scribblings too often encounted. Rash looks set for an airing on ABC TV and has been picked up by UK distributor Journeyman for TV rights world wide. Just how the graffit itself fares as Melbourne cleans its streets of human and other visual detritus will be interesting to see, but Rash makes a serious case for it as art, doggedly subversive and not always unhappily ephemeral.
If you've not been impressed by contemporary graffiti art, Rash just might convert you. RT
Rash, director, producer, Nicholas Hansen, Adelaide Festival, Film Program, March 4, 5pm, followed by a Q&A with graffiti artists KAB101 and Kano.
RealTime issue #71 Feb-March 2006 pg. 24
© RealTime ; for permission to reproduce apply to realtime@realtimearts.net