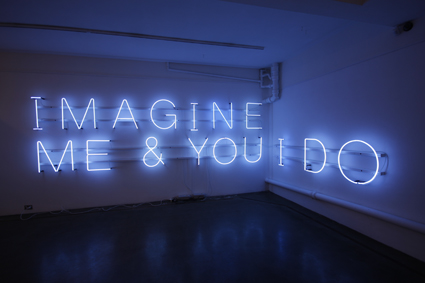 photo courtesy of the artist and Criterion Gallery
Kirsty Hulm, Imagine Me & You I Do
THE UN-VICTORIOUS EXHIBITION IS ONE OF THE MOST INTERESTING, IF SOMEWHAT ELUSIVE, THAT I HAVE SEEN AT CRITERION GALLERY, ARGUABLY THE BEST COMMERCIAL GALLERY IN HOBART AND THE ONLY ONE IN THE CBD. CRITERION HAS BEEN IN BUSINESS FOR ABOUT SEVEN YEARS NOW (THOUGH SOMEHOW IT STILL SEEMS NEW) AND CLEARLY HAS A POLICY OF FOSTERING TASMANIAN AND AUSTRALIAN ARTISTS WHOSE WORK IS "OUT THERE," WHETHER THEY ARE EMERGING OR ESTABLISHED. THIS MAKES FOR A VARIED AND REWARDING RAFT OF SHOWS—GRAFFITI ART, DIGITAL PRINTS, AND VIDEO AS WELL AS SOME MORE TRADITIONAL MEDIA.
The Un-Victorious is no exception. It has a sparseness that works well in the pristine, relatively small white cube that is the Criterion. It is a three-hander show featuring Victorian artists. Kirsty Hulm's work is a neon light installation of text and the other element of the show, bejewelled mock-ups of military medals, are the result of a collaboration by Andrew Hustwaite and Anna Varendorff. The catalogue cover shows Kirsty Hulm's 2008 neon sign work Imagine Me & You I Do installed on the exterior of a dark, gothic-looking church, so nothing could be more different than the Criterion display, in which the neon words snake 90 degrees around two white gallery walls. In both sites Hulm's large-scale work is strikingly beautiful, not a little eerie and certainly evidence of the artist knowing how to work with her medium. The source of the title eludes me—certainly it is from some 60s or 70s pop song and the catalogue essay talks of "the harlot's sultry call from arms to the bed 'Imagine me and you … I do'."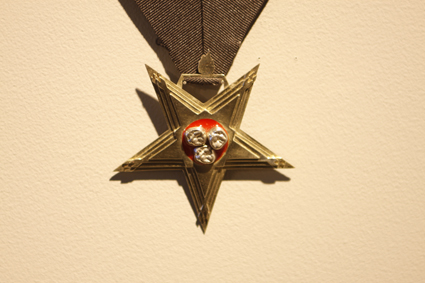 photo courtesy of the artists and Criterion Gallery
Andrew Hustwaite and Anna Varendorff, Proposition 1-5
Hustwaite and Varendorff's series of five very authentic-looking medals, complete with differently coloured ribbons, are hung in a V formation. They are very aesthetically pleasing objects and are made from materials such as nickel, copper and brass with silver plating and amalgam. Going by the names of Proposition I-5, they would have taken considerable skill to manufacture. Varying in size and hue, the medals are generally star-shaped and, taking up two panels in the gallery, make an exciting installation. They are eminently collectible, eminently desirable and titles such as "Above and Beyond the Fall of Duty" convey an unmistakable anti-war message.
The catalogue essay, by Jess Nossiter, is outstanding. Nossiter is a (presumably) self-styled Chevalier de la Manchette and "writer and flaneur based in Hobart," though this city does not immediately strike me as the milieu for the flaneur. His essay is a work of art in itself—a piece of writing quite beyond definition or categorisation—Hunter S Thompson meets Lewis Carroll perhaps: wryly amusing, intellectually rigorous with a touch of soft porn! Nossiter touches on sex, popular television culture, reality TV, capitalism and, cynically, love. He concludes, "Love is a capitalist construction, an exchange of commodities. Littered with prophylactics, and the air filled with blank shots—love truly is a battlefield." More significantly, the essay draws together two very different works and gives them a unity, without which the show would be even more elusive.
The intimate gallery space of the Criterion is an ideal venue for what is, in fact, a very small show. It would probably not have worked in a bigger venue, but then the curator Sarah Jones has clearly chosen the works with the Criterion in mind. Remarkably, Jones only received her BFA in 2007 and has since participated in several shows at Hobart venues. Last year she was the recipient of the Contemporary Art Services Emerging Curator Mentorship. For The Un-Victorious she has done a fine job discovering and promoting the three artists, not to mention the essayist. Like Jones, the artists and writer have themselves only recently completed their degrees or are still undertaking them. With the quality of works in this show being so high, it augurs well.
Kirsty Hulm, Imagine Me & You I Do; Andrew Hustwaite and Anna Varendorff, Proposition 1-5; curator Sarah Jones, The Un-Victorious, Criterion Gallery, Hobart, June 10-July 3 http://www.criteriongallery.com.au/
RealTime issue #98 Aug-Sept 2010 pg. web
© Diana Klaosen; for permission to reproduce apply to realtime@realtimearts.net