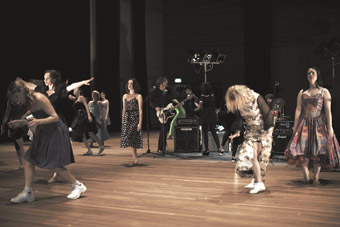 photo Irèn Skaarnes
The Fondue Set, Evening Magic 2
THE HUGE PERFORMANCE AREA IS EVENLY DOTTED WITH DANCERS DANCING. THEY ARE PERFORMING BLANCHED VERSIONS OF 'TYPICAL' EXERCISE ROUTINES FROM A 'TYPICAL' DANCE CLASS. AT FIRST THE OVERLY DECOROUS AND BALLETIC MOVEMENTS SEEM AT ODDS WITH THE VIOLENCE OF THRASHING INDY ROCK. BUT IN CONTEMPORARY PERFORMANCE, DISJUNCTURE SEAMLESSLY MUTATES INTO SARDONIC COUNTERPOINT. THERE ARE TRAINED AND NOVICE DANCERS. ALL HAVE DETERMINEDLY BLANK FACES. I REGISTER THIS AS THE FIRST OF MANY IN-HOUSE STATEMENTS ON THE STATE OF CONTEMPORARY DANCE.
Like sedated inmates of an asylum the dancers obediently dissolve their formality and sit at tables in front of us—an audience within an audience. The Fondue Set appear, and from this point Evening Magic 2 becomes distinctly episodic. The first spoken/moved/sculptural vignette bursts with self referential text and coded dance references. In a Brechtian gesture we are handed directions to the toilets and emergency exits. The trio that is the Fondue Set form a sculptured image, meant none too subtly to disparage the very flexibility and dancerliness they display.
Despite this drastic plunge in energy levels, from frenzy to fancy, the Fondues maintain the intensity and audience fascination stirred by the opening. They do this through crafted performance skills, pithily witty text and compelling personas. They have been around for a while, extending the tendrils of modern dance into broader recesses of existence like pubs and clubs. These exuberant women, in signature red boots, employ text, mime, slapstick, theatrical production systems and music in equal weight with movement. Or maybe the weight is not so equal.
Clearly, coldly, palpably there came a point in this performance when I just wanted to see these women take their tongues from their cheeks and dance. Not sardonically but indulgently. Not ironically but gorgeously. Not generically but idiosyncratically. For these are gorgeous dancers. But here is raised the ugly head of expectation. I came here tonight knowing these women are trained in dance. I came wanting dance. The program tells me that this work aims at "broad communicative appeal…work that pushes the boundaries of what is considered dance, deals with original movement vocabulary and constantly questions existing theatrical dance forms". These are big ambitions and I'm not so sure if they were realised on the night.
Involuted and coded messages about dancerliness only make sense to dance aficionados, actually tightening "communicative appeal." While one audience member called it "anti-dance" I thought it not quite punk enough for this moniker. And traditional dancerliness was evident throughout. It's in their athletic bodies and flexible extensions, their turned-out hips, in their lengthened muscles and in the very fibre of their being. It also lies in their deep familiarity with the canons of ballet and modern dance. Maybe in trying to be unique, in self consciously attempting to 'push the boundaries' they unwittingly place themselves on the same ground as those they would seek distance from. They appear tied to the very forms they revile.
But it was fun. I had a rollicking good time watching a show that ended before I was full. I loved the complexity of the sensorial experience as the guitar ripped into my ears, almost hurting, making me feel old. Production techniques and spatial largesse continually provided multiple and mutating points of interest. Costumes were whimsical, thoughtful and thematic while all the time flattering these fine female forms. I found Emma Saunders' humorous posturing particularly infectious.
And I know the rest of the audience had a good time too. People ambled out smiling, aping bits of choreography and generally humming with aliveness, leaving the theatre as if it were a pub, as if we had been to a gig. And maybe this is the evidence of broadened "communicative appeal" as the Fondue Set lighten dance and set it free from the confines of serious art and the chin scratching search for meaning.
And Evening Magic 2 is unique. It was distinctive in the use of such a large group of dancers, calling up spectres of early modernist choreographers like Doris Humphries and Rudolph Laban who prized the communality of movement choirs. And yet dancers stood out, individuated against a sameness which ultimately highlighted idiosyncrasy. All were the same, all were different. Some grabbed my attention for lingering moments, but rarely did I lose sight of the organic wholeness of a group who were truly working together. This crowd of dancers congealed a potentially unwieldy space into a moving entity, and did so through an admirable admixture of focus and joyous indulgence. Groupness was never more evident than in the tap dance that wasn't. A highlight of the night, gimpy hoofers faked a tap routine simply by making it sound right. It was hilarious. Other group vignettes, such as the milk crate choir, lacked vim and conviction and left me asking 'why.'
Subtending and supporting often frenetic energy was technical proficiency. Evening Magic was thickly and slicky produced; exits and entrances of the large group went off without a hitch or a stumble. Large letters on wheels moved around seamlessly to create pertinent words just in case we didn't get the message. The musicians appeared and disappeared silently and there was a general confidence with the material that let me know this was the result of dedicated hours of talking, dancing, thinking, planning and dreaming. The Fondue Set work through process. They create substance where there could be a frappe. And the ending was great and sad as we all knew it was over a bit too soon when the final word on wheels was rolled out: ENOUGH.
Fondue Set, Evening Magic 2: Don't Stop 'til You Get Enough, Fondue Set, Emma Saunders, Jane Mckernan, Elizabeth Ryan, with The Exiles, Hot Box, members of Decoder Ring, La Huva and Youth Group, design Agatha Gothe-Snape; Performance Space, CarriageWorks, Sydney, Oct 19-20
RealTime issue #82 Dec-Jan 2007 pg. 31
© Pauline Manley; for permission to reproduce apply to realtime@realtimearts.net