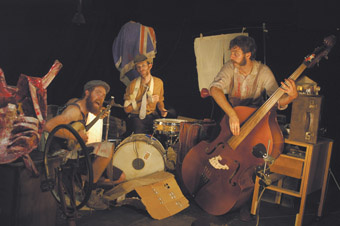 photo John O'Neil
Suitcase Royale, Chronicles of a Sleepless Moon
The Suitcase Royale
Suitcase Royale bill themselves as "junkyard theatre", scouring the scrapheap and assembling sets and props from the refuse of industrial society. The centrepiece of their most recent work, Chronicles of a Sleepless Moon, is an upended, tricked-up wardrobe jerry-rigged with trapdoors, lamps, cow-horned steering console and all manner of oddments. The rest of the stage is littered with debris, each item slowly revealed as essential to the narrative though rarely employed for its original intended purpose. It's fitting, then, that the work delves into the sludge of discarded performance modes and generic forms to cook up a narrative gumbo. B-grade horror, science fiction, outback tall tales, murder ballads, pulp mysteries and slapstick are thrown into the mix. The result is a tale of a journey beneath the earth in a "cow submersible", a machine powered by bovine blood and piloted by a mad scientist and his strange crew.
The protagonist is a reporter known only as Newsman, who through fate and circumstance finds himself joining the mad Doctor on his quest to map the world beneath the Earth's surface. Also pressed into service is the towering, bearded figure of the Butcher, a proudly homicidal figure who punctuates his sentences with a barked "DEAD!" while slamming his chopping knife into a nearby object. The story, meandering and shaggy, is matched by constant switching from live action to puppetry, miniatures, animation, film and radio recordings. This doesn't have the slick, commodified "channel surfing" effect of fragmented texts subscribing to the MTV-aesthetic; nor does it reproduce the alienating effect of stagings which juxtapose competing media in a coldly calculated way. There's a homespun, organic feel to Chronicle's bricolage, a localised ambience not simply due to the relocation of diverse generic conventions into an outback setting. It helps that the performance I attended was in a tiny theatre above a Fitzroy bar, trundling trams audible as they passed, and the occasional tipsy holler filtering up the stairs.
The performers, Joseph O'Farrell, Miles O'Neil and Glen Walton, possess a vitality that ensures proceedings rattle on at a terrific pace. They pack more into an hour or so than many shows manage at twice the length without overloading their audience's senses. The balance of light and shade is admirable, the Butcher offering a believably lethal counterpoint to the Doctor's laughably impotent dreamer and the Newsman's cynical outsider. At times, the trio's relative youthfulness oversteps itself through rushed or garbled dialogue, but this rarely staggers the show's impact since it never seems at odds with the loose, cobbled-together style of the narrative itself. Theatre of this kind is messy and disjointed, but The Suitcase Royale have chosen not to conceal this by attempting to offer the image of a slick, seamless product devoid of cracks.
The Suitcase Royale don't seem to do things the way they do just because pastiche is popular, or cool, or even original. It's merely the only proper way to express a tale as ingenious as its creators, as inventive as their tools and as enjoyable as stumbling through a crack in the fence to find yourself in a junkyard paradise. (For more on Suitcase Royale and The Black Lung see p43.)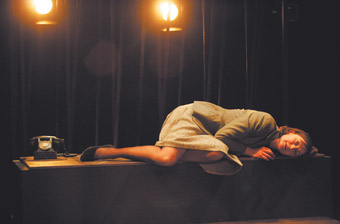 photo Jeff Busby
Caroline Lee, La Doleur
Caroline Lee, La Douleur
There has been a surge of solo shows produced by Malthouse Theatre of late, and the reason for this is quite simple. Though a quick glance over Artistic Director Michael Kantor's CV is enough to suggest that he'd prefer more large scale ensemble productions, in the economic climate of Australian theatre today this quite simply isn't tenable. And if the Malthouse can't afford to mount more than a few large-cast shows each year, it doesn't bode well for smaller independent companies.
On the plus side, this has allowed a number of one-handers the opportunity to reach a larger and generally appreciative audience. Caroline Lee's masterful performance of Marguerite Duras' semi-autobiographical novella La Douleur is a case in point. Directed by long-time Lee collaborator Laurence Strangio, the work was first presented in the miniscule surrounds of the pub-cum-literary hub, the Stork Hotel in Melbourne. It's difficult to imagine the creative challenge this setting must have presented after viewing the piece in the considerably more expansive space of the Malthouse's Beckett Theatre.
The audience is split in 2, divided by a raised stage upon which the only items available to Lee are an ornate chaise longue and a spot lit telephone. Lee's performance carries our visual interest for the entire work. Of course, she is working with an immensely potent text: the narrator awaits news of the death or return of her husband in Paris just after the cessation of hostilities during World War II. Duras creates a moving portrait of grief and the hidden casualties of war. Her central figure is a walking spectre, haunting the stage and whispering to us across half a century. This otherworldly quality to the text is perfectly matched by Lee's assured, delivery, which denies easy access into the interiority of her character while maintaining an intimacy that rarely falters. We are drawn into her world, but are no more able to make sense of it than she.
The suspended mourning of the piece creates a stasis which lasts for at least half of the show's duration, but when the first major narrative twist finally emerges we realise how much we have been involuted into the protagonist's mind, unable to envision the possibility of resolution, of gaining some final knowledge of death or hope. This change brings life, but with life comes a more keen awareness of the reality of death. What was merely a theoretical possibility suddenly strikes home as brute fact, and the final sting in Duras' tale is a stunning reinvention of what has come before as well as a remarkable commentary on compassion as something grander than simple love.
David Franzke's sound design is commendably subtle, often noticed only after the fact. Birds, hushed conversations and low rumblings underscore much of what we see, but are so unobtrusive as to appear entirely incidental. It's a perfect fit since as far as an audience member is concerned La Douleur's focus at all times must be squarely on the performer. Lee has repeatedly proven herself more than capable of inhabiting complex, daunting roles and in Strangio has found a director able to channel her abilities in a way that maintains the ebb and flow of an original text's dramatic thrust.
Rebecca Clarke, Unspoken
Rebecca Clarke's Unspoken is a more raw piece than La Douleur, but carries with it an equally strong confidence in the delivery of intimate, autobiographical material. Clarke has created a frank, almost unnervingly open portrayal of her fraught relationship with her intellectually challenged younger brother.
The piece opens with an evocation of Clarke as a child, shortly before the announcement of the birth of her brother. Clarke's performance here is unfortunately at its weakest, not so surprising given the inherent difficulties adult actors seem to face when attempting to incarnate themselves as children. Shifting forwards several years, however, Clarke comes into her own as a flighty teen leaving the nest and travelling to university, her sublimated resentment of her sibling sidelined by the fledgling relationship she begins with the "Clown" she meets there. These are the two dramatic poles of the work: Clarke's long and ultimately failed relationship with a man who eventually reveals his own troubled side, and the transformation of her feelings of anger and resentment towards her brother into something quite other. Director Wayne Blair (the director of the award-winning film, The Djarn Djarns) has coaxed from Clarke some quite remarkably candid moments of self-reflection while restraining any temptation to indulge in histrionics or self-therapy onstage. Once her audience is willing to go on the journey, we're taken to some deeply affecting territory indeed.
Genevieve Dugard's set is suggestive of a bayside pier, a raised boardwalk bordering the space and surmounted by wooden pylons and a draped sail. Clarke's early memories of the beach, sailing in her father's boat and running along the shore assume a pivotal role in the design. Sculpted sand curls around the pier's base and becomes a tool for Clarke to express various states, scattering it, tracing lines, sweeping it in violent arcs or euphoric sprays. The final sequence sees the nautical sail providing a second purpose, drawn up to act as a screen for a projected video of Clarke and her real brother.
Unspoken has toured well, thanks to the assistance of Performing Lines, and as part of the Malthouse's new Tower program of independent works scheduled throughout the year bringing a welcome and fresh addition to the venue. While in many ways quite a different work to La Douleur, both pieces share a commonality too. Each demonstrates simply the ability of a powerful performer to involve an audience in a fragile human story, devoid of theatrical tricks or convention.
The Suitcase Royale, Chronicles of a Sleepless Moon, performers Joseph O'Farrell, Miles O'Neil, Glen Walton, co-directors Thomas Wright, Thomas Henning; Black Lung Theatre, June 2-18; La Douleur, performer Caroline Lee, director Laurence Strangio, design Anna Tregloan, lighting Richard Vabre, sound design David Franzke; Malthouse heatre, June 29-July 3; Unspoken, writer-performer Rebecca Clarke, director Wayne Blair, designer Genevieve Dugard, lighting Stephen Hawker, music/sound Basil Hogios; Performing Lines; Malthouse Theatre, July 11- 22
RealTime issue #74 Aug-Sept 2006 pg. 44
© John Bailey; for permission to reproduce apply to realtime@realtimearts.net