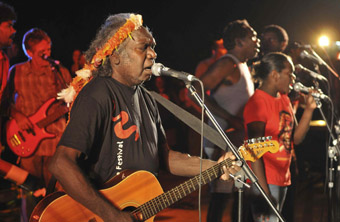 courtesy Yothu Yindi Foundation
Mandawuy Yunupingu and Yothu Yindi Band, Garma Festival
PEOPLE WHO'VE BEEN TO THE FESTIVAL OFTEN REPORT HAVING A 'GARMA MOMENT.' NOW IN ITS 11TH YEAR, THIS EVENT ON YOLGNU LAND AT GULKULA—CLOSE TO YIRRKALA, NUMBULWUY AND THE MINING TOWN OF GOVE—BRINGS TOGETHER UP TO 2,000 PEOPLE IN TENTS AND ENDLESS FOOD OR SHOWER QUEUES, THERE FOR INDIGENOUS CULTURAL TOURISM OR BECAUSE SOME ASPECT OF THEIR LIFE INVOLVES INDIGENOUS MATTERS OF THE MOMENT.
In the latter case, they may be invited by the Yothu Yindi Foundation to contribute to the three-day forum at the heart of the event. As you may imagine, it's such a rush of experiences, it's significant when one stands out.
For me, that happened on a quiet backtrack leading from an open-air art gallery to a peaceful point where the escarpment drops suddenly away towards the distant Gulf of Carpentaria. Out of nowhere, eight local kids were walking towards me doing it all—yidaki (didjeridu), clap sticks, song and even some dance. This is something that gets turned on nightly for visitors on the huge 'bunggul' oval—traditional dances kicking sand up into the evening air accompanied by frenzied commentary. But here I was privileged to experience transmission of culture through the generations—itself a sub-purpose of the festival—quite spontaneously.
For Robyn Archer, there to make a keynote speech at the forum and to participate in Reconciliation Australia meetings, it was an experience which she delightedly described as "a blow job" from a senior Yolgnu man. She sat in the sand before him and his mighty yidaki, which she was told to place against her chest. He blew, all but sending her flying. And, as her body recovered equilibirium, she realised that the asthma that had been with her since arriving in Arnhemland, had magically cleared.
Earlier, Archer had given us the word of the festival—"detritus." In her definition, this is "what's left over after the creation process; ie the product, which shouldn't be thought of as the end-product. For creative work is a continuum. And the best way to keep working usefully is to think of that product as detritus—for sale or review. The latter's not a judgment; an artist takes what's necessary from reviews, and keeps developing. An artist who doesn't grow, doesn't try new projects, or investigate new markets with each new work, is the equivalent of a cover band!"
To the Yolgnu in the audience, this was coals to Newcastle. For, of course, their 'art' had originally only been valuable to the extent that it performed a role in ceremony, after which it literally became detritus. Even since we gave them reason to achieve permanence in their painting, an Emily Kngwarreye could say "That's pretty" about an eight-metre canvas, and leave it to the white art system to turn into 'green' ($100) notes—for she despised all inferior yellow or orange ones!
Emily had what we'd call an ephemeral attitude to her painting. But Robyn Archer worried, "We don't protect ephemera in Australia. Our laws derive from the squattocracy, who fenced things and owned them. For them a book had a physical form they could respect; an idea or Indigenous culture has no physical form, no hierarchy, no celebrity." It's "ars nullius."
But it's there that the squattocracy, the last two Federal Governments and possibly even Robyn Archer are wrong. She bravely issued the battle cry, "The [Prime Minister's] 2020 [Summit] get-together revealed a white search for a central role for the arts in ordinary life. Why not look at the Indigenous example?" We're surely in danger here of confusing the ephemerality of the Indigenous arts and the absolute centrality of Indigenous culture.
Their culture's physical form was stated simply enough by the use of the word "dig", with all its earthy associations, by the siblings at the head of this year's Garma—Mandawuy and Gulumbu Yunupingu. "Our past is what makes us tick", said Mandawuy in a welcoming speech; "We must dig out the Yolgnu experience from the past to pass on to Australia today. Song, dance and painting is the vehicle for us to do that." Gulumbu, the painter proffered, "People should listen to my paintings—dig in, they're full of stories."
This was the ur-text from Aborigines at the Forum—whether from Arnhemland, the Kimberley, the Desert or wherever. Everything comes from the land. "Art is what our ancestors left in this country", declared Djambawa Marawili, clan leader and one of four Aboriginal artists at this year's Moscow Biennale; "those patterns and designs, the culture and the names." From the 1930s, he explained, illiterate Yolgnu had used art as "the only way of listing our country." When the miners turned up to dig bauxite, the Yolgnu believed that their land was all documented in their paintings; something acknowledged by the courts, which then applied our law of terra nullius, and gave the land away.
In fact, it was only when Marawili pulled all the Yolgnu clans together to paint their Saltwater Country in detail, following a terrible desecration by crocodile hunters, that the essential link between land, culture and art was accepted by the courts. In the Blue Mud Bay decision, the Yolgnu gained 80% title to the intertidal zone. Their 2008 festival had celebrated that with a glorious sacred crocodile and fire dance.
But we give with one hand and take with the other. This year's forum endlessly argued that the culture lay not where the Northern Territory and Federal Governments wanted it to be—in 20 designated townships across the Territory—but in the Homelands that are often remote from easily deliverable services. Waturr Gumana was scathing: "All our names and our arts come from nature in Arnhemland; it's a stupid idea to take us away from that. And in the end, our bones have to be buried in our own estate." Barayuwa Munungurr concurred, "You just can't teach our culture in the wrong place—you'll end up with the wrong songlines, the wrong kinships. And you can't teach in the towns anyway—young people are so distracted by the crowding they don't listen to their elders."
And returning to Djambawa Marawili for a concept that even Minister Macklin might understand: "Walking in the fresh wind along the beaches of my homeland gives me strength." So it was a great pity that the Minister flew all that way for a photo-op at Australia's first Indigenous life-saving club, then turned her back on the forum, where she'd been scheduled to speak. Professor Marcia Langton did the same. It was widely assumed that their noses were put out of joint by local big man, Galarrwuy Yunupingu's decision to turn against the Intervention, which he sees as causing change from a position of Indigenous weakness. For him the Yolgnu roots in the land from which all else flows are a source of strength.
Much else that the white side of the Indigenous Creative Industries considered important was also mentioned in dispatches, from philanthropy with an Aboriginal slant to resale royalties for visual artists; from the negligible policing powers behind the Code of Conduct for art dealers to a daring proposal for a National Indigenous Cultural Authority. Famous figures like Rhoda Roberts, Archie Roach, Wesley Enoch and Ursula Yovich popped up. Jack Thompson, as ever, was there. And Peter Garrett spoke good sense about "controlling the reception of indigenous art" and may even have gone home realising that his oddly mixed Ministry of Environment and the Arts is already an Indigenous concept; but he resisted the opportunity to sing. Mandawuy Yunupingu spoke and pulled Yothu Yindi out of retirement to sing a new Healing Place Song to the biggest gathering of the festival, telling us sadly how kidney dialysis plays a far larger part in his life today than touring with the band.
But none of that seemed worthy of debate beside the matter that Northern Territory Aborigines clearly cared about most intensely, their Homelands. That concern did afterwards lead to a three-man delegation armed with 27,000 signatures via Get Up getting to see Jenny Macklin in Canberra. On that occasion, delegation leader Barayuwa Munungurr summed up the importance of Homelands as "the place where we can live on the land that makes us who we are."
Garma Festival, 2009, North East Arnhemland, Aug 7-11.
Jeremy Eccles was a speaker on a Garma Key Forum panel on "How well does the industry manage ethics and intellectual property rights" with Terry Janke, Lydia Miller, John Oster, Robert Collins and chair Damien Carrick.
RealTime issue #93 Oct-Nov 2009 pg. 4
© Jeremy Eccles; for permission to reproduce apply to realtime@realtimearts.net