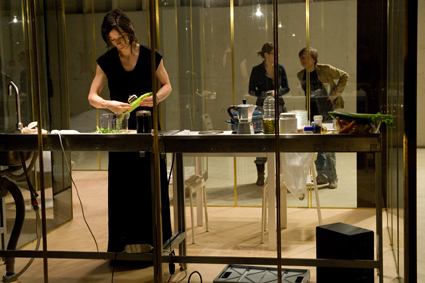 photo Anna van Kooij
Sanja Mitrovic, Daydream House
LOGGING ON TO BUY TICKETS TO FESTIVAL A/D WERF, I AM INVITED TO PERUSE THE PROGRAM ACCORDING TO TIMETABLE, PRICE AND GENRE. THE TIMETABLE INDICATES THAT THE FESTIVAL IS ON FROM MAY 17 TO 26 IN UTRECHT (ABOUT AN HOUR OUT FROM AMSTERDAM) AND THE PRICES SEEM TO RANGE FROM €2.50-20 (AUD$4.60-26) PER TICKET—SO FAR, SO GOOD. HOWEVER, IT IS THE GENRE MENU THAT TRULY ASTOUNDS, LISTING THE FOLLOWING OPTIONS: "TEXT(THEATRE), VISUAL ARTS/INSTALLATION, DANCE(THEATRE), FILM-/VISUAL THEATRE, PHYSICAL THEATRE, LECTURE PERFORMANCE, SITE-SPECIFIC THEATRE, MUSIC (THEATRE), PERFORMANCE AND PERFORMANCE/INSTALLATION." NOT JUST GENRES BUT SUB-GENRES OF THEATRE AND PERFORMANCE—THIS MIGHT JUST BE MY KIND OF FESTIVAL!
Of course, the exciting thing about festivals is that even when accompanied by such rigorous and exhaustive taxonomies, the work itself often falls between and across categories. In doing so, it rewrites the classification system for the next festival, sometimes even the next generation. On the basis of this year's showing, I'd suggest that Festival a/d Werf consider a new category called "machinic performance."
laurent liefooghe, woonmachine
One of my favourite works functions as both an installation in its own right and as the set for another performance (more on which later). Laurent Liefooghe's Woonmachine (Living machine) first appears to me as a small glass island stranded in a sea of concrete—a glimpse of fragility in a heavy-duty, post-industrial space. Inside the installation there is what looks like a tiny motel room, complete with bed, armchair, shower, kitchen and table. When you step inside, you can hear a series of noises, conversations and instructions. If you choose to stand and listen, as I did, you can hear "living tak[ing] place without inhabitants" (program). Or, you can choose to obey the instructions and sit on the bed, pull up the duvet and thus become a performer yourself. Over the course of 37 minutes, an entire day and night pass, the lights changing their colour and the walls their opacity. The overall effect is deeply unheimlich, commonly translated as "uncanny" but also, appropriately in this instance, "unhomely." This is indeed an "unhome": not quite life-size, not quite life-like, but near enough to unsettle. The program states that it can be read as both a "modernist glass house and a black box" but it also seems like a postmodernist merging of Apple and Ikea, where both your books and your being have been reduced to a "pod."
james beckett, blinds
Situated in a similar space to Woonmachine, both literally and conceptually, is James Beckett's Blinds. Within the same converted warehouse, Beckett has created a tiny cinema of 16 seats. Up the front, a black roller door rises to reveal a white venetian blind. This blind then rises to reveal another white blind, which—after a pause—reveals yet another just like it. This continues, at varying paces, for approximately 30 minutes and 50 blinds, though it is hard to keep track of either. During this time I find myself marvelling at the different shades of white, cream, pearl and alabaster, the different widths of the slats, and the fact that none of the blinds ever tangle, snag or lift in a lopsided fan. More significantly, I think of Malevich's minimalism and the older theatrical tradition of the reveal, whereby the curtains peel back and we finally see. In the case of Blinds, I keep expecting to see a mirror, which would reflect our own desire to see back at us, but Beckett refuses us even this, choosing instead to force us to reflect on reflection itself, in every sense of the word.
kris verdonck
The relationship between machine, performer and spectator also comes into play in Kris Verdonck's work. I miss the "live" version of Verdonck's Actor#1 but later see him in conversation with his collaborator dramaturg Marianne van Kerkhoven and Melbourne academic Peter Eckersall (the festival coincided with the Performance Studies international conference at Utrecht University). Both the work and the discussion are wide-ranging, drawing on the vocabularies of theatre, visual art and architecture. In one work, Dancer#1 (2003), an L-shaped steel beam spins and lurches as it attempts to recover its balance, but since it never can it begins to read as a dance of death—completely improbable given it's a machine (http://vimeo.com/5436267). In another work, In [www.margaritaproduction.be/_ENG/KRIS_VERDONCK/IN/FILM.html] (2003), a human performer is immersed in a sensory deprivation tank for an hour—at first glance she looks like a robot, but then she blinks and we hear the amplified sounds of her breath and heartbeat. In I/II/III/IIII [www.youtube.com/watch?v=fNo4xeizMf0] (2007), dancers are suspended like marionettes in a life-size mobile; though they seek to maintain unity in their choreography, the tiny physical differences between them eventually send them into ever so slightly different spirals. Each of these works, as well as the more theatrical END [www.youtube.com/watch?v=jbtwrPjuc0U] (2008), is mesmerising and the sooner someone brings them to Australia, the better.
sanja mitrovic, daydream house
Enter sandman, or sandwoman as the case may be in Sanja Mitrovic's Daydream House, which is set in Liefooghe's Woonmachine, lending the installation yet another layer of meaning and vice versa. Mitrovic is an elegant hostess, sweeping about in a long black dress offering wine, food and entertainment. The show starts with her peeling and chopping carrots, cucumbers and celery in silence before finally saying, "Boring, uh?" She lists a series of vaguely depressing statistics about how many hours we spend during our lifetimes preparing meals, watching television etc. "But," she exclaims, "they are such deliciously unproductive hours!" She has a brief conversation about her day with an invisible interlocutor before speech disappears and the segment is repeated as a physical phrase. She then steps out of the house and tells us the story of Chekhov's mother, who lost the family home twice over. These events apparently inspired The Cherry Orchard and Mitrovic recites a passage from the play's final act, the phrase "What these walls have seen!" taking on a new complexion. This might be the end, but instead the performer drags out the furniture piece by piece, herding some spectators into the room while others remain outside looking in. She sits on a couch and speaks into a microphone, telling us of life in Belgrade in 1999—of what it is to sit in the dark, or the day for that matter, waiting for a bomb to drop. "Even fireworks get boring," she says, and "everyone moves away." Subtle and understated, Daydream House brings together numerous cultural inheritances from Chekhov to cinéma vérité to installation art. Not so much a narrative as a mood, it left me profoundly nostalgic for a place I never knew.
the economics of performance
Such theoretical musings on the mechanics of performance are cut short when confronted by the economics of performance. Not long after I arrive home, I receive an email imploring me to sign a petition against the Dutch government's drastic budget cuts. The recently elected right-wing coalition plans to cut €200 million—approximately 25% of current expenditure—from the arts budget by 2013. While the "top institutions" (museums, opera and ballet) will survive relatively unscathed, 21 production houses working in contemporary visual and performing arts are facing closure, including Utrecht's Huis a/d Werf. It is hard to imagine the past few decades of theatre, performance and dance without the Dutch influence and it would be an immense shame to see it disappear now. They have not only helped to pioneer contemporary performance, they have helped to make and remake its very categories.
Festival a/d Werf, Utrecht, May 17-26; www.festivalaandewerf.nl
RealTime issue #104 Aug-Sept 2011 pg. 22
© Caroline Wake; for permission to reproduce apply to realtime@realtimearts.net