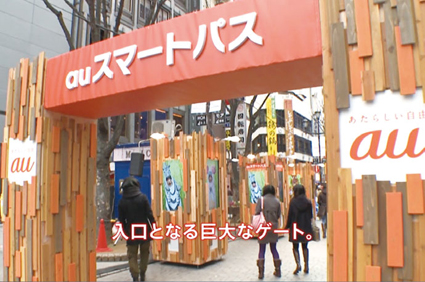 AU Smart Phone installation
The Future. Every proto-modern millennium has kick-started its identity with a wild rash of dreams. Yet many people seem unattuned to the cruel trick being played: when you get to the Future, it becomes the Present. And the Present is that awful place from which so many people wish to escape.
When Steven Spielberg was in pre-production on Minority Report (2002), he convened a small group of unnamed 'futurologists' for three days in a Californian chain hotel. This "imagine tank" workshopped how technologies, interfaces and man-machine production/consumption would appear in the Year 2054. The most prescient moment in the film occurs when Tom Cruise is being chased through a hi-tech shopping mall. The large vertical screens in the Gap store show video footage of store personnel who greet Tom by name as he stalks through. They even make suggestions as to what he might like from their new range. Like all futurologist visions, that scene already existed in the minds of companies like Gap. And like all futuristic visions, it is terraformed in the Present.
When the large ShinQ Mall opened in Shibuya in 2012, it featured a large proportion of Digital Signage: custom designed/installed video screens projecting networked data, often synchronised with multiple displays. The Natural Market chain store in the lower basement food hall has interactive digital signage featuring a live feed of the person standing in front of it (filmed by a tiny camera to the left). Cartoon thought bubbles track the movement of the subject's head, expressing phrases like "I'm going to cook Chilli Shrimp tonight!" The image of the subject is then replaced by a recipe and ingredients (purchasable from Natural Market).
Gimmicky as it is, the perverse futurism of this digital signage lies in its facetious projection of 'what's inside the consumer's mind.' Futurologists since the 1960s have predicted that marketing/advertising communicating signage (à la Minority Report) will read minds and tabulate desires. The Present à la Natural Market jacks that notion and simply fabricates the image of your mind being read, and predicts what your flaneur mind probably would have said regardless. The Natural Market phrase not only takes place in the anacoustic realm where thoughts seem to appear 'spoken' in one's head, it also results from you reading a response which triggers an anechoic echo of a voiced thought in your head which you never actually thought. This confusion of Self, thought and voice causes a mild-meltdown which is assuaged by 'identifying' with those triggers as if it is a pleasurable narcissistic moment.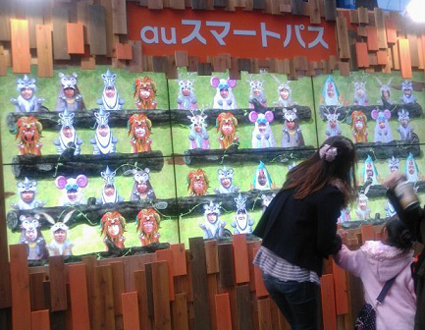 AU Smart Phone installation
Adults and children alike in today's Hyper-Narcissistic era will accept anything if a photo of their own face is attached to it. The winner of the 2013 Digital Signage Awards in Japan this past April was a walk-through installation at the Shinjuku JR outdoor plaza, produced to market AU network smart phones (AU Sumauro Pasu, 2013). A series of booths employed self-projection of recorded visitors' faces, but here digitally attached to animated figures of folksy woodland creatures prancing and dancing around a kids' book wonderland. (Think Gondry-artifice meets Shibuya-kawaii scored by a shambling band from Portland playing xylophones.)
The visitor's face is first scanned, then rendered into a fake 3D mask, and finally positioned onto the 'face holder' of the main animation. Integrated into the rolling animation, the visitor's face moves and tilts in congruence with the animated figure's shifting axis. The result of this data processing is to feed 'your face' into the multiple synchronised screens of woodland creatures frolicking in unison. Moreover, animated black holes are affixed to your mouth to portray you singing the AU Smart Pass jingle. In a truly futuristic twist on existentialism, your face has become voiceless in proportion to how your voice has become faceless. For it is not 'your face' onscreen: it's the data of your face projecting a mirror effect of what your face would do if it were not you but the 'you' desired by the company instigating this audiovisual illusion.
Yet the Japanese context here gives rise to another possibility. Masks in Japan do not simply signify the withholding or concealing of expression. Rather, the mask is an epidermal barrier between thought and word, sense and language. It is a vessel for containing whatever is transferred into it purely by donning the mask. European linguistics do not operate this way due to a variety of complex constructionist and deconstructionist frameworks which articulate determining relations between the Self and language. Looking, reading and listening to your own face in something like the AU Smart Phone installation—cannily replicating a trickster hall of mirrors—facilitates not identification with the Self, but acknowledgement of the you that isn't there, wherein you experience the image of your own voice.
This year in Akihabara, the Animate store shifted this effect into the 3rd person. An anime-style young woman dressed in casual attire stands in a life-size vertical screen display. Motion sensors program her to call out to you as you pass by. If you stop, she engages in direct questions. A microphone is prominently displayed, inviting you to talk back and ask questions. Essentially, this animated program is a sutoa-nabi (store navigation) display: an info port where you find out what shops are on which levels, and what goods each store has in which sections, plus the animated girl is based on actual young women posted in info booths in large department stores.
Despite her welcoming appearance, this digital display is built upon a database of polite refusals. For example, asking her age will get the definitive Japanese response: "Yes, that's a hard question to answer," delivered with a nod. Even though a visitor uses their voice, it is never heard. Instead, it is analysed through speech recognition software and channelled into a pre-ordained communicative stream for eliciting a pre-programmed response. Within the Japanese cultural context, this type of programming is not an awfully inhuman future (feared by Western futurologists), but an idealisation of how rigidly the human can conform to the strictures of social protocol. Again, it's a virtual imagining of how your voice is rendered as pure image, despite whatever linguistic tools are presumed to be used.
But if Japan is a realm where the Self is razed into a selfless mirage of identity, forever interweaving between masks, it is also maybe the only place where such destructive personification can be celebrated. For Halloween this year, Bacardi Rum in Japan brainstormed some ideas and dryly summated: "We focused on the tendency for drinkers to get louder as they consume alcohol." Now if this were the Spielbergian futurologists of Minority Report, the outcomes would have been as banal a 'vision' as that film's Gap store digital signage.
But Bacardi Japan came up with Bacardi Scream Halloween (2013): a sexy woman dressed as a witch has her tarty costume modified so that strips of her thighs, waist and breasts are covered with a special fabric which 'becomes transparent' to reveal her flesh, as if one is looking through retro-50s X-Ray Spex. But to get her attire to 'become transparent,' one must scream into a microphone at the end of her broom handle, which tabulates the decibel level of the scream and accordingly rates the value from low (her thighs) to mid (her waist) to high (her breasts).
Here, the voice is rendered image—but the cynical operations are strikingly apparent: your voice technologically activates the manifestation of a desired image. In a perverse rebuttal of the AU 'community' campaign, the Bacardi campaign culminated in a live event at Club Nicofarre in Tokyo (famous for its huge video walls on three sides of the club). All the screams gathered by the roving sexy witch were encoded, then pitch-assigned into a sampling bank which was then played by a wild hard rock guitarist brandishing a MIDI-guitar (yes!) who did Steve Vai style solos which unleashed the sound-bite screams of the hordes who fed their voices into this data-tabulating apparatus. Plus, a camera had also recorded each scream, and when the guitar solo was performed, each scream's audio-sample also triggered flashes of the participant's face screeching into the camera, now played across screens in the club.
Collectively, these examples of recent Digital Signage advertising in Japan reveal how readily people will surrender their Self (face and/or voice) into a data-pool which will mirror and/or echo an image entirely devoid of that Self which served as input. US-dominant web.02-style communalisation (crowd-funding, wiki-teaming, user-voting, choice-tracking etc) continues to paint its outcomes as fantastical apparitions of the Future inhabiting the Present—just as futurologists dream things will be. For those not impressed by such Spielbergian dreams, all those crowds amount to hordes simply in love with the image of their own voice.
–
RealTime issue #118 Dec-Jan 2013 pg. 23
© Philip Brophy; for permission to reproduce apply to realtime@realtimearts.net