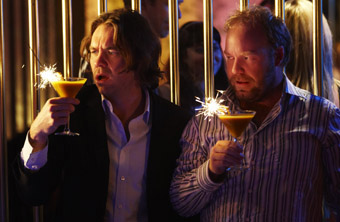 photo John Tsiavis, courtesy Roadshow Films
Brendan Cowell & Peter Helliar, I Love You Too
FIRST-TIME FEATURE DIRECTOR DAINA REID HAS BEEN A COMEDIAN UP TO NOW (WRITING AND ACTING IN FULL FRONTAL, PERFORMING WITH SHAUN MICALLEF) AND DIRECTING MAINLY TV SERIES, INCLUDING THE UNDERRATED ABC COMEDY, VERY SMALL BUSINESS.
Her debut film relies on star power—Sydney super model Megan Gale strutting the red carpet at the Sydney launch before her first Australian screen role; a wonderfully nuanced performance as always from Peter Dinklage, the sensitive leading man in The Station Agent, and who, according to IMDB, has appeared in both the original and now the US version of Death at a Funeral; and Brendan Cowell, who seems to be everywhere.
Having just surfaced from the muddy mines of Flanders in Beneath Hill 60, here Cowell stars opposite Peter Helliar (who also wrote the feature). His effortless move from upstanding hero in a war drama to scruffy but sexy no-hoper in a romantic comedy shows he's a truly versatile actor and probably the first choice on most directors' lists. But stars are not enough. The film eventually suffers from a slowly grinding plot and various romances that never seem to quite blossom.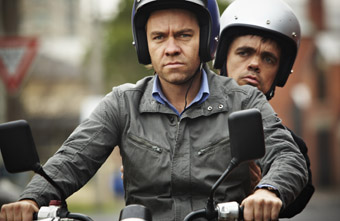 photo John Tsiavis, courtesy Roadshow Films
Brendan Cowell, Peter Dinklage, I Love You Too
US director Judd Apatow proved with Knocked Up and The 40 Year Old Virgin that romantic comedies don't have to be about a man and a woman. It's the bromance that counts, that awkward and shambolic love affair between a guy and his mates. In Apatow's work the writing can be crisp, hilarious and sometimes deeply disturbing. Here, Peter Helliar seems to be aiming for the same kind of film (and no doubt a lucrative market) and while he's created some sharp one-liners and lovably messed-up characters, overall, the writing and pace of the film fall flat. It's not helped by the unevenness of the acting. For all Megan Gale's grace and beauty, she is not a natural on camera and her stilted performance highlights the talent of others around her, Cowell and Dinklage in particular. Then again, she doesn't have much to work with. She's a model with a heart of gold. Full stop. Helliar also seems to be working in a bit of Love, Actually with various relationship strands he tries to tie up by the end and there's the lovable quirky family, a la The Castle—I Love You Too has 'produced for the multiplex' stamped all over it. You suspect though that Helliar had a darker story in mind and it's lurking in there somewhere.
The main problem is that the film tries to hide its bromance leanings behind a conventional romance (between Cowell as Jim and Yvonne Strahovski as Alice) that never rings true. Alice sports a jolly hockeysticks Bridget-Jones-accent so grating you wish she would return to London and stay there. The writing of romance is difficult and Helliar appears uncomfortable with it, and the female characters in general. It's as if he doesn't really want to let his characters fall in love. He holds them back. The film is much stronger in the scenes where Helliar and Cowell bounce off each other in their insecure manly ways, trying to pick up chicks, arguing at the squash court. By the end we've had all the cinematic clichés we can handle bundled into the final scenes: an explanation (as to why he can't say 'I love you'); a race to the airport in a taxi, to 'stop that plane'; a funeral (why did he have to die?); and, of course, a wedding.
At the gala premiere of I Love You Too, the radio commentator on the red carpet was welcoming the stars, saying each time, "Australian films are always so depressing, aren't they! It's great that this film is a comedy. It's a breath of fresh air, isn't it. It's not like other Australia films." But you could tell he hadn't seen an Australian film for years. Popular Australian comedies (The Castle, Muriel's Wedding, Strictly Ballroom, Kenny) have been sharper than this, and audiences know what they want when they see it. As Cowell and Helliar left him behind to enter the cinema, he tried desperately, floundering, to give away free tickets and t-shirts to the crowd. But they just weren't interested—unless they could get a photo with Megan Gale.
I Love You Too, director Daina Reid, producers Yael Bergman, Laura Waters, writer Peter Helliar, cinematography Ellery Ryan, original music David Hirschfelder, editor Ken Sallows, production designer Jennifer A. Davis. www.iloveyoutoomovie.com
RealTime issue #96 April-May 2010 pg. web
© Kirsten Krauth; for permission to reproduce apply to realtime@realtimearts.net