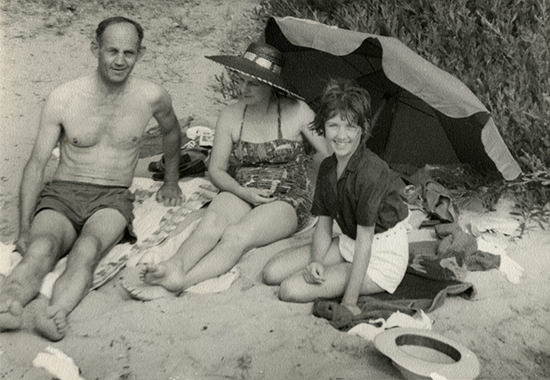 family photo courtesy the artist
The Silences
Quiet as a prayer, The Silences is a crystalline memoir, an unearthing of secrets, a solemn ritual of provisional forgiveness, a healing. In her own voice, filmmaker Margot Nash very simply lays out her family's history over three generations, rendering each complex with re-evaluated recollections and revelations wrought from research—the family album, letters, history and the recorded words of her mother and sister. The silences of the title are things long unsaid, denied and refused but finally spoken, requiring not just attention, but action—the making of a film as memorial.
Narrated memories and photographs are tellingly juxtaposed with excerpts from Nash's film fictions—a father slumped, weeping in a hallway, a mother turning slowly in a golden gown, a drawer full of jewellery opened by an inquisitive child. In the course of the film's making Nash comes to understand something of the nature of her body of work, with its focus on neglected and abandoned children. In The Silences, her voluble mother, who cannot express her love for her daughter, tells her that she tried to abort her by drinking gin and jumping off the piano. Nash asks:
"What madness possessed her to tell me this story when I was still a little girl? I grew up feeling unwanted and unloved and somehow to blame for everything. How can I move past blaming her now, except by speaking my truth and following her story like a detective, uncovering clues, digging deeper and deeper into the archives, questioning everything. I try to listen to the voices in the gaps and silences. How attached am I to being wounded?"
The more Nash learns the more she comes to understand her mother and father and the more there is to repair in her life. Both parents suffer mental problems, the mother depression, the father paranoia, his condition kept secret from the child Margot until it's all too clear. The marriage is weakened by the mother's thwarted aspirations, to be an actress and a "lady"—the latter came within her reach, but what happened? Did Nash's father's World War II experiences generate his madness or was it inherited? We watch the detective work carried out by both the child and the adult Nash. The child knows there are secrets and searches for clues, finding a hidden album of photos of an unknown child. Meanwhile the mother's cultured piano playing and tales of high times in Ireland, Scotland, England and India are the noise that covers the silences, that entertains her children but veils the truths that the film reveals step by step.
photo Ponch Hawkes
Ethel & Margot, 1976,
The Silences
The embittered, caustic mother cruelly projects her sense of failure onto the "naughty" Margot—child, teenager and young adult anarchist, radical feminist and alternative theatre actor. Sister Diana had been regarded as beautiful, talented and well-behaved. At 10 years of age, however, she was burdened with the knowledge of her father's illness, expected to support her mother when her husband turned violent and told not to tell Margot. Diana felt this unfair, "it robbed me of my childhood in a way" and allowed Margot, who, like her mother wanted to become an actress, to be a free spirit: "you carried the comic edge in the family," says Diana. The gentle tension between the sisters adds another layer of feeling to the film. At its beginning they cannot agree on the words for the plaque on their mother's memorial. As the film progresses our sense of a need for resolution grows—between sisters, mother and daughter, and with some deeper understanding of their father, which comes with his letters, although we are horrified by the extent of his Cold War paranoia and sexual jealousy.
The power of The Silences doesn't reside alone in the growing, tangled complexity of the lives of a traumatised family and the detective work that unknots it, but in the faces that we quickly learn to recognise, interpret and re-estimate as Nash discovers more about them. She thinks that photos of each of her parents at the time of their honeymoon already suggest discomfort, but qualifies the thought: "I search their faces. What can photographs tell us about the heart, about desire, about longing?" Other photographs are read by Nash with a sense of certainty. One is of her father, back from the war, holding the baby Diana, staring into the camera with a brooding intensity that suggests a damaged psyche. Another image becomes central to the film, a secreted photograph found in the back of the frame holding one of Diana. The mother denies that it's of her, but the daughters concur, Diana imagining the seemingly troubled mother looking watchfully at someone out of frame, Margot seeing a rare, atypical absence of artifice. This, they believe, is a portrait of a woman who never dealt with grief. The image returns to preface the film's credits.
Simply framed within black space, photographs are juxtaposed with historical film, Nash's own screen fictions and images and sounds captured specifically for The Silences—reeds bending in a gentle breeze become a melancholy motif; or one–offs, like the poplars she loved as a child, in which, she says, the wind held its secrets. The intoning of "silences" and "secrets" acquires a liturgical resonance. At the film's beginning, explaining the motivation for her quest and recalling the idealism of the 1970s, Nash says, "I thought I could build a new family and leave the past behind. No matter how hard I tried, the past returned again and again and the silences whispering their secrets demanded to be heard." Text, sound and image become a poem.
photo Corrie Ancone
Elizabeth Cook,
Shadow Panic (1989)
The film's sense of history is finely tuned and inherent in the lives of its protagonists—the well-to-do young at play on shipboard and in English society in India in the 1930s; Nash's mother working as a radio broadcaster, talking music and literature, in the 40s when men were at war; images of the Petrov spy scandal that inflamed her father's paranoia; photos of street protest in the 70s and footage from Nash and Robin Laurie's activist film We Aim to Please (1976), in the which the words of the title are texta'd onto a naked female body. The latter contrasts strikingly with the dozens of genteel snaps and street portraits taken across generations.
For me there are many resonances in this film, historically and personally, which made for painful viewing. My father's silence and my mother's bitter volubility (though in her case there were no secrets, everything was laid bare) provoked resistance and protest in the 60s. I felt as Nash did, when she says of her mother, "I hated her and at the same time I craved her love." Both were women who denied they were depressed and whose sense of potential was thwarted and its hurt turned on others, especially those closest to them.
There is comfort at the end of The Silences, in the symbolic coming together of the family in one serene place and the return of a lost child to the fold. Nash's understanding of her parents and her art has deepened, as has ours of the artist. We assume she has found the answer to her opening question: "How attached am I to being wounded?"
One image in particular, a delightful one, of Nash's mother posing elegantly in her wedding gown made of "magnolia silk encrusted with tiny pearls" has stayed with me, because of the dress's unfortunate origin but moreso its fate. Later in the film, Nash in her 20s asks her mother if she can have the dress, which then, she tells us, she cut in half and wore, partly stuffing it into her jeans, partied and then "went home with a notorious womaniser who broke my heart." The perhaps vengeful cutting up of the dress wrenches at me, as does its cool telling. More than any other moment in the film, this is where I felt, or simply imagined, the depth of Nash's wound and an anger not revealed elsewhere in a film which contains its pain, just as its soundtrack of pieces by Chopin, Schumann and Debussy (performed with apt delicacy by Elizabeth Drake) recalls the relief the mother's piano playing brought to her distressed family.
This is not to say that The Silences is without drama—scenes from Nash's earlier films, standing in for her childhood, are disturbing—but, above all, it is a finely crafted meditation from the perspective of a melancholy maturity, ready to uncover and address truth and accept compromise, with love.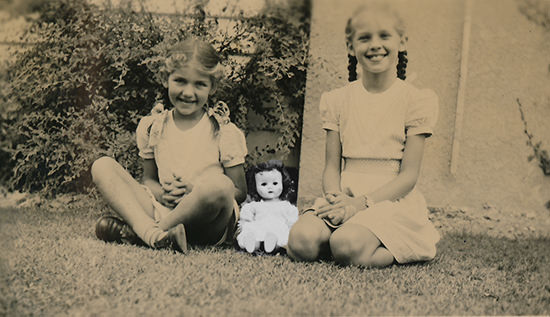 The Silences, Margot and Diana (c1955)
The Silences, writer, director, producer, editor, voiceover Margot Nash, composer, pianist Elizabeth Drake; 71 minutes; As If Productions 2015. Distributor Ronin Films.
The Silences is showing at the Hayden Orpheum, Sydney, 27 April-4 May; Cinema Nova, Melbourne, from 28 April; Arc Cinema, Canberra, 29 April; The Mercury, Adelaide, 10-22 May; The Regal, Newcastle, 30 April.
Margot Nash's other films are Speaking Out (1986), Shadow Panic (1989), Vacant Possession (1994), Call Me Mum (2005) and, with Robin Laurie, We Aim to Please (1976). Nash is Senior Lecturer in the School of Communications at the University of Technology, Sydney. In 2012 she was the Filmmaker in Residence at Zürich University of the Arts where she began developing The Silences.
RealTime issue #132 April-May 2016 pg.
© Keith Gallasch; for permission to reproduce apply to realtime@realtimearts.net