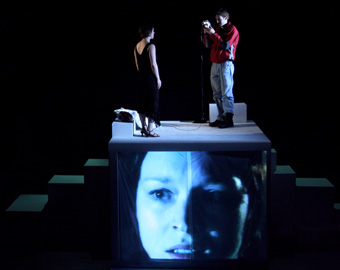 photo Nic Mollison
Antje Guenter, Nathan O'Keefe, Norway.Today
NORWAY.TODAY PREMIERED IN DÜSSELDORF IN 2000. THIS ENGLISH LANGUAGE PRODUCTION, DIRECTED BY JUSTIN MCGUINNESS FOR imaGEN AT BAKEHOUSE THEATRE IN ADELAIDE, RETRACES THE PLAY'S SCRIPTING OF NET-MEDIATED ROMANCE. IN THE OPENING SCENE, A YOUNG EUROPEAN WOMAN NAMED JULIE ANNOUNCES TO AN INTERNET CHAT ROOM THAT SHE INTENDS TO COMMIT SUICIDE.
Norway.Today is by Prague-born playwright Igor Bauersima. With actors Pascal Ulli, Alexander Seibt and Ingrid Sattes, Bauersima founded a theatre company called Off Off Bühne in Zürich in 1993. For a decade, they worked at producing 'Filmtheater', blending video screening and live performance for a new generation of theatregoers reared on the intimate realism of screen drama.
In the Adelaide production, seated at one side of the stage, Julie (Antje Guenther) speaks what she types and her face is projected onto a screen centrestage. As audience members, we are 'lurkers'—the internet term for those in a chat room who read but don't type. Julie is ambivalent about our presence; she turns at one point to address us directly: "Please don't be upset if I just behave as if you're not here."
A young man responds. August (Nathan O'Keefe) has been lurking in the chat room on the other side of the stage—indeed, on the other side of the world because, in this production, August lives in Adelaide. Like Julie, August wants to commit suicide too. And like the summer romance conjured by the cute coupling of their names, they flirt as they chat and swap photos, plan to meet and then suicide together, in a secret location.
A swift video montage from Nic Mollison uses the global imaging resources of Google Earth to transport the couple to an icy cliff top in Scandinavia, overlooking a fjord. The actors climb a white box set, its front face serving as both the cliff and a surface for projections. There are some farcical moments on the cliff top. Each character, at different points, slips on the ice and almost falls over the edge. But it's never quite the right time to jump.
Despite its initial appeal to the culture of the net generation, the play's romance narrative is recognisably ensconced in two grand European philosophical traditions: as their relationship develops, the romanticism of sex in the wilderness triumphs over the existentialism of net-induced alienation. Perhaps in multilingual Switzerland and in the European Union this dialogue between (German) romanticism and (French) existentialism would sustain an intellectual tension.
In this production, the talk of suicide seems really just a cypher: deep and meaningful disclosures are a young person's way of getting close. Why else would an eager Aussie backpacker fly across the world to hook up with a sophisticated European woman? When the couple see the Northern Lights and manage to capture that spectral display with their video cam, suicide slips down the agenda, readily displaced by sex.
As the suicidal Julie, Guenther is cheerful, smart and bossy. Her character tells us several times that when it comes to suicide she is very serious and completely sane. As the hapless August, O'Keefe is often breathless and easily outsmarted. August is talkative as a character and O'Keefe's words sometimes run ahead of the character's thoughts. Guenther, by contrast, speaks with precision and with her character's determination and control. There is easy humour in this inverted portrayal of gender relations: the slightly older woman is rational and commanding, the somewhat younger man emotional and easily swayed.
There is also humour drawn out of their attempts to each record on video a suicide note for their families. But each time one of them records a message and reviews the take, it seems fake, too staged, too unreal. August records a speech that seems authentic, until he reveals that he is quoting from a self-help book. As their attempts on video multiply the singularity of suicide, the playwright revels in the irony of performance: "That was a fake", complains August. "But it looked real", counters Julie.
We may learn from this—from the dependence of their actions upon the tools of domestic media production—something of the difficulty of dying in the age of digital replication. And from this production, which was unremarkably effective in its smooth enrolling of video mediation within its live theatricality, we may learn that what was once an experiment in performance innovation is now so fluent in its conventions that it can deliver classic European romance with charm.
Image: Antje Guenter, Nathan O'Keefe, Norway.Today, photo Nic Mollison
imaGEN, Norway.Today, writer Igor Bauersima, translator Marlene Norst (commission, Goethe Institut Sydney), director-designer Justin McGuinness, performers Antje Guenther, Nathan O'Keefe, lighting designer Nic Mollison, sound designer Peter Nielsen; Bakehouse, Adelaide, Nov 4-18
Norway.Today is touring through Critical Stages (www.criticalstages.com.au) 2008-9. Directed by Glenn Terry working with a national advisory panel and supported by Arts NSW and the Theatre Board of the Australia Council, Critical Stages organises and manages tours of independent theatre productions that have achieved successful initial seasons.
RealTime issue #77 Feb-March 2007 pg. 43
© Jonathan Bollen; for permission to reproduce apply to realtime@realtimearts.net